Selena Gomez Is Not a Fan of Private Instagram Accounts
13 Reasons Why star Katherine Langford says Selena Gomez convinced her to make her Instagram account public.
---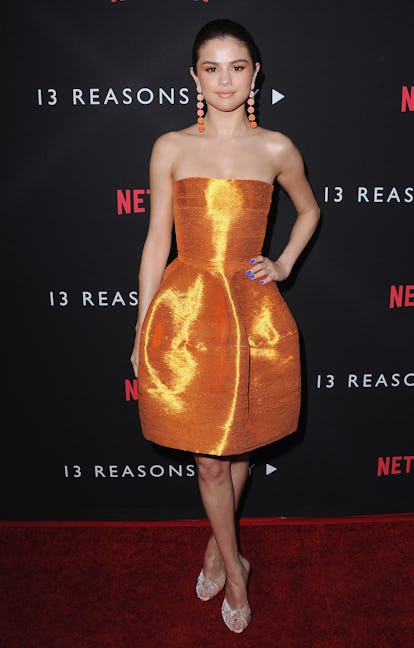 Jon Kopaloff/Getty Images
The crown Selena Gomez wears as the owner of Instagram's most followed account is heavy. She's let the account languish un-updated for months at a time. She also regularly deletes the app from her from phone due to mean comments; as she recently explained to The New York Times, "Imagine all the insecurities that you already feel about yourself and having someone write a paragraph pointing out every little thing—even if it's just physical." In fact, she's told Vogue that the password to the account is now in the possession of an assistant.
Yet, unlike some of her peers, she's never outright deleted her account. Now would she ever dream of making it private.
In fact, she thinks all young people in the public eye should have public Instagram accounts.
Gomez, of course, has recently been making headlines for her efforts behind the camera. She's the producers of Netflix's buzzy hit show 13 Reasons Why, and served as something of a mentor for the series' young cast.
When Katherine Langford was cast in the lead role, the previous unknown just wanted to concentrate on acting and had no intention on pursuing the life of a social media-savvy fame ball. Indeed, she kept her Instagram account private and viewable only by friends, and was resistant to opening up to public conception.
"I didn't want to make myself a consumable product. I just wanted to be able to do my job and then disappear," Langford said in a new interview with The Last Magazine. She also noted she had anxiety about producing photos "cool" enough for public consumption.
And then Gomez sat her down.
"Selena pointed out that the show is targeting young adults like me and that [social media] is a good medium to talk directly with those who relate to my character, Hannah," she said.
Now, of course, the young actress has a public account with 1.8 million followers and she regularly posts "cool" photos of her hanging out with none other than Selena Gomez.
And now we have another piece of a puzzle that will someday, when completed, give us a full and clear understanding of Gomez's complicated relationship with the social media network of which she is queen. Sure, she hates it—she most definitely hates the comments, and she doesn't even personally use the app herself anymore. But, hey, it's still good for keeping around to connect with your fans and promote your projects.
And, of course, for posting selfies with the actresses you happen to Instagram mentor.
Related: There's Probably More Than 13 Reasons Why Selena Gomez Pegged Katherine Langford as a Star
Behind the Scenes of Selena Gomez's W Magazine Cover Shoot:
2016 Was the Year Selena Gomez Finally Embraced High Fashion
January 10th: At the start of the year, Gomez made an entrance at the 2016 InStyle And Warner Bros. 73rd Annual Golden Globe Awards Post-Party in a romantic pleated J. Mendel gown.

Photo by Getty Images.
January 12th: Two days later, she ups her sartorial game in a laser cut red leather dress at the 6th Biennial UNICEF Ball in Beverly Hills.

Photo by Getty Images.
February 15th: Selena Gomez stuns in a plunging blue sequined Calvin Klein gown at the Grammy Awards.

Photo by Getty Images.
February 28th: Continuing the metallic look, Gomez wears another shimmery gown at the Vanity Fair Oscar Party.

Photo by Getty Images.
March 8th: From Paris Fashion Week came some of Gomez's best looks of the year, including this all-black outfit, with the exception of a denim mini skirt.

Photo by Getty Images.
March 10th: Selena Gomez steps out in a leather and fur jacket layered over an embellished black dress leaving a radio station in Paris.

Photo by Getty Images.
March 10th: Earlier that same day, she wore an entirely different look consisting of an off-the-shoulder blouse paired with matching black trousers and statement round sunglasses.

Photo by Getty Images.
March 11th: Gomez nails a fashion-forward approach in an asymmetrical Marni skirt and Celine slingbacks leaving the BBC Radio studio in London.

Photo by Getty Images.
April 3rd: Selena Gomez arrives backstage at the iHeart Radio Music Awards in casual boyfriend jeans, a white crop top, and nude pumps.

Photo by Getty Images.
April 7th: Gomez makes a statement arriving at LAX in a black and orange bomber jacket and snakeskin patterned bag.

Photo by Getty Images.
May 2nd: In one of the most memorable outfits of the night, Gomez makes an impression in head-to-toe Louis Vuitton at the Met Gala.

Photo by Getty Images.
May 6th: Attending her 'Revival' Tour kickoff party, Gomez is the definition of sultry in a silk gown with a thigh high slit and feathery Manolo Blahnik heels.

Photo by Getty Images.
August 1st: Gomez touches down in Tokyo wearing bold sunglasses, a distressed denim jacket, and army-green sweatpants.

Photo by Getty Images.
November 20th: After a month-long hiatus to focus on her health, Gomez reemerges to accept her award at the AMA's in a princess-like Prada ball gown.

Photo by Getty Images.
November 28th: Selena Gomez is seen at LAX airport looking sophisticated in neutrals with beige leather pants and an oversized cream sweater.

Photo by Getty Images.