Selena Gomez Touches on Justin Bieber Breakup In "Lose You To Love Me"
And Hailey Bieber doesn't seem happy about it.
---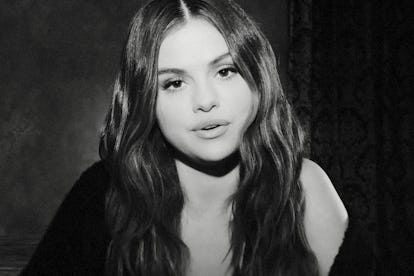 YouTube
On Tuesday night, Selena Gomez released a new track, "Lose You to Love Me." The song, an emotional pop ballad, is accompanied by a dramatic black and white video in which Gomez sings directly to the camera. The focus zooms in and out, playing with double exposure of the star's face.
"This song was inspired by many things that have happened in my life since releasing my last album," Gomez said in a press release. "I thought it was important to share the music, as I know many can relate to the fact that the road to self-discovery generally comes through the scars in one's life. I want people to feel hope and to know you will come out the other side stronger and a better version of yourself."
Fans have been quick to deduce that "Lose You to Love Me," which tracks the dissolution of a toxic relationship, was directly inspired by Gomez's widely publicized on-again, off-again romance with Justin Bieber (R.I.P. Jelena). There are some lyrical clues. "Set fire to my purpose and I let it burn," she sings. "You got off in the hurtin' when I wasn't yours." It's perhaps a reference to Bieber's massive 2015 album, Purpose.
Another verse seems pretty specific: "I gave my all and they all know it / You turned me down and now it's showing / In two months, you replaced us / Like it was easy."
Bieber became engaged to his now-wife Hailey Bieber (née Baldwin) shortly after his breakup with Gomez in 2018. Whether or not the fact that Hailey posted a screenshot of Summer Walker's "I'll Kill You" to her Instagram story is related remains to be seen.
"Lose You to Love Me" seems hopeful, though."I needed to lose you to find me," Gomez sings. "This dancing was killing me softly / I needed to hate you to love me, yeah."
Related: A Timeline of Selena Gomez's Slow Return to Instagram, From Taylor Swift Cameos to Sponsored Posts
How Selena Gomez's Red Carpet Style Has Transformed Since Her Disney Days
Just 16 at the time, Gomez was only one year into Wizards of Waverly Place when she wore this toga-like Marchesa gown to the American Latino Media Awards in 2008. Photo courtesy of Getty Images.

Getty Images
A year later, Gomez tried out red lipstick and a shorter hemline at the 6th Annual Hollywood Style Awards. Photo courtesy of Getty Images.

Getty Images
Doing her duty as a Disney star, Gomez showed up at the Kids' Choice Awards in a cheery yellow dress and a casual braid. Photo courtesy of Getty Images.

Getty Images
This Marchesa ensemble was hardly the first – or last – ice skater look for Gomez. It was also just the first of nine outfits that night, which had her hosting the 2011 MTV Europe Music Awards. Photo courtesy of Getty Images.

Getty Images
In an Atelier Versace gown, Gomez wore more fabric to the Spring Breakers premiere at the 2012 Venice Film Festival than she probably wore in the entire film. Photo courtesy of Getty Images.

Getty Images
Again in strapless Atelier Versace and newly single, Gomez switched into this metallic dress to party after the 2013 Golden Globes. Photo courtesy of Getty Images.

Getty Images
Her Atelier Versace gowns got more ambitious over the years: This navy on at the 2013 MTV Video Music Awards relied heavily on teeny silver clasps. Photo courtesy of Getty Images.

Getty Images
Gomez switched it up with tied-back hair and Dior at a screening of her 2014 film, Rudderless. Photo courtesy of Getty Images.

Getty Images
Gomez showed up to the "China: Through The Looking Glass" Met Gala in a tasseled Vera Wang gown and a headpiece made of orchids. Photo courtesy of Getty Images.

Getty Images
Starting 2016 off in red leather Louis Vuitton, Gomez hung out with Nicolas Ghesquière at a UNICEF benefit in L.A. Photo courtesy of Getty Images.

Getty Images
Selena Gomez attends the 2015 American Music Awards at Microsoft Theater on November 22, 2015 in Los Angeles, California. Photo courtesy of Getty Images.

Getty Images
Selena Gomez attends The 58th GRAMMY Awards at Staples Center on February 15, 2016 in Los Angeles, California. Photo courtesy of Getty Images.

Getty Images
Selena Gomez attends the 'Manus x Machina: Fashion In An Age Of Technology' Costume Institute Gala at Metropolitan Museum of Art on May 2, 2016 in New York City. Photo courtesy of Getty Images.

Getty Images
Selena Gomez arrives at the 2016 Vanity Fair Oscar Party Hosted By Graydon Carter at Wallis Annenberg Center for the Performing Arts on February 28, 2016 in Beverly Hills, California. Photo courtesy of Getty Images.

Getty Images
Selena Gomez arrives at the 2016 American Music Awards at Microsoft Theater on November 20, 2016 in Los Angeles, California. Photo courtesy of Getty Images.

Getty Images
Selena Gomez arrives at the Premiere of Netflix's '13 Reasons Why' at Paramount Pictures on March 30, 2017 in Los Angeles, California. Photo courtesy of Getty Images.

Getty Images
Selena Gomez attends the "Rei Kawakubo/Comme des Garcons: Art Of The In-Between" Costume Institute Gala at the Metropolitan Museum of Art on May 1, 2017 in New York City. Photo courtesy of Getty Images.

Getty Images
Selena Gomez attends Harper's BAZAAR Celebration of "ICONS By Carine Roitfeld" at The Plaza Hotel on September 8, 2017 in New York City. Photo courtesy of Getty Images.

Getty Images
Selena Gomez attends The 58th GRAMMY Awards at Staples Center on February 15, 2016 in Los Angeles, California. Photo courtesy of Getty Images.

Getty Images
Selena Gomez arrives at the 2017 American Music Awards at Microsoft Theater on November 19, 2017 in Los Angeles, California. Photo courtesy of Getty Images.

Getty Images
Selena Gomez attends the 2017 BoF 500 Gala at Public Hotel on September 9, 2017 in New York City. Photo courtesy of Getty Images.

Getty Images
Selena Gomez at Metropolitan Museum of Art on May 7, 2018 in New York City. Photo courtesy of Getty Images.

Getty Images
Selena Gomez attends The Fashion Awards 2017 in partnership with Swarovski at Royal Albert Hall on December 4, 2017 in London, England. Photo courtesy of Getty Images.

Getty Images
Selena Gomez attends the opening ceremony and screening of "The Dead Don't Die" during the 72nd annual Cannes Film Festival on May 14, 2019 in Cannes, France. Photo courtesy of Getty Images.

Getty Images
Selena Gomez arriving at the Gala Dinner during the 72nd annual Cannes Film Festival on May 14, 2019 in Cannes, France. Photo courtesy of Getty Images.

Getty Images
Selena Gomez attends the photo call for "The Dead Don't Die" during the 72nd annual Cannes Film Festival on May 15, 2019 in Cannes, France. Photo courtesy of Getty Images.

Getty Images
Selena Gomez attends "The Dead Don't Die" New York Premiere at Museum of Modern Art on June 10, 2019 in New York City. Photo courtesy of Getty Images.

Getty Images