Selena Gomez Steps Back Onto the Red Carpet for WE Day California
Gomez took time off to focus on her mental health, and came back glowing.
---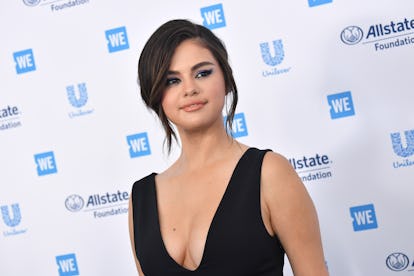 Emma McIntyre
Selena Gomez returned to the red carpet for the first time in several months today, making an appearance at We Day in Los Angeles, an annual event held in honor of the We Schools education program. She wore a simple, classic dress from Maria Grazia Chiuri's Dior, with fun lavender cat-eye makeup and a nude lip. And while Gomez has attended the event every year since 2014, this year marked a special occasion: it was the pop star's first time back in front of a step-and-repeat since taking time off for mental health treatment. She glowed! "Every year, WE Day leaves me feeling inspired and hopeful. The youth have an incredible positive and passionate attitude for making real change in the world," Gomez said in a statement. "I'm so proud to celebrate young people's year of social change and to remind them that together, we are an unstoppable movement dedicated to a brighter and better tomorrow."
Yesterday, Gomez delivered her first interview in some time, speaking on Coach's new podcast series, "Dream It Real," about the importance of therapy, which she called "amazing" and "hard." Gomez went deep with host Heben Nigatu, touching on her experiences as a Disney kid ("It just taught me so much about being a role model, you know?"), Instagram ("I don't mean to be rude, but it's very unrealistic in a lot of ways"), and her group of female friends ("I've seen a lot of cattiness, and I think it's so important to have healthy friendships").
Gomez, who has struggled with mental health and chronic illness, also shared a heartwarming message with her fans. "You're enough," she said. "You're absolutely enough. And if you deal with things that are really difficult like family issues, or anxiety, depression or substance issues, I just think that you're never too far gone. I really believe that. I think every person is valuable and important and we are all equal and not to, I always feel like I get cheesy, but it's genuinely from my heart. I care about the world and the only message that I would say is that you're enough."
Selena Gomez's Style Evolution, From Disney Days to Fashion Forward Superstar
Selena Gomez arrives to the 23 Annual IMAGEN Awards on August 21, 2008 in Beverly Hills, California.

Getty
Selena Gomez arrives at the Teen Choice Awards 2009 held at the Gibson Amphitheatre on August 9, 2009 in Universal City, California.

Getty
Selena Gomez arrives at the 2009 ALMA Awards at Royce Hall on the UCLA Campus on September 17, 2009 in Westwood, Los Angeles, California.

Getty
Selena Gomez arrives at the People's Choice Awards in Los Angeles, California on January 5, 2011.

Getty
Selena Gomez arrives at Nickelodeon's 23rd Annual Kids' Choice Awards held at UCLA's Pauley Pavilion on March 27, 2010 in Los Angeles, California.

Getty
Selena Gomez attends the "Justin Bieber: Never Say Never" Los Angeles Premiere at Nokia Theatre L.A. Live on February 8, 2011 in Los Angeles, California.

Getty
Selena Gomez arrives at The 53rd Annual GRAMMY Awards held at Staples Center on February 13, 2011 in Los Angeles, California.

Getty
Selena Gomez arrives at the Vanity Fair Oscar party hosted by Graydon Carter held at Sunset Tower on February 27, 2011 in West Hollywood, California.

Getty
Selena Gomez arrives at the 2011 American Music Awards held at Nokia Theatre L.A. LIVE on November 20, 2011 in Los Angeles, California.

Getty
Selena Gomez arrives at Nickelodeon's 24th Annual Kids' Choice Awards at Galen Center on April 2, 2011 in Los Angeles, California.

Getty
Selena Gomez attends the 2012 Nickelodeon Kids' Choice Awards at Galen Center on March 31, 2012 in Los Angeles, California.

Getty
Selena Gomez arrives at the 2012 Vanity Fair Oscar Party at Sunset Tower on February 26, 2012 in West Hollywood, California.

Getty
Selena Gomez arrives at the 2012 Teen Choice Awards at Gibson Amphitheatre on July 22, 2012 in Universal City, California.

Getty
Selena Gomez arrives at the 2013 Billboard Music Awards at MGM Grand Hotel & Casino on May 19, 2013 in Las Vegas, Nevada.

Getty
Selena Gomez attends the German premiere of 'Spring Breakers' at the cinestar Potsdamer Platz on February 19, 2013 in Berlin, Germany.

Getty
Selena Gomez attends the 2013 Vanity Fair Oscar party at Sunset Tower on February 24, 2013 in West Hollywood, California.

Getty
Selena Gomez attends the 2013 Teen Choice Awards at Gibson Amphitheatre on August 11, 2013 in Universal City, California.

Getty
Selena Gomez attends the 2014 LACMA Art + Film Gala Honoring Barbara Kruger And Quentin Tarantino Presented By Gucci at LACMA on November 1, 2014 in Los Angeles, California.

Getty
Selena Gomez arrives at the "Rudderless" – Los Angeles VIP Screening at the Vista Theatre on October 7, 2014 in Los Angeles, California.

Getty
Selena Gomez arrives at the 2015 Vanity Fair Oscar Party Hosted By Graydon Carter at Wallis Annenberg Center for the Performing Arts on February 22, 2015 in Beverly Hills, California.

Getty
Selena Gomez attends the premiere of 'Getaway' presented by Warner Bros. Pictures at Regency Village Theatre on August 26, 2013 in Westwood, California.

Getty
Selena Gomez attends the 2014 American Music Awards at Nokia Theatre L.A. Live on November 23, 2014 in Los Angeles, California.

Getty
Selena Gomez attends the "China: Through The Looking Glass" Costume Institute Benefit Gala at the Metropolitan Museum of Art on May 4, 2015 in New York City.

Getty
Selena Gomez attends the 2014 Vanity Fair Oscar Party hosted by Graydon Carter on March 2, 2014 in West Hollywood, California.

Getty
Selena Gomez arrives to the 2015 MTV Video Music Awards at Microsoft Theater on August 30, 2015 in Los Angeles, California.

Getty
Selena Gomez attends 2015 Glamour Women Of The Year Awards at Carnegie Hall on November 9, 2015 in New York City.

Getty
Selena Gomez arrives at The 58th GRAMMY Awards at Staples Center on February 15, 2016 in Los Angeles, California.

Getty
Selena Gomez arrives at the 6th Biennial UNICEF Ball at the Beverly Wilshire Four Seasons Hotel on January 12, 2016 in Beverly Hills, California.

Getty
Selena Gomez arrives at the 2015 American Music Awards at Microsoft Theater on November 22, 2015 in Los Angeles, California.

Getty
Selena Gomez arrives at the 2016 Vanity Fair Oscar Party Hosted By Graydon Carter at Wallis Annenberg Center for the Performing Arts on February 28, 2016 in Beverly Hills, California.

Getty