Selena Gomez Seals the Deal with Nicolas Ghesquière
Menswear kicks off in Milan, while on the other side of the pond, Hollywood mourns Anton Yelchin and Cleveland celebrates a big win.
---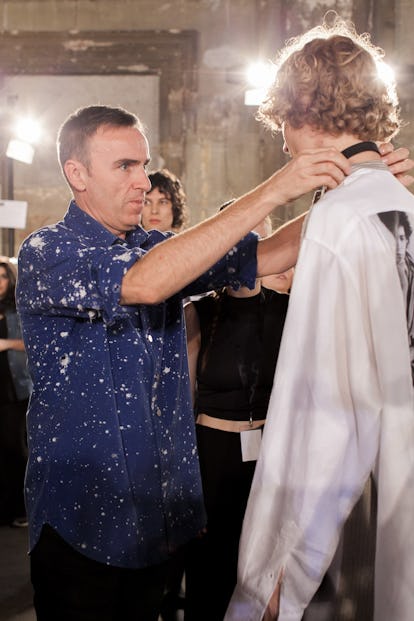 Photo by Yu Fujiwara.
Apfel, Iris Nonagenarian fashion icon with her own line of emojis, due out this fall to coincide with an INC collaboration. Watch out, Kimoji.
Copping, Peter The Oscar De La Renta successor is an understated personality, but he does have a few choice thoughts on the proverbial Ladies Who Lunch.
Gomez, Selena As if her Met Gala appearance wasn't hint enough, the singer has sealed the deal with Nicolas Ghesquière — she stars in the new Bruce Weber-photographed Fall 2016 campaign for Louis Vuitton.
Hamilton Lin-Manuel Miranda's groundbreaking, Tony-sweeping musical is getting a bit of a facelift this summer: Core cast members Miranda, Leslie Odom, Jr., and Phillipa Soo will all depart the show in July.
Playoffs, NBA The reason no one was talking about Game of Thrones last night. Cleveland pulled out its first NBA championship in the history of the Cavaliers, and in doing so ended a 52-year dry spell across all sports franchises in the city.
Simons, Raf Made his Pitti Uomo return post-Dior (and before the expected announcement that he will take up the mantle at Calvin Klein), rendering Robert Mapplethorpe's photography in his own medium for his Spring 2017 menswear collection.
Versace, Donatella Turning up the sex in Milan, and setting a high bar for Spring 2017 menswear while she's at it.
Yelchin, Anton The 27-year-old actor, best known for roles in Charlie Bartlett, the rebooted Star Trek film, and Like Crazy, died early Sunday morning in a freak car accident.