Selena Gomez Calls The Weeknd "More of a Best Friend Than Anything Else"
Selena finally speaks about the relationship.
---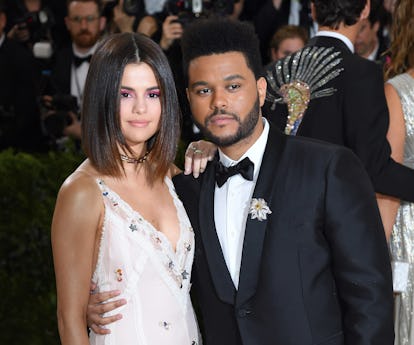 Karwai Tang/Getty Images
It's not a secret that Selena Gomez and The Weeknd are deeply in the throws of love. They've been spotted on dates across the world, showed up to the Met Gala together, and their flirting on Instagram is apparent to super fans. Yet, the young singer, actress and producer hasn't had much to say about the relationship publicly. Until now.
When an InStyle interview noted that the duo seemed very "happy" together, Selena was quick to agree, but also noted that other parts of her life make her equally happy, too.
"I really am. It's great," she said. "I don't depend on one area of my life to make me happy. It's really important for me to love and nourish my friends and family and to make sure that I never get influenced by a guy. I've wanted to be in a strong headspace for years, and I really wasn't. Before, I was so young and easily influenced, and I'd feel insecure. You want someone to add to your life, not to complete you, if that makes sense. I'm lucky because he's more of a best friend than anything else."
Being able to control her narrative on her own terms — romance and all — is very important to Selena, especially when it means caring less about what other people think. She was asked about an Instagram post from 2016 which she captioned with, "I finally fought the fight of not being enough."
"That just goes back to where I am in my life — of course I care, but I care less and less, and that's so freeing," she responded. "My livelihood can't depend on 'Am I liked?' When I was on Disney, it was like, 'Oh, they didn't like it?' It hurts your feelings.
"
Still, between the dinner dates and the cute social media posts, it's safe to say that everyone is rooting for these two to have a happily ever after.
Related: Selena Gomez and The Weeknd, Art Lovers, Mesmerized by Renaissance Nudes
Watch W's most popular videos, here:
Selena Gomez's Style Evolution, From Disney Days to Fashion Forward Superstar
Selena Gomez arrives to the 23 Annual IMAGEN Awards on August 21, 2008 in Beverly Hills, California.

Getty
Selena Gomez arrives at the Teen Choice Awards 2009 held at the Gibson Amphitheatre on August 9, 2009 in Universal City, California.

Getty
Selena Gomez arrives at the 2009 ALMA Awards at Royce Hall on the UCLA Campus on September 17, 2009 in Westwood, Los Angeles, California.

Getty
Selena Gomez arrives at the People's Choice Awards in Los Angeles, California on January 5, 2011.

Getty
Selena Gomez arrives at Nickelodeon's 23rd Annual Kids' Choice Awards held at UCLA's Pauley Pavilion on March 27, 2010 in Los Angeles, California.

Getty
Selena Gomez attends the "Justin Bieber: Never Say Never" Los Angeles Premiere at Nokia Theatre L.A. Live on February 8, 2011 in Los Angeles, California.

Getty
Selena Gomez arrives at The 53rd Annual GRAMMY Awards held at Staples Center on February 13, 2011 in Los Angeles, California.

Getty
Selena Gomez arrives at the Vanity Fair Oscar party hosted by Graydon Carter held at Sunset Tower on February 27, 2011 in West Hollywood, California.

Getty
Selena Gomez arrives at the 2011 American Music Awards held at Nokia Theatre L.A. LIVE on November 20, 2011 in Los Angeles, California.

Getty
Selena Gomez arrives at Nickelodeon's 24th Annual Kids' Choice Awards at Galen Center on April 2, 2011 in Los Angeles, California.

Getty
Selena Gomez attends the 2012 Nickelodeon Kids' Choice Awards at Galen Center on March 31, 2012 in Los Angeles, California.

Getty
Selena Gomez arrives at the 2012 Vanity Fair Oscar Party at Sunset Tower on February 26, 2012 in West Hollywood, California.

Getty
Selena Gomez arrives at the 2012 Teen Choice Awards at Gibson Amphitheatre on July 22, 2012 in Universal City, California.

Getty
Selena Gomez arrives at the 2013 Billboard Music Awards at MGM Grand Hotel & Casino on May 19, 2013 in Las Vegas, Nevada.

Getty
Selena Gomez attends the German premiere of 'Spring Breakers' at the cinestar Potsdamer Platz on February 19, 2013 in Berlin, Germany.

Getty
Selena Gomez attends the 2013 Vanity Fair Oscar party at Sunset Tower on February 24, 2013 in West Hollywood, California.

Getty
Selena Gomez attends the 2013 Teen Choice Awards at Gibson Amphitheatre on August 11, 2013 in Universal City, California.

Getty
Selena Gomez attends the 2014 LACMA Art + Film Gala Honoring Barbara Kruger And Quentin Tarantino Presented By Gucci at LACMA on November 1, 2014 in Los Angeles, California.

Getty
Selena Gomez arrives at the "Rudderless" – Los Angeles VIP Screening at the Vista Theatre on October 7, 2014 in Los Angeles, California.

Getty
Selena Gomez arrives at the 2015 Vanity Fair Oscar Party Hosted By Graydon Carter at Wallis Annenberg Center for the Performing Arts on February 22, 2015 in Beverly Hills, California.

Getty
Selena Gomez attends the premiere of 'Getaway' presented by Warner Bros. Pictures at Regency Village Theatre on August 26, 2013 in Westwood, California.

Getty
Selena Gomez attends the 2014 American Music Awards at Nokia Theatre L.A. Live on November 23, 2014 in Los Angeles, California.

Getty
Selena Gomez attends the "China: Through The Looking Glass" Costume Institute Benefit Gala at the Metropolitan Museum of Art on May 4, 2015 in New York City.

Getty
Selena Gomez attends the 2014 Vanity Fair Oscar Party hosted by Graydon Carter on March 2, 2014 in West Hollywood, California.

Getty
Selena Gomez arrives to the 2015 MTV Video Music Awards at Microsoft Theater on August 30, 2015 in Los Angeles, California.

Getty
Selena Gomez attends 2015 Glamour Women Of The Year Awards at Carnegie Hall on November 9, 2015 in New York City.

Getty
Selena Gomez arrives at The 58th GRAMMY Awards at Staples Center on February 15, 2016 in Los Angeles, California.

Getty
Selena Gomez arrives at the 6th Biennial UNICEF Ball at the Beverly Wilshire Four Seasons Hotel on January 12, 2016 in Beverly Hills, California.

Getty
Selena Gomez arrives at the 2015 American Music Awards at Microsoft Theater on November 22, 2015 in Los Angeles, California.

Getty
Selena Gomez arrives at the 2016 Vanity Fair Oscar Party Hosted By Graydon Carter at Wallis Annenberg Center for the Performing Arts on February 28, 2016 in Beverly Hills, California.

Getty