The Self-Care Routines W Editors Have Implemented to Stay Sane
Bath soaks, The Class digital workouts, and scheduled routines.
---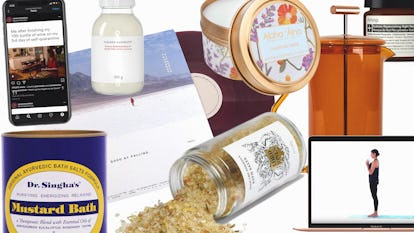 Art by Tilden Bissell.
Welcome to How W Editors Are Staying Sane, a weekly column featuring a selection of items, practices, and sources of entertainment that are keeping all of us here at W magazine afloat during these strange, if dire, days. Some of the things listed here are newfound interests—others, we've just plain loved forever, and have been seeking solace in their comforts of late. Each week, we'll bring you a new theme based on what's bringing us as much balance as we can muster.
Sara Moonves, Editor in Chief
What helps calm my anxiety is a long bath at the end of the night. For me, it's a really good way to calm down before trying to sleep. Every night, I have been trying a different bath soak. My favorites so far have been: Susanne Kaufmann Herbal Whey Bath, Pursoma Resurrection Bath and Dr. Singha's Mustard Bath.
Andrea Whittle, Features Editor
I'm quarantined alone for 10 more days, so I've been trying to keep some semblance of a routine and basically rolling FaceTime calls to all of my friends and family members every morning and night. Things that don't help: Twitter, CNN, staring into the void, lying inert by the fireplace like a human cocktail weenie. Things that do: going on long runs, doing streaming workouts with Melissa Wood Health, getting "conceptual" with my Instagram stories, flipping through old art books, watching Once Upon a Time… In Hollywood. Also, I watch this video at least once a day and laugh way too hard.
Tilden Bissell, Digital Designer
I've channeled all of my anxious energy into my skin; mainly through face masks, long baths and obsessive jade rolling. W's beauty expert, Maryam Lieberman, recommended 8 Greens Skin, an effervescent tablet you dissolve in water and drink—it has vitamin C, zinc, biotin, and is vaguely reminiscent of a green juice from the Joe and the Juice near my office. We also just published a new 4 Editors Try on Aesop's new night masque and Lord Jones Bath Salts are a soothing blend of fir, eucalyptus and citrus.
Meredith Jayme, Associate Accessories Editor
I've been trying to focus on personal wellness to keep me sane. I've been using Higher Dose's infrared sauna blanket for about 45 minutes every day. Aside from getting a major sweat session in, I feel better knowing that I'm detoxing and taking a much-needed mental break from my phone and the news. I also just started a trial for The Class by Taryn Toomey's digital studio, so I'm planning on live-streaming a workout later today.
Hannah Westbrook, Assistant Visuals Editor
Creating a routine at home has been of the utmost importance to my mental health and productivity levels. The first few days, I didn't change out of my pajamas, and didn't shower as soon as I woke up—I found it harder to focus. But I now have in place a daily routine and some tips to help me focus on work and not feel too cooped-up.
1. Showering as soon as I get up, and changing out of those pajamas.
2. Making some coffee in my French press.
3. Playing relaxing music in the background (I'm currently into Ray LaMontagne and The Japanese House).
4. Lighting a fresh scented candle by Maui.
5. Windows open—and only natural light!
6. Going for a walk mid-day.
Maxine Wally, Senior Digital Editor
I struggled to establish a routine once we started working from home—I'm the type of person who's set in her ways, as well as a superior couch potato. This combination did not lead to a swift transition when adjusting from going into the office every day to working in my living room. But at the behest of my mother—who assured me that planning what I'm going to do for the day will build structure—I cobbled together a schedule.
First, wake up, and get out of bed. This step is key. (For a while, I was working from bed, sending e-mails with one eye open. Turns out, in the working from home world, that's verboten.) Secondly, do some stretches; I've been using this wake-up yoga YouTube video to get my body moving. Typically, I'm not a huge fan of yoga. I am a masochist, so I therefore prefer to subject myself to long runs for exercise. But that was B.C. (before coronavirus), and now, the deep breaths that come along with a flow are relaxing and bring me peace.
Next, I shower, to really drive home the whole wake-up thing. And after that, I make myself a nice breakfast to complete the indulgence circle, and take vitamins B, D, and C. It's nothing groundbreaking, but it's certainly a pivot from what I'm used to. And that's turned out to be a good thing.