Checking in on South Korea: Buzzy Designers Take Center Stage in Seoul
In Seoul, shows from promising up-and-coming designers give way to heavy hitters as the week progresses.
---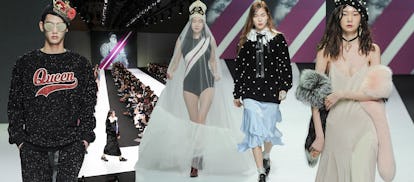 Thursday was the busiest day yet in Seoul, with some of the week's most well-known talents, like Pushbutton and SJYP, all showing. Plus, Yoon Chun Ho of YCH had a buzzy debut outing, with plenty of K-Pop starlets sitting front row for his first-ever solo show at Seoul Fashion Week.
The day kicked off with Vlades, a men's and women's brand with a goth-rocker sensibility. The collection by Moo Yeol Choi was minimal in terms of the color palette, limited to almost all black-and-white looks save for one gray ensemble. But it was full of thoughtful detailing, like carefully placed zipper finishes and unexpected asymmetrical cuts on the leather jackets. (A clear dash of inspiration here from past collections by Rick Owens.) The result was elevated—the collection as a whole looked like one of the most expensive ones of the week. The black leather men's pants with zipper detailing down the sides, as well as a black velvet bomber jacket were two of the collection's major standouts.
Things took a totally different turn over at the YCH show, with opera music filling the venue space as the crowd found their seats. Guests got an early preview of the collection on the backs of front-row It girls, including actress Dahae Lee and Tiffany Hwang of K-pop group Girls' Generation, who were sporting pieces from the designer's debut collection. "I was inspired by the British Queen, and I love Princess Diana," Yoon said backstage of his royal-themed collection. Some interpretations were more literal, such as T-shirts emblazoned with the word "QUEEN," and diamond symbols appearing on sweaters and earrings. Other touches were a bit more elegantly executed, like bodysuits with mini Elizabethan ruffled collars, and colored fur stoles draped on the models (which editors were already adding to their wishlists as they exited). The show closed on a very regal note, with top model Yun Joo Jang traipsing down the runway with a massive, white tulle veil draped over her entire body and a crown hat to top it off.
Meanwhile Pushbutton, by Park Seung Gun, has emerged as one of the week's clear highlights. While it was a mix of men's and women's clothes, it was the womenswear that truly shined here. The illustrated printed jumpers in pale pink and bright yellow, shown with a silver metallic midi length skirt, are guaranteed hits. And then there was the more sophisticated side to the collection, where corseted and lace-up detailing came into play on dresses and blouses using luxe fabrics like silk, velvet, and glossed leather. The black corset dress with a deconstructed white button-up underneath was particularly divine. Here's the bad news: Pushbutton isn't sold in the States—so cross your fingers and hope that that will soon change.
To close out the day, Steve Jung and Yoni Pai of SJYP, Seoul's veritable fashion darlings, held court at the Grand Hyatt Seoul, where they hosted one of the only off-site shows of the week. The husband-wife duo chose to show their Spring/Summer 2016 collection and some pre-Fall 2016, a see-now, buy-now concept, instead of Fall 2016 like most of the brands presenting here this week. Some of the models strutted down the outdoor catwalk, situated on the hotel's tennis courts, wearing a sea of denim ensembles from the brand's secondary, more affordable line that will be in their retail shops (Harvey Nichols, Selfridges, Le Bon Marche, and Net-a-Porter, among others) starting now through August. Think cinched, high-waisted wide leg trousers, chambray overalls, dual tone white-and-blue jean jackets, and an assortment of pieces that read "Every weekend blue everyday." It was a spot-on sentiment, especially given fashion's current obsession with denim. The Tory Burch-esque tennis dresses, however, we could have done without.
Photos: Checking in on South Korea: Buzzy Designers Take Center Stage in Seoul
Pushbutton Fall 2016 Show. Photo Courtesy of Hera Seoul Fashion Week.
SJYP Fall 2016 Show. Photo Courtesy of Hera Seoul Fashion Week.
Vlades Fall 2016 Show. Photo Courtesy of Hera Seoul Fashion Week.
YCH Fall 2016 Show. Photo Courtesy of Hera Seoul Fashion Week.