Seoul's Hottest Club Is the Plastic Surgery Clinic
For years, South Korea has had the highest ratio of plastic surgery procedures per capita. After a visit to one of the biggest clinics in Asia, however, it became clear that the rest of the world wants a slice.
---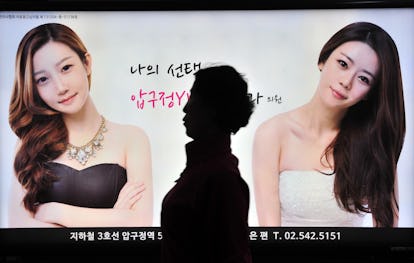 AFP/Getty Images
Cue rumbling clouds, a sunrise, then a busy intersection. A deep, dramatic male voice narrates: "Everyone has a life of their own. They live in different places, have different skin, and different perceptions. However, they still share one thing in common: The desire to become beautiful and attractive."
This is not a scene from Black Mirror, rather it's the opening of a promotional video for Oracle, Asia's largest dermatology and cosmetic plastic surgery group with over 60 offices spread throughout Korea, China, Japan, the Philippines, and Taiwan. It was shown to me on a Saturday morning in one of the company's newest offices in Seoul by a smiling woman named Irene, who is the branch's general manager. She has perfect skin highlighted by a girlish amount of blush and she wore an earpiece like a Secret Service agent.
When I walked into Oracle at 10:00 a.m., the waiting room resembled a crowded airport terminal, rather than a doctor's office. This particular location sees approximately 400 patients a day — both men and women usually in their 30s and 40s, the youngest being in their early twenties — plus 50 international "medical tourists," including those from India, the U.K., and the United States seeking specifically what Korea has to offer.
These numbers come as no surprise, however, seeing that for years South Korea has reportedly had the highest ratio of plastic surgery procedures per capita in the entire world. In Seoul, which is home to over 10 million people, it's been estimated that between one-fifth and one-third of women have had work done, with men making up 15 percent of the client base. In the Gangnam neighborhood, (yes that Gangnam), there is even a square-mile of streets referred to as "The Improvement Quarter," with hundreds of clinics occupying entire high-rise buildings. There are ads for plastic surgery in the subway, job applicants are often asked to provide pictures of themselves, schools can have scales in the bathrooms, and it's even been said that President Park Geun-hye had a double-eyelid procedure while in office.
"In Korea, the most popular surgery is double-eyelid surgery and rhinoplasty, which is a nose lift," said Dr. Roh Young Woo, who was one of Oracle's founding practitioners when it opened in 2004. In his office, there is three-tiered shelf filled with photos of him posing with famous K-Pop stars and Korean actors, all of whom are proud to say they've had work done.
A double-eyelid procedure takes under an hour — some patients have been said to come during their lunch breaks — and involves creasing the eyelid and taping it up, as to allow for more of the eyeball to show. And there's no shame in saying that it makes you look more European — that's the point.
But the West's influence on beauty standards in Asia doesn't stop there — another popular treatment in Korea is skin whitening. "White skin means everything," said Irene. "Even if a woman is very beautiful, the skin is the most important matter to define whether she is beautiful or not. If her skin is white and beautiful, it means she lives very well. She can get nice dresses and eat well."
How long does skin whitening take? Five minutes. In fact, I was offered a complimentary treatment upon walking in the door. I declined.
Despite the longtime popularity of double-eyelid surgery, rhinoplasty, and even jaw shaving to have more of a V-shape, Irene said more and more people are turning to the faster and cheaper options like skin whitening, botox, and fillers.
"These days, people want a quick treatment," she said. "Plastic surgery needs a longer time to recover, but with botox and fillers, especially with nose lifts, the injections are a much lower price and have almost the same look. Rhinoplasty is almost four times as much. However, it lasts longer."
To keep up, Oracle and other beauty companies like Hera have developed their own lines of take-home skin-whitening products. In fact, just outside the Dongdaemun Plaza where Seoul Fashion Week took place, I was offered a free sample.
These affordable products and procedures combined with Oracle's rapidly-growing franchises and top-notch technology have allowed Korea's obsession with plastic surgery and perfect white skin to take the world by storm. Oracle has opened at least four new franchises per year, and in 2016, the company opened eight more, including the first in Shinjuku, Japan. They are currently the largest dermatology and plastic surgery clinic in China, and soon they hope to touch down in Los Angeles as well, which is no stranger to plastic surgery.
Not to sound too Orwellian, but at this rate, is it possible that in the future Asia is going to look like the West and the West is going to look like Asia? If Oracle comes to America, will we be more open about our procedures, and if so, is that a good or a bad thing? Will everyone's definition of "beauty" be the same? Call me crazy, but what I've seen hasn't convinced me otherwise.
At the end of the Oracle promotional video, the narrator declares: "One thing is certain: Oracle will not stop until it becomes the best in Asia, and eventually, the world. Close your eyes and imagine. Can't you see a different tomorrow?"
And with that, Irene flicked on the lights, her face still frozen in a friendly smile.