Where to Eat, Shop, and Party in Seoul, South Korea
Dami Kwon and Jessica Jung, the duo behind Seoul's hottest clothing shop, offer a guide to their hometown.
---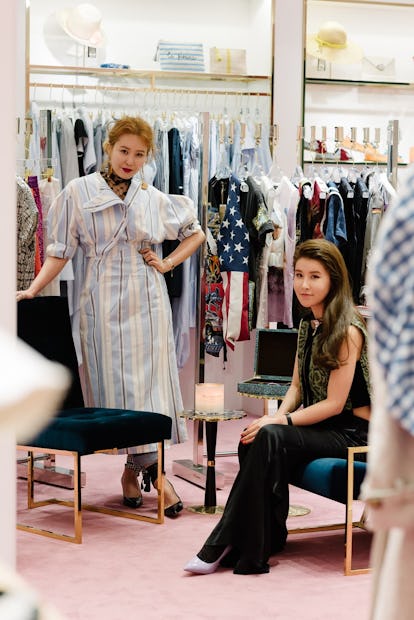 Over the past decade, concept stores have sprung up at a rapid pace in Seoul, South Korea, establishing the city as one of Asia's most unique shopping destinations. From a 10 Corso Como outpost to a Hello Kitty café and a mock market selling everything from sponges to ten-thousand dollar jackets under one roof, Seoul's retailing scene is thriving. So when best friends Dami Kwon and Jessica Jung opened Rare Market in 2015, the stage was already set for it to become an international destination. But they exceeded everyone's expectations, including their own, with their impeccably curated store which has attracted everyone from Leandra Medine and Miroslava Duma, to G Dragon, Kwon's K-Popstar brother. "He comes in all the time for his own personal shopping," begins Kwon, "He loves to find new styles and labels, so it's the perfect place for him." The store has an impressive selection of both known and unknown designers such as Rosie Assoulin, RE/DONE, Eckhaus Latta, Marques Almeida, Coliac, B-Low the Belt, and Hyein Seo.
The duo met in 2014 when Kwon wandered into Jung's shop she was running at the time. "When I first saw Jessica's store, I was so surprised because she had the exact same taste as me." The girls have since become household names at the forefront of the Seoul fashion scene, with a combined social following of over 400k to prove it. Here, the girls share their insider guide to Asia's hottest up and coming city.
Where to go for the best vintage:
Dami: Dongmyo vintage market. It is a traditional open market located in near the river in the north of Seoul. Sometimes you can find really cool pieces at unbelievable prices.
Favorite beauty treatment:
Dami: Onnu nail. She is the hottest nail artist in Korea. Many celebrities get nail art from Onnu, and they love her.
Daily beauty regimen:
Jessica: We use moisture masks every day. The quality of the moisture masks from Korea is the best in the world.
Related: Meet Lee Sung-Kyung, South Korea's Answer to Gigi Hadid
From Toddlers to K-Pop Stars, Seoul Fashion Week Takes Street Style to the Next Level
Seoul's best kept secret:
Jessica: There is this great nameless bar in Itaewon. There is no sign at the entrance of the bar. It looks like empty space but there's a bar inside and there's always cool people hanging out there with this great old pool table.
Favorite bar to let loose:
Jessica: if you looking for something fun and hot, this Trans is the place to go. Its located in the Itaewon area,
Favorite way to relax or unwind:
Dami: Driving through Seoul, listening to music, and watching movies.
Favorite spot for lunch:
Jessica: Issac Noodle. It's located right next to Rare Market, and they serve the best dumplings, noodles, and soup. We go often because its quick and tastes amazing.
Favorite restaurant for a traditional Korean meal:
Dami: Misu restaurant. It's a really small restaurant, and we love this place because they always welcome us like my mom would. I order the Korean-style beef tartare. It's a little bit spicy but it matches perfectly with any type of liqueur
Favorite place for a healthy meal:
Jessica: Bad Farmers. It's located in the fashionable area of Gangnam, and their specialty is salads. You can find cold-pressed vegetable juices and salad bowls. The best part is everything is organic!
__
British-Korean Model Sang Woo Kim Shows His Artistic Side