September Release: Great Expectations
In the September Issue of W Magazine Stefano Tonchi introduces the Who, What, When, and Why in the World of Style
---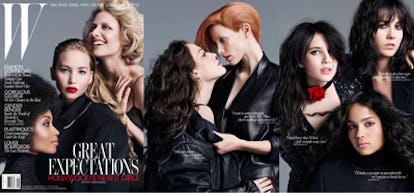 Highlights from the September issue of W magazine are below:
STORY TIME- page 172:
Stefano Tonchi, Editor in Chief, W, curates his first issue this September: "Starting with this issue, we present our vision for the who, what, where, when, and why in the world of contemporary style. We will tell the stories of the people who are changing the way we live and think," W's Editor in Chief Stefano Tonchi says in his introductory Editors Letter. Fully re-designed and re-imagined, W will connect the dots and tell the whole story. This is "just the beginning of a new chapter in the long-running, stylish story of W."
GREAT EXPECTATIONS- page 314:
Yaya DaCosta, Jennifer Lawrence, Greta Gerwig, Kat Dennings, Jessica Chastain, Emma Roberts, Zoe Kravitz, and Mary Elizabeth Winstead:
For her first appearance in the pages of W, Editor at Large Lynn Hirschberg handpicked eight fearless, fiercely talented actresses in their teens and 20's to profile as the central characters in some fall's most exciting films. Photographers Inez van Lamsweerde and Vinoodh Martin shot the portraits featured on W's first-ever triple gatefold cover.
Jennifer Lawrence, whose breakout role in Winter's Bone is generating major Oscar buzz, headlines the feature: "Where are the boys? Where are the Robert Redfords and Paul Newmans of my age group? Where are the hunks who can act?"
Emma Roberts on future possibilities:"I don't know what I'd do a full-on nude scene ever. I've never had a full-on sex scene…but we'll see."
Kat Dennings on her femaile affinity: "I like girl power. I love the ladies."
Zoe Kravitz on her approach to intimate scenes:"I'll make a sex scene as uncomfortable as I can just to break the ice."
ON SET: THE AMERICAN– page 358:
Behind-the-scenes images from George Clooney's latest thriller, by photographer-turned-director Anton Corbijn.
GEORGIA ON OUR MIND-page 370:
W's Fashion Director Alex White indulged in her inner Woody Allen to create a cinematic portfolio with photographer Craig McDean, starring rock royalty Georgia May Jagger as a rock princess marooned on Manhattan's Upper West Side.
TISCI'S TRIBE- page 326:
Senior Editor Diane Solway gives us her definitive profile of Givenchy designer Riccardo Tisci, exploring how muses like Marina Ambramovic, Courtney Love, and the transgendered model Lea T mirror the mother and eight sisters of the designer's childhood in Italy.
EAST ENDERS- page 334:
Photographer Tim Walker and Author Ted Polhemus celebrate the kids who are keeping London's illustrious tradtion of eccentric and self-invention alive.
LOUISE'S LAST YEAR- page 392:
Intimate never-before-seen photographs of artist Louise Bourgeois, along with tributes from Jenny Holzer, Helmut Lang, and others.
Please credit the September issue of W for the above. For additional information or to schedule an interview with a W editor, please contact Caroline Andoscia, 212-630-3952 or caroline_andoscia@condenast.com or Caitlyn Carpanzano at 212-286-2885, caitlyn_carpanzano@condenast.com. Thank you.