Serena Williams's Newborn Daughter, Alexis Olympia, Makes Her Instagram Debut
The 12-day-old scion already has a Grand Slam under her tiny belt.
---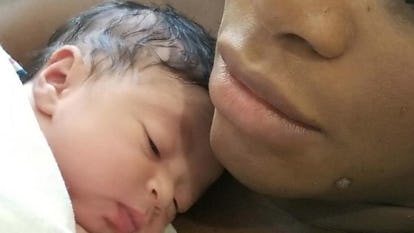 serenawilliams/Instagram
In less than the time it takes for Serena Williams to win a Grand Slam tournament, her newborn daughter has already made her social media debut.
On Wednesday morning, 12 days after giving birth, the tennis pro not only shared several photos and videos of the infant, but also revealed her firstborn's name: Alexis Olympia Ohanian Jr., named after Williams's fiancé, Reddit co-founder Alexis Ohanian. (Ohanian's middle name is Kerry, so Alexis Jr.'s middle name is presumably an homage to her mom's four Olympic gold medals.)
The new mom teased the big reveal on Instagram on Tuesday night, posting a picture of herself and Ohanian with the caption, "… but are you ready?" Fortunately, we didn't have to wait long: On Wednesday morning, Williams shared a sweet close-up photo of herself snuggling with Alexis Jr., writing, "Meet Alexis Olympia Ohanian Jr." and directing fans to her website to view a video of "her amazing journey." Alexis Sr. also shared the link to the video on Instagram and posted an illustration of the new family of three (each channeling the Reddit logo's cartoon alien), captioned, "Our little girl is already mama's perfect sidekick."
The video, which is entitled "Hello, world," is a compilation of clips captured on Snapchat from the very beginning of Williams's pregnancy to the day the new parents took their baby girl home from the hospital. Many of the clips address Alexis Jr. directly, including a video of Williams in a car that Ohanian captioned, "Your mother is the most beautiful woman on earth" and another in which the couple, who have been dating since fall 2015 and got engaged last December, tell their daughter she is "a blueberry right now" (in size, we assume!). There's also a goosebump-inducing clip in which Serena carries her trophy immediately after winning the Australian Open in January, captioned, "No one knows I'm 8 weeks pregnant," and several shots of the couple dancing, practicing their swaddling skills, and prepping Alexis Jr.'s room.
At the end of the video, Williams, 35, holds her newborn daughter close to her chest and says, "So we're leaving the hospital after six, seven days. It's been a long time, but we had a lot of complications. But look who we got! We got a baby girl." The clip then fades into a title card revealing Alexis Jr.'s name, birth date, and weight (6 lb., 14 oz.), as well as the number of Grand Slam titles she's won: one, because it totally counts if you were in the womb when your mom won her 23rd Grand Slam singles title.
Related: Go Inside Serena Williams's Star-Studded, '50s-Inspired Baby Shower
See What's Trending in W Video: