Serena Williams Is Your Latest Pregnant Celebrity
She showed off her baby bump on Snapchat.
---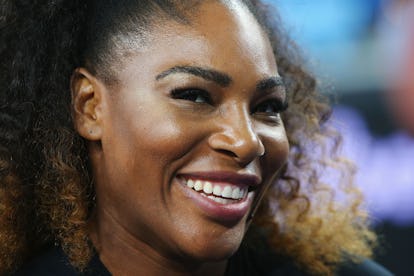 Michael Dodge/Getty Images
Another day, another pregnant celebrity.
Today, tennis star and occasional Beyoncé backup dancer Serena Williams announced her pregnancy with her fiancé, Reddit cofounder Alexis Ohanian, in a subtle Snapchat on Wednesday. Williams showed off her baby bump on the social media app, posting a picture of herself wearing a yellow bathing suit, captioning the Snap "20 weeks." (It seems she and Ohanian are currently vacationing on a beach at the moment.) While reps for the couple haven't confirmed the news, fans are already in a tailspin that the 23-time Grand Slam is expecting—a few even calculated that the timing of her pregnancy means Williams won the Australian Open in January while being pregnant.
Talk about a legend.
It's interesting that Williams shared the happy news on Snapchat. After she and Ohanian were engaged in Rome in December 2016, the athlete shared the news—where else?—via a poem on Reddit.
"I came home. A little late. Someone had a bag packed for me. And a carriage waited. Destination: Rome," the 35-year-old penned. "To escort me to my very own 'charming.' Back to where our stars first collided. And now it was full circle. At the same table we first met by chance."
The couple began dating in 2015. This will be the first child for both.
Most recently, Williams has been teasing fans with glimpses of her and Ohanian's super romantic moments, as well as a tiny peek at what could be her wedding dress. But she hasn't confirmed many details about the ceremony—not even if sister Venus will serve as maid of honor.
Williams is just the latest in a slew of celebrities who have recently announced that they are expecting. Beyoncé broke the Instagram record for most-liked photo of all time–previously held by Selena Gomez and a can of Coca-Cola–when she announced via social media that she was expecting twins back in January. Also expecting twins: Amal and George Clooney, due sometime this summer, with Clooney's pregnancy fashion choices already gaining much praise. Other celebrities who are due later this year include model Rose Huntington-Whitely, Hannah Jeter, Zooey Deschanel, and Ciara.
Related: Elizabeth Banks' Best Birthday Was Also a Baby Shower