Celebrities Are Supporting Serena Williams and Naomi Osaka After Their Controversial U.S. Open Final
Osaka won the U.S. Open championship match, but her triumph was overshadowed by a penalty dispute.
---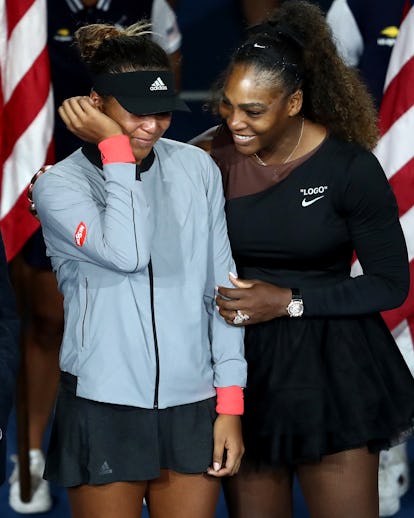 Photo by Al Bello/Getty Images
Despite Naomi Osaka becoming the first Haitian-Japanese woman to win the U.S. Open championship yesterday, the mood in the tennis world was far from celebratory. Over the course of the match, a frustrated Serena Williams, back on the court just a year after nearly dying in childbirth, questioned the umpire's rulings when she received penalties for apparent coaching and racquet abuse. She demanded an apology and defended herself, saying that she'd rather lose than cheat, and that if a male player exhibited the same behavior as her, the punishment would not be as severe. During the award ceremony, the agitated crowd even booed, and Williams had to tell them not to so that everyone could celebrate Osaka's first Grand Slam title.
Though the women's tournament is now over, the controversy is still hot on Twitter, where many celebrities are defending Williams and supporting Osaka, pointing out that it's better to celebrate two highly accomplished athletes rather than let a man in a chair usurp their moment. "All praise to both ??s @serenawilliams the best athlete the world has ever seen & @Naomi_Osaka_ demonstrating #BlackGirlMagic & fierce determination. Very proud. Tears watching the hug ????," wrote Gabrielle Union.
Ava DuVernay echoed similar sentiments, writing, "Two queens stepped onto that court to win today. Two queens step off the court to play another day. Majesty from end to end. Even in the rough patches. Brava to both. And congratulations to @Naomi_Osaka_ for claiming your place in history."
Gigi Hadid was sad but inspired, posting, "What happened was just not fair. I'm hurting for S, but am inspired by both ladies' class. Just a very sad way for the USO to end.. regardless of the winner."
Gymnast Aly Raisman, who like Williams has long advocated for better treatment of female athletes, added, "Proud of @Naomi_Osaka_ & @serenawilliams they have inspired me in so many ways. Serena thanks for continuing to be such a leader and voice for women. We appreciate you ?"
Legends of women's tennis Billie Jean King and Chris Evert also gave their opinions on the match, just in case you'd like your opinions with a side of expert:
P.S.:
Related: U.S. Open 2018: See Gigi and Bella Hadid, Joe Jonas and Sophie Turner, Hugh Jackman, Armie Hammer, and More Celebrities Watching Tennis
Tennis Is For Lovers: See All the Famous Couples Who Have Attended the U.S. Open Over the Years
Nicole Kidman and Tom Cruise attend the 1993 U.S. Open Tennis on September 6, 1993. Photo by Getty Images.

Ron Galella, Ltd.
Nicole Kidman and Keith Urban attend the Roger Federer vs Tommy Robredo match during day eight of the 2009 U.S. Open on September 7, 2009. Photo by Getty Images.

Julian Finney
Jay-Z and Beyonce watch Rafael Nadal of Spain and Novak Djokovic of Serbia play during the Men's Final on Day Fifteen of the 2011 US Open. Photo by Getty Images.

Al Bello
Gigi Hadid and Joe Jonas attend day 9 of the 2015 US Open on September 8, 2015. Photo by Getty Images.

Uri Schanker
Leonardo DiCaprio and Kelly Rohrbach attend the Men's Final on day fourteen of the 2015 US Open on September 13, 2015. Photo by Getty Images.

Jean Catuffe
Kanye West and Selita Ebanks at the U.S. Open on September 1, 2010. Photo courtesy of Getty Images.

Philip Ramey Photography, LLC
Justin Timberlake and Jessica Biel attend the 2013 US Open on September 9, 2013. Photo courtesy of Getty Images.

Uri Schanker
Minka Kelly and Derek Jeter on day six of the 2010 U.S. Open on September 4, 2010. Photo courtesy of Getty Images.

Chris McGrath
Bruce Willis and his wife Emma Heming-Willis watch the match between Marin Cilic of Croatia and Kei Nishikori of Japan during the US Open 2014 men's singles finals match on September 8, 2014. Photo courtesy of Getty Images.

TIMOTHY A. CLARY
Chrissy Teigen and singer John Legend visit the Moet & Chandon Suite at the 2012 US Open on September 2, 2012. Photo courtesy of Getty Images.

Michael Kovac
Karlie Kloss and Joshua Kushner attend the 2014 US Open on August 25, 2014. Photo courtesy of Getty Images.

Jean Catuffe
Olivier Sarkozy and Mary Kate Olsen attend day 8 of the 2014 US Open on September 1, 2014. Photo courtesy of Getty Images.

Uri Schanker
Jason Sudeikis and Olivia Wilde attend the 2013 US Open on August 26, 2013. Photo courtesy of Getty Images.

Uri Schanker
Amanda Seyfried and Justin Long attend The Moet & Chandon Suite on September 9, 2013. Photo courtesy of Getty Images.

Brad Barket
Alec Baldwin and wife Hilaria Baldwin attend the 2016 US Open opening night on August 29, 2016. Photo courtesy of Getty Images.

Jean Catuffe
Charlize Theron and Stuart Townsend attend the 2008 U.S. Open Men's Championship Match on September 8, 2008. (Photo by Nick Laham/Getty Images)

Nick Laham
Hugh Jackman and Deborra Lee Furness attend day 11 of the 2014 US Open on September 4, 2014. (Photo by Uri Schanker/GC Images)

Uri Schanker
Alec Baldwin and Hilaria Baldwin are sighted during day 1 of the 2015 US Open on August 31, 2015. (Photo by Uri Schanker/GC Images)

Uri Schanker
Ben Stiller and Christine Tayler attend day eight of the 2015 US Open at USTA Billie Jean King National Tennis Center on September 7, 2015. Photo courtesy of Getty Images.

Jean Catuffe
Michael Douglas and Catherine Zeta-Jones attend the women's final on day thirteen of the 2015 US Open on September 12, 2015. Photo courtesy of Getty Images.

Jean Catuffe
Christy Turlington and Edward Burns seen at USTA Billie Jean King National Tennis Center on September 10, 2016. Photo courtesy of Getty Images.

Team GT
Mike Tyson and his wife Lakiha Spicer attend the opening night gala of the 2018 tennis US Open on August 27, 2018. Photo courtesy of Getty Images.

Jean Catuffe
Katie Couric and husband John Molner attended the opening night gala of the 2018 tennis US Open on August 27, 2018. Photo courtesy of Getty Images.

Jean Catuffe
Actor Hugh Jackman and his wife Deborra-lee Furness attended the opening night gala of the 2018 tennis US Ope on August 27, 2018. Photo courtesy of Getty Images.

Jean Catuffe
Joe Jonas and Sophie Turner at Day 5 of the US Open held on August 31, 2018 in New York City. Photo by Adrian Edwards/GC Images.

Adrian Edwards