Serena Williams Showed Up to the US Open in a Black Tutu by Virgil Abloh and Sneakers That Said "Queen"
And sparkly sneakers that said "Queen."
---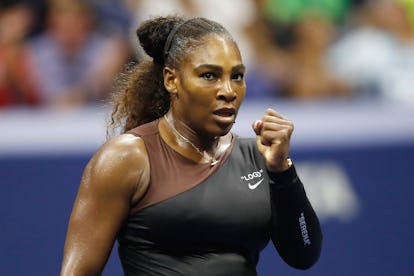 Julian Finney/Getty Images
Serena Williams is arguably the greatest tennis player ever and, unquestionably, the boldest tennis player ever. Just a few days after the French Tennis Federation president Bernard Giudicelli called out Williams's iconic black catsuit—which serves a necessary medical purpose in preventing blood clots—saying "it will no longer be accepted," Williams gave a sartorial mic drop at the U.S. Open. She won her match against Magda Linette (6-4 and 6-0) in a radical black tutu designed by another icon known for subverting the system, Virgil Abloh.
For the occasion, the Off-White mastermind dressed the tennis great in not just a black tutu, but also a pair of sparkly sneakers that were emblazoned with Serena's name and the word "Queen." When a reporter asked about her look, Williams replied, "Well, I'm just honored to wear Virgil Abloh, who is probably the hottest designer right now…. Nike and Off-White put together this amazing collaboration…. I'm just the muse, I guess," she said with a laugh.
Abloh later shared an image of Williams in the look, writing, "Willing to design dresses for her for life," which Williams reshared with a thank-you note.
She definitely made good on her promise of not wearing the same thing, which she mentioned over the weekend when asked about the French Open's stodgy dress code by reporters. "Everything's fine, guys," she said, before adding, "When it comes to fashion you don't want to be repeat offender. It'll be a while before this even has to come up again." Considering how perfectly she handled the U.S. Open—and how eager Abloh is to dress her again—expect nothing boring when she plays in the French Open next spring.
In the meantime, take a closer look at Williams' U.S. Open outfit by Off-White and revel in her advice for staying confident: "No one can tell you who you are except for you," she told Elle. "No one can tell you how beautiful you are, except for you. No one is that judge, you have to judge yourself, because at the end of the day, you always end up with yourself and not with these people. You have to really look at yourself and love yourself and just really not be too into what [someone says]. If someone says something negative, that's okay. You don't have to like it. You don't have to like every part, there's other people that do; most of all, I do."