Iranian Singer Sevdaliza's Surprise Visual Album ISON Belongs in an Art Gallery
Sevdaliza just rewrote the rules of what a visual album can be, and proves why the Iranian-born singer is quietly amassing so much hype.
---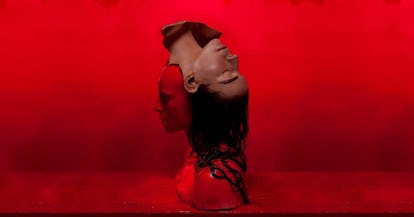 Image via YouTube
Beyoncé changed the game when she dropped her first surprise visual album in 2013. Now, the Iranian-born singer Sevdaliza is changing the rules of what a visual album can be with a surprise drop of her own. Her proper full-length debut album ISON was uploaded to YouTube this morning, complete with its own trippy, museum-worthy visual accompaniment that makes a convincing case that even artists who may not have Beyoncé-like budgets should explore the possibilities of creating full-length visual accompaniments for their albums as well.
Of course, first, understandably, some may be wondering who, exactly, Sevdaliza is? It's ok. She hasn't had that huge breakout moment yet, but her alternative R&B-meets-trip-hop music has been quietly winning her notice (imagine, perhaps, the idea of Solange, Aaliyah, Bjork and Sade going on a cosmic journey together and all accidentally being combined into one). Her often ethereal music videos complete the package (we noted her short form video "Marilyn Monroe" as one of the most stylish music videos of 2016).
She also has an interesting life story. After moving to the Netherlands as a teen, she went on to join the Dutch National Women's Basketball team before establishing herself as an artist. "Besides being an immigrant, I was already weird," she recently told Fader. "I didn't really care what people thought of me, but at the same time I was really lonely."
Which brings us to ISON, a project she only even first mentioned in a profile a few weeks ago: profile a few weeks ago:
You'll quickly notice that this is not, like many previous visual albums, a sequence of MTV-ready music video clips meant to be watched like a movie, but rather a single cohesive visual experience meant to enhance the listening experience.
The clip features a mask of the singer's own face created by sculptor Sarah Sitkin. Sevdaliza's frequent visual collaborator, the Iranian-born digital artist Hirad Sab, the manipulated shots of the sculpture into a surreal visual experience. The effect is not unlike that explored in Kanye West's video for "Famous."
While something like Beyoncé's Lemonade is almost a musical film that requires one's full attention, ISON is better enjoyed closer to the way musical albums traditionally are: Stream it to your television, and let it enhance the mood of whatever else you might be doing in your living room. Put it on during cocktails, while reading a book, or while you have a special guest over and enjoy the visual aspect like you might a moving painting.
It's a neat idea, and one we wouldn't mind other artists exploring.
Of course, if you prefer your visual music accompanist more in line with traditional music videos, Sevdaliza has you covered. Several of the tracks already have their own separate music videos, and its likely more may follow.
Released in February, the video is an exploration of the many roles women are expected to play in the modern world.
The video for "Human," meanwhile, imagines the singer as a not-quite-human erotic dancer.
See Whats Trending in W Video: