Sex and the City's Opening Credits Almost Looked Very Different
Carrie almost didn't wear the iconic tutu.
---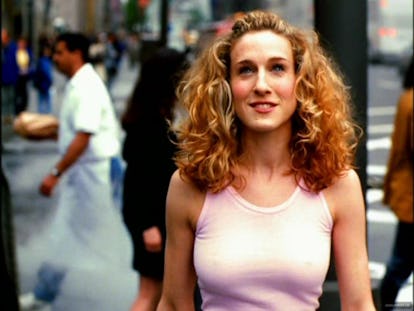 HBO
Even people who have never seen an episode of Sex and the City are familiar with the HBO show's opening credits—salsa music plays, a bus splashes dirty water all over Carrie Bradshaw, the bus is revealed to bear an ad for her column…and then there's her iconic outfit.
Sarah Jessica Parker wears a simple pink tank top with a white tutu as she strolls down the streets of New York City, looking absolutely "fabulous," as Samantha Jones would say. It's inspired both women's real world style and more than a few Halloween costumes. Not to mention that it set the tone for the adventurous fashion the show would come to be known for. But as it turns out, the team behind the show filmed another opening credit sequence—one where Carrie wore an entirely different outfit.
Entertainment Weekly shared archival footage from the Sex and the City title sequence shoot. In the clip, Carrie wears a knee-length, powder blue dress. Instead of getting splashed by the bus, Carrie trips over her own feet (pretty out of character for such a high heel expert) before noticing the bus ad.
"There were two wardrobes. One was the tutu, and we did one pass where Sarah Jessica was wearing a blue dress and didn't get splashed; instead, she trips when she sees the ad," the show's creator Darren Star told EW. "In my mind, it was a nod to The Dick Van Dyke Show, but we didn't use it. It's in the archives."
The show's costume designer, Patricia Field, told EW that she discovered the tutu in a $5 bin on a showroom floor—and she recreated four versions of it for the show (probably because it gets splashed with dirty water in the title sequence). "It was very difficult for the producers to understand the tutu," Field said. "Sarah Jessica and I were fighting for it, and Darren said, 'OK, but I want other outfits as possibilities.'"
In a previous interview with the Archive of American Television, Field recounted the fight, and added that she knew the opening outfit had to be something iconic. "Whatever she's wearing has to be completely original to last in time," the stylist said.
While that blue dress is as fine a representation of the style of the time, it certainly wouldn't have become quite as iconic as that tutu has.
__Related: A Love Letter to Sarah Jessica Parker's Curls
Watch: 7 Infamous On-Set Hollywood Feuds:
Sarah Jessica Parker's Style Evolution from the '80s to Today
Sarah Jessica Parker circa 1987 at a premiere party in Hollywood wearing black pants, a bra top and jacket.

Getty Images
Parker wears red velvet pants, a gold bra covered with a patterned jacket, and isn't afraid to show some skin at a movie premiere in Los Angeles in 1991.

Getty Images
SJP wears a pale pink mini dress to VH1's Vogue Fashion Awards in 1997.

Getty Images
SJP arrives at a party for the Emmy's in 2000 wearing a pastel pink feathered dress.

Getty Images
Walking the red carpet at the 2001 SAG Awards wearing an embellished bra top and navy skirt set.

Getty Images
SJP wore a black bustier, leather pants, and a red lip to the 2003 Golden Globes.

Getty Images
SJP accepted an Emmy in this strapless black dress in 2004.

Getty Images
Wearing a trench coat and black boots in 2005 while stepping out in London.

Getty Images
SJP wears a plaid, tulle, and lace Alexander McQueen dress to the Costume Institute's Gala in 2006.

Getty Images
This metallic dress was worn to the New York City premiere of Sex and the City in 2008.

Getty Images
SJP wears a black body-con dress with white heeled boots to the 2008 MTV Movie Awards.

Getty Images
This white ball gown created a romantic look on the red carpet at the 2009 Academy Awards.

Getty Images
SJP wears a short, ruffled black dress before accepting an award at the 2010 ShoWest awards ceremony.

Getty Images
SJP truly brought this pleated dress to life on the red carpet at the 2010 MET Gala.

Getty Images
SJP wears a pastel yellow Chanel couture dress with a wrist full of bangles to the 2010 Academy Awards.

Getty Images
A strapless black gown with a matching headpiece had all eyes on SJP at the Sex and the City 2 premiere in London in 2010.

Getty Images
SJP looking lovely in a form-fitting sequin gown at the 2011 Costume Institute Gala.

Getty Images
In 2012 at the amfAR gala wearing a feminine pink dress paired with white gloves and a black leather jacket, SJP creates a feminine look with an edge.

Getty Images
On the red carpet at the 2012 Costume Institute Gala, SJP wears a feminine, floral gown.

Getty Images
SJP wore a white and pink gown to the New York City Ballet's 2013 fall gala.

Getty Images
On the red carpet at the 2013 Costume Institute Gala wearing a ball gown paired with plaid over-the-knee boots and a show-stopping headdress.

Getty Images
In a Mary Katrantzou gown with an intricate pattern while arriving at the ballet in New York City.

Getty Images
SJP wore this black and white Oscar de la Renta gown to the 2014 Costume Institute Gala in New York City, accessorizing with long gloves and simple jewelry.

Getty Images
This was a look to remember at the 2015 MET Gala. SJP caught everyone's attention with a red headdress that spurred many Internet memes.

Getty Images
A sparkling moment on the red carpet as SJP attends the New York City Ballet's Fall Gala in 2015.

Getty Images
On the red carpet of the 2016 Benefit Fashion Show for Parsons, SJP wears a two-toned dress paired with silver accessories.

Getty Images
For the New York City premiere of Divorce in 2016, SJP wears a purple lace dress with a crystal-coated bodice.

Getty Images
This color-blocked look was worn to the 2016 New York City Ballet's Fall Gala.

Getty Images
A Princess Leia inspired look for the 2017 Golden Globes in Hollywood.

Getty Images
SJP wore this bronze, metallic dress to the People's Choice Awards this past January.

Getty Images