Shanghai Biennale 2016: A Burgeoning Art Capital Emerges in China
From an eye-catching slew of exhibitions to sparkly new art fairs to the 11th Biennale, Shanghai's art season has kicked off with a bang. We pick the best of the best.
---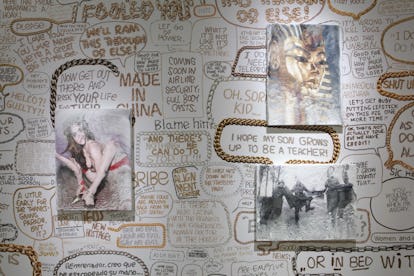 More is more could be the Shanghai art world's maxim. With bigger museums, more fairs, and a growing surplus of collectors, Shanghai kicks off the art season with two relatively new fairs opening back-to-back simultaneously with the opening of the Shanghai Biennale. Opening on their heels will be a spate of new spaces and exhibitions, mainly concentrated around the West Bund Cultural Corridor, the city's attempt to fashion an instant arts district on the bank of the Huangpu River. Here, a streamlined look at Shanghai's biggest draws this week.
"Hack Space," "Guan Xiao: Elastic Sleep," and "Neil Beloufa: Soft(a)ware" at the K11 Foundation The ubiquitous K11 Foundation, helmed by mega-collector Adrian Cheng, has not one but three openings at its K11 art museum, housed in the basement of the luxe shopping mall of the same name. Simon Denny's 2015 solo exhibition at the Serpentine Gallery reappeared at a K11 pop-up in Hong Kong during Art Basel in March, and is now further expanded to include roughly a dozen Chinese artists such as Cao Fei and Shanghai-based artists like aaajiao and Cui Jie who consider environs and connections created online. The exhibition now reappears at the shopping center, in partnership with the Serpentine and Hans-Ulrich Obrist. Adjacent solo shows by Neil Beloufa and Guan Xiao respectively also deal with internet-age aesthetics and relationships.
Martin Creed's "Understanding" at Qiao Space Nightclub magnate Qiao Zhibing recently opened a project space in the West Bund Cultural Corridor, soon to be joined by his museum-size Oil Tank Art Center nearby. In association with Hauser and Wirth, Qiao Space opens a Shanghai edition of Martin Creed's "Understanding."
Shanghai Biennale at the Power Station of Art A converted power station south of the Bund meant to ape the Tate Modern, this year's edition is curated by New Delhi-based group Raqs Media Collective. Titled Why Not Ask Again? the 11th biennale features emerging Chinese artists such as Lin Ke and international stars like Tomas Saraceno, with a concept that emphasizes "itineraries" with a global perspective.
West Bund Art and Design Fair Considered the week's premier fair, West Bund will host a slim but solid collection of Chinese and international galleries. Blue-chip international dealers such as Hauser and Wirth, David Zwirner, White Cube, and Emmanuel Perrotin join Chinese mainstays like ShanghART and Boers-Li, as well as local spaces known for emerging artists like Leo Xu Projects and BANK.
Art 021 Shanghai's younger, hipper contemporary art fair began in 2013 and now includes more than 50 galleries. Per Shanghai's maximalist attitude, many foreign dealers already at West Bund will set up shop here as well, such as Perrotin, Hauser and Wirth, and Zwirner — though Gagosian will have a booth here but not at West Bund. More boundary-pushing galleries like Greene Naftali have made the trip, joined by a bevy of young and established Beijing, Shanghai, and Greater China galleries.
Xu Zhen Store The artist Xu Zhen and the collective that operates under his name often toy with the elision of art and commerce in China, and the group's latest project takes that conceit to its logical endpoint: a pop-up store bearing the artist's name, selling wares such as silky tracksuit-cum-pajamas, oversize sunglasses, and foamy chairs from the collective's MadeIn Gallery space on the West Bund.
Antenna Space One can count on Simon Wang's Antenna Space, housed in a converted mess hall at the former factory grounds at M50, for cerebral exhibitions from an international roster of young artists. This week sees the opening of Hong Kong–based artist Nadim Abbas's solo show with the gallery, "Chimera."
"Holzwege" at ShanghART Shanghai's premier gallery decamps to the West Bund for its 20th anniversary, leaving behind its original M50 space — a strong vote of confidence for the new arts district. For the inaugural show in the space, the gallery has put together a blowout group show, featuring roughly 30 artists, inspired by Martin Heidegger's Holzwege.