SHE FEELS LIKE A CANADIAN
Shania Twain Riding a Dog Sled is the Most Canadian Moment of the Year
"I feel like a Canadian!"
---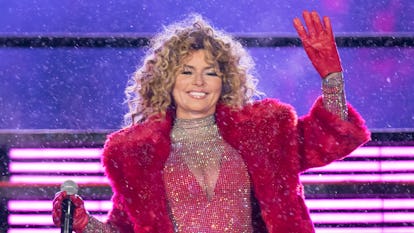 Mark Horton/Getty Images
Just in case you needed a reminder that Shania Twain, one of the U.S.'s best-selling country artists of all time, is actually a Canadian citizen, feast your eyes on her performance at the Grey Cup half time show over the weekend. As soon as she rolled up to the Canadian Football League's championship match — via dog sled, no less — her entire appearance at the event was immediately branded "the most Canadian thing ever."
Twain, who was born and raised in Ontario, was pulled into the event by six sled dogs, while a man in a suit stood stoically behind her to drive the sled. She wore a red sequined skin-tight jumpsuit, a fluffy red elbow-length coat, fuzzy red boots, and red leather gloves, and was escorted from the dog sled to the stage by a gaggle of red uniform-clad Mounties. Once on stage, a blizzard raged on around her, before the five-time Grammy winner launched into a performance of 1997's "That Don't Impress Me Much" and "Life's About to Get Good," a song from her brand-new album Now. She closed out the show with a high-energy rendition of "Man! I Feel Like a Woman." Afterward, just as she was being lowered under the stage through a trapdoor, Twain called out, "I feel like a Canadian!" and the (Canadian) crowd went wild.
Twitter users from Canada and beyond were very impressed by the 52-year-old's paying homage to the Great White North. One Canadian user summed it up perfectly. "Grey Cup in nation's capital. A blizzard. Mounties. Lumberjacks. Shania Twain. Hey, hosers, we're a beaver covered in maple syrup away from most Canadian thing ever," they wrote. Another asked a question for the ages: "On a scale of 1 to 'Shania Twain coming out on dogsled during the middle of snowstorm for the #GreyCup in Ottawa' … How Canadian are you?"
If Twain hadn't already earned her star on Canada's Walk of Fame and her spot in the Canadian Music Hall of Fame several times over, she certainly has now, eh?
Related: 5 Actors and One Actress Read Shania Twain's "Man! I Feel Like A Woman"