Shanina Shaik Believes In Inner Beauty, and Well-Applied Concealer
For Shanina Shaik true beauty comes from within, but the supermodel knows it doesn't hurt to take care of your skin, too.
---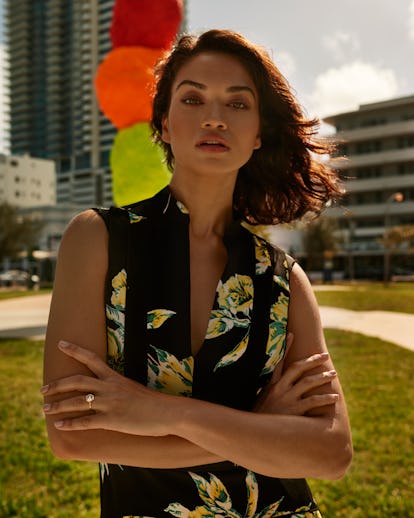 Bon Duke, styled by Caroline Grosso. Hair and Makeup by Angie Chavez at Wilhelmina. Model: Shanina Shaik at IMG Models. Produced by Biel Parklee. Casting by Erin Simon.
Budding supermodel Shanina Shaik spends a lot of time traveling and in the sun. Most recently, the Australia native took some time off from scouting wedding locations in the subtropics, to go to Miami for a photoshoot during Art Basel.
While there, the model, who has walked for brands ranging from Tom Ford to Victoria's Secret, opened up about her beauty routine, and the secrets that keep her hair shiny and her skin clean and glowing.
Het beauty look in three words: Natural, bronzed, sexy.
Five-Minute Routine: I begin with clean and moisturized skin, I then apply concealer under my eyes, add mascara and finish with a lip stain.
Products She Never Leaves the House Without: My Estée Lauder perfectionist concealer and my Bobbi Brown lip and cheek cream palette in "Rose"
Must-Have Skin Products for a Day at the Beach: I apply Clinique Super Defense moisturizer to my face and I use Australian Gold tanning lotions, which also have a high SPF in their products.
On-the-Go Exercise Regime: Bringing exercise bands, ankle weights, and a jump rope is a great way to workout while your traveling. You can find amazing workout videos online to help with your training.
Shanina Shaik Takes Miami
Favorite getting ready music: Anything hip-hop and dance, or house music.
Best Beauty Tip from Mom: Always remember to take off your makeup and keep your face moisturized.
Best Beauty Tip from a Pro: Make sure to look after your skin!
Favorite Nutritional Snack: A protein bar or an apple.
Best Beauty Secret: Look after yourself from within and your beauty will shine through on your skin.
Hair Repair Secret: Don't shampoo your hair every day. Condition your hair on the ends .
Favorite Spa-cation Destination: My best experience was in the Maldives. Anywhere tropical just makes you feel super luxurious.
Go-To fragrance: Giorgio Armani's Si.
Beauty Icons: Rosie Huntington-Whitley, Cindy Crawford and Rihanna.
Beauty Motto: No beauty shines brighter than that of a good heart.