Shanina Shaik Takes Time Off From Bikini Selfies and Wedding Planning to Wade Into Art Basel Miami Beach
The Australian model is capping off a busy year by discovering new art in Miami and planning her upcoming wedding to DJ Ruckus.
---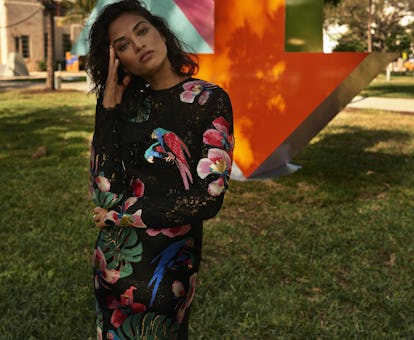 Bon Duke, styled by Caroline Grosso. Hair and Makeup by Angie Chavez at Wilhelmina. Model: Shanina Shaik at IMG Models. Produced by Biel Parklee. Casting by Erin Simon.
It was about 9:30 a.m. on the Wednesday of Art Basel week in Miami Beach. The main fair itself wouldn't even open its doors for a few more hours, but the party circuit had already been raging for the previous two nights.
The model Shanina Shaik had just flown the day before, and had already hit up a party at Casa Faena. Despite that, she still managed to get up to for a run this morning, and made her call time for a photo shoot. Well, technically a few minutes late, but that's still considered practically early by the standards of the week. She still politely apologized.
It was the Australian model's second Art Basel, but she was already familiar with the magical possibilities of the week. In fact, last year, she said she wound up touring Swizz Beatz' No Commission event in downtown Miami with Julieanna "YesJulz" Goddard, the Miami-based Snapchat star, and Jaden Smith, the Los Angeles-based Twitter star, when she spotted a painting she liked and posted it on her Instagram. The artist, French painter Sandra Chevrier, got wind and returned the favor by painting Shaik.
"We were looking at the art, and I took a picture of this art piece that I loved, and then the artist just drew me," she told me. "I didn't even know. My fiancé bought it as a surprise."
That fiancé is, of course, DJ Ruckus, the celebrity record spinner who just happens to be providing the tunes for multiple parties in Miami this week. He's helped to incubate Shaik's newfound interest.
"It's something that's very new to me, and my fiancé loves art. His mother was very into collecting art, so I think it's like a new hobby for me now," she said.
Shaik was planning on spending the day posing in front of art around Miami and sneaking in the occasional beach selfie, but in her off time she's eager to see more.
"I'm interested in the downtown art. Downtown Miami is very cool and up and coming," she said. She was particularly interested to see the Miami debut of her friend Laura Kimpton's "Magic" sign, a giant reflective metal sculpture spelling out the word. The piece debuted at Burning Man this year but has now found a home in a pop-up sculpture park in the Magic City.
Of course, it's not all art on Shaik's mind. She's also begun to plan her wedding to Ruckus. It will be a destination affair, and the couple have started looking for tropical locations.
"Somewhere on a beach definitely," she said. "We're scouting different ideas right now."
In between traveling for modeling gigs, scouting island locales, and visits back to Australia to see family, there's a lot of travel on Shaik's agenda lately, but that seems to suit the 25-year-old model just fine. In fact, her whole modeling career began simply because she wanted to get to New York City. At 17, she decided to audition for an Australian reality television modeling competition.
"I wanted to win to get the contract to move to New York," she said. "That was my whole plan."
At first she was unsure of her chances. "My look in Australia wasn't very in demand at that time, unfortunately," she said. But while she missed the reality TV title (she came in second place) she still realized her goal anyway. A New York-based modeling agency found her picture and flew her to the city and the rest is history.
"I booked my first job on the second day, and meeting clients like Victoria's Secret and Maybelline in the first week and seemed very excited about me, so I was like 'Oh, this is a good thing, me being here,'" she recalled.
Next year seems to hold more good things for Shaik. She's already lined up gigs into the new year, and, of course, there's that wedding. She'll actually be back in Miami, where Ruckus has a gig, to ring it in on New Year's Eve. As for a resolution, Shaik says it's simply to focus more on herself.
Shanina Shaik Takes Miami
9/29 Members