Shannon Purser, aka Barb from Stranger Things, Is Finally Getting the Attention She Deserves With a Netflix Movie of Her Own
She stars as a modern-day, high school-set retelling of the story of the 17th-century writer Cyrano de Bergerac.
---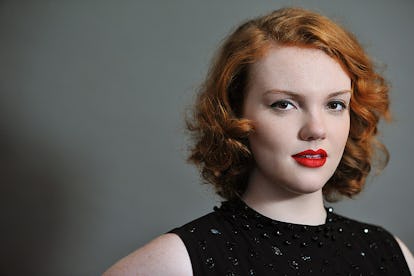 Marc Cartwright, hair/make-up by Blondie for Exclusive Artists
Spoiler alert: In case you somehow missed it from the once omnipresent hashtag #JusticeForBarb or the literal shrine to Shannon Purser, complete with her actual baby pictures, at Comic Con last year, the Stranger Things fanbase was extremely displeased with the death of their favorite, lovably frumpy character. Barb might still be dead, but on the flip side, Purser has been doing more than fine: She landed an Emmy nomination for her performance, as well as a role on another cult series, Riverdale; Melissa McCarthy reached out to her personally for their upcoming film, Life of the Party; and now, it's confirmed that Purser is finally getting the attention she deserves on Netflix with a starring role of her own.
Playing the titular character in a film called Sierra Burgess Is a Loser might not sound like the most flattering achievement, but according to Deadline, Purser's character is in fact quite intelligent and has simply "never really concerned herself with being cool or hot." That doesn't stop her from teaming up with the most popular girl in school, played by up-and-comer Kristine Froseth, in a quest to win over her crush, whom she has a text-only relationship with, since he's apparently a bit confused about who she actually is IRL.
A la Easy A, the film, which is directed by Ian Samuels and also stars Chrissy Metz from This Is Us, the movie's a bit deeper than your typical high school rom-com: It's actually a modern-day retelling of the story of the 17th-century French writer Cyrano de Bergerac, one of the most famous versions of which was translated by Anthony Burgess, who wrote the novel A Clockwork Orange. A fictionalized, version of de Bergerac's life, it stars the writer as a gifted poet, musician, and duelist, who holds back from expressing his love for a beautiful, intelligent woman because he's embarrassed of his sizable nose.
This definitely isn't the first adaptation of the play: There was in fact a Disney Channel retelling called Let It Shine back in 2012, which skipped over the nose part, just like Sierra Burgess Is a Loser seems to be doing. Still, this might be the last time Purser can play another Barb-like, stereotypical loser role: her IRL—as well as online, given she has a million followers across Twitter and Instagram—popularity is starting to get a little too popular to ignore.
Millie Bobby Brown Does Her Best Karaoke Version of Bruno Mars' "Just the Way You Are":
Related: Emmy Nominee Shannon Purser Has No Idea How Fans at Comic Con Found Her Baby Pictures