Shantell, Inc: Meet Collaboration Queen Shantell Martin
How the illustrator, who has worked with Maybelline, Lane Crawford, Warby Parker, and countless others, created her own economy. Just don't call her a "commercial artist."
---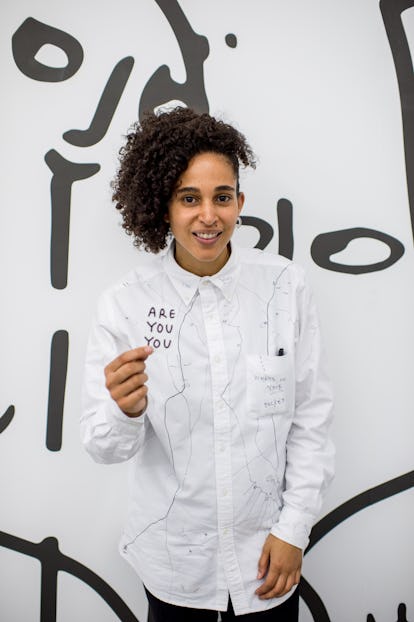 Inside an event space on Howard Street in Manhattan, Shantell Martin is relaxing on a couch. All around her, the walls are being plastered with her signature squiggly illustrations. She's taken over the space in collaboration with Maybelline, and is producing custom artwork in honor of the brand's new eyeliner. "I'm an artist that works with a lot of lines, so there's a natural fit there," she explained. "Eyeliner, lines …"
The 35-year-old artist has made a career out of partnerships such as this one, and lately it seems like they've grown exponentially. This spring, she's also working with Warby Parker, a travel agency called Fathom: Impact + Travel, the Tokyo-based clothing brand United Arrows, and a textiles company in Chicago. She's also making an adult coloring book, and has a show at Open Gallery in Boston. In the fall, she'll team up with Proctor and Gamble, as well as the Women in Engineering department of the University of Texas-Austin.
But don't try to put Martin in the "commercial artist" box. When she first moved to New York after graduating from Central Saint Martins in 2003—and spending five years in Tokyo as a visual jockey, creating live installations for DJs, dancers, and musicians—Martin tried to go the gallery route, but was met with a firm "Thanks, but no thanks," she said. "They would say, 'Love it, where have you shown?' I realized I had to take them out of the equation, because if you've shown that means you have collectors and that means [the galleries] know they can sell you to those collectors. If you haven't shown, it's a catch-22—you can't show if you haven't shown."
Martin started directing her own projects, using what she had access to—drawing on cars and people and walls, and staging exhibitions at friends' spaces. Eventually, MoMA called and asked her to stage a live installation during a private event. "I was like, 'You're going to pay me?!' And then I could get off of sleeping on couches for the first time, which was nice," Martin said. "There are so many artists in New York, but also so many artists talking about being artists. So if you actually just do stuff and use what you have access to, even if it's just your friends' smaller spaces … you just have to do it, and do it enough to start getting those ripples out there in the world."
Since then, she's done work for Lane Crawford, Kelly Wearstler, Jawbone, Martone Cycling, Rolf & Daughters restaurant and more, creating products, window installations or permanent outdoor art. "This is what this new way looks like, and I make money through working with museums, companies, institutions, and curating and producing my own events," she explained.
Martin spans the academic and traditional art world too, with solo shows at MoCADA and Black and White Gallery, both in Brooklyn, and as a graduate teacher at New York University. Currently, she's also completing a residency at Autodesk Gallery in San Francisco, learning how to manipulate machinery and software for her work.
And while it might all seem a bit sprawling and random, there is a certain amount of strategy behind her choices—she says no far more often than she says yes. "If you start to say yes to the wrong things, you're going to be off course," she says. "And that's going to affect you and your art and the progression over the period of your lifetime as an artist. And you don't want to end up somewhere you'll never be able to get out of."
Martin seems to be very much on course. People are starting to take interest in buying her art; although she doesn't sell very often, if a collector is persistent she'll send them an application form, with questions like "What's your idea of freedom?" and "What did you want to be as a child?" "If you're willing to go through that amount of hassle, you must really want my work," she said. "And I want my work to go to people who love it and aren't going to shove it in their basement and wait for the prices to go up, you know?"
Her drawings typically go for around $10,000, and that money goes directly into her pocket. "You have to really look at the system of art galleries: A gallery will take an artist, they'll potentially show their work, they'll sell their work, they'll take 50 percent. An old gallery used to provide the artist with materials and stipends and stuff like that. They don't do that now," she said. "The commercial system: You work with an artist, you pay them 100 percent, you pay them beforehand, and that's it."
Plus, she added, "if you look at all the big artists who come from the gallery system, what do they do now? They work commercially."
"I'm totally an outsider on the inside on the outside," she continued. "I'm not going to let you put me in a box. I'm still an artist; I have this need to draw and create and connect and share so I'm just going to draw on whatever I can. And then you know, that ended up being the premise of my career."____
Photos: Shantell, Inc: Meet Collaboration Queen Shantell Martin
Shantell Martin at the Maybelline pop up shop. Photo by Roy Rochlin.
Refinery29 Collaboration. Courtesy of ShantellMartin.com.
The Maybelline pop up shop. Photo by Roy Rochlin.
Rolf and Daughters restaurant collaboration. Courtesy of ShantellMartin.com.
Shantell Martin at the Maybelline pop up shop. Photo by Roy Rochlin.
Martin's adult coloring book collaboration. Courtesy of ShantellMartin.com.
Refinery29 Collaboration. Courtesy of ShantellMartin.com.
Shantell Martin at the Maybelline pop up shop. Photo by Roy Rochlin.
Rolf and Daughters collaboration. Courtesy of ShantellMartin.com.