What Went Down While You Were Distracted by the VMAs
From Shayne Oliver's origin story to Anthony Weiner's unfortunate return to the spotlight, here's what you missed this weekend.
---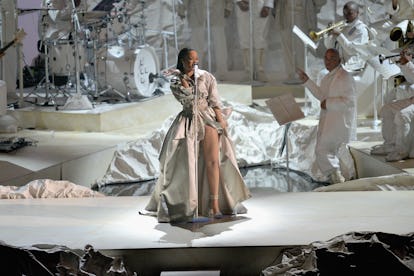 WireImage
Calendar, Pirelli The 2017 edition has been revealed, and it's populated with stars like Léa Seydoux, Lupita Nyong'o, and Alicia Vikander, seen through Peter Lindbergh's lens.
Oliver, Shayne The genesis of a Hood By Air designer. (Coincidentally, Rihanna wore Hood By Air for her opening performance at the VMAs.)
Rubchinskiy, Gosha Reportedly planning his first fragrance. What does Soviet youth smell like?
Taylor, Teyana Musician and dancer, GOOD Music signee, star of Kanye West's new "Fade" video. Here's what you need to know.
VMAs, MTV Beyoncé's show. Also Rihanna's show. And Kanye's. Sort of Britney's show? See the red carpet highlights, here.
Weiner, Anthony While you were distracted by the VMAs, your Twitter feed might have been quietly blowing up with mentions of one disgraced former congressman, Anthony Weiner. Here's why.
West, Kanye While West was in New York for the VMAs, his wife was back out in Los Angeles unveiling the sculpture featured in his controversial "Famous" video. Kanye was sort of there, too.
Westwood, Vivienne A rapper, now.
Williams, Venus Tennis champion, designer, interior designer — basically making it all happen.
Watch W's most popular videos here: