Rashaad Newsome Recalls Meeting a Young, Pre-Hood by Air Shayne Oliver
Rashaad Newsome recalls meeting the young designer before he was a star, and asking him to freestyle vogue for a series of videos that are now on view at the Studio Museum in Harlem.
---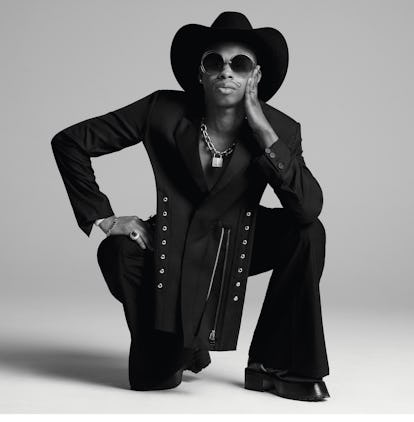 Rashaad Newsome has a series of videos at the Studio Museum in Harlem for its spring exhibit. One, in particular, stands out. It features a very young, very lithe Shayne Oliver voguing long, long before he was the celebrated designer of Hood by Air. Oliver has been interested in dance since he was 14, when his mother rented him Paris Is Burning, the landmark 1990 film documentary about vogueing and New York's gay ballroom scene. Nightlife has long figured into his designs, but in the early Aughts, when he first met Newsome, he was just another young club kid with a cool look. The artist had been examining vogue for a project and asked Oliver to freestyle for him on camera. They recorded to music by Kevin Jz Prodigy, but the final video is silent, focusing strictly on movement. Here, Newsome recalls meeting the designer as a young man.
Though Oliver's long said nightlife has been a big influence on his designs, he's left out its effect on his dance moves – the extent of which is now on display at Harlem's Studio Museum, thanks to the artist Rashaad Newsome, who's been examining the dance practice with a series of videos over the last ten years. Here, Newsome remembers meeting a young Oliver decked out in scuba pants and filming early Hood by Air ads for Myspace:
When I was planning to move to New York from New Orleans, I met a guy out at a club in the French Quarter who told me about this queer collective, Dumba, in Brooklyn. It was started in the '90s by this Canadian documentary filmmaker and activist who'd left the lease, and over the years, the house kind of became whoever was living in there. By the time I came to it, it was all black queer artists, and we used to do these parties called "Lusty Loft Parties." The first time I met Shayne was at one of our parties, though he was actually too young to be there. I remember seeing him because he was in this amazing look, these scuba wetsuit pants with this big jacket and Tim boots on – kind of the look everybody is trying to do now, but that was in 2003 or 2004. We knew a lot of the same people, so after that night, we just kind of kept in touch. We became tight and I got familiar with the fact that he danced.
I was doing a video residency at Harvestworks on Broadway near Houston at the time, so I was always there, and he used to come over and hang out all the time. I was developing this work about vogue – I felt like there hadn't been anything made about vogue performance at that point from someone in the community that was particularly about vogue femme, which came after the vogue that people are familiar with from Madonna and the (1990) movie Paris Is Burning and all that. So I started developing this body of work, which went from more performative to these videos, which kind of function on two levels: they're portraits of the dance, which can be seen as an archive of the dance at the same time. They're divorced from audio completely so you can really kind of get into the nuances and the beauty of the practice, which hadn't really been presented at that point in that way. We recorded them with music by Kevin Jz Prodigy, who's kind of in some ways become the voice within my work, but we left that out of the video to put the focus on the movement.
Shayne and I had been hanging out for a long time before I shot that video of him in 2008. The way we approached it was, he came to the studio and he freestyled, and then I filmed that, and then I cut that footage into a dance composition, which he studied, and then came back and performed for the camera. There are two pieces that were done like that, both on view at the Studio Museum and originally shown at the (2010) Whitney Biennial. The other one was done with Twiggy Prada, who was performing new way, which is the older style of vogue that mirrors breakdancing a lot more – that's the one people might be more familiar with from Madonna and the movie Paris Is Burning.
I don't see Shayne as much as I used to, because Shayne has become quite the little celebrity. [Laughs.] I'm super proud of him. I think he's doing incredibly well, and I see him every now and then, more at events. You know, the look that he has on in the video is actually a very, very early Hood by Air look. Since he was always in and out of my studio, I started doing these like little promotional videos for the brand early on, a lot of them ended up living on – what was that website? – oh, Myspace, at the time. So Harvestworks, this super underground video residency, was actually the breeding ground for a lot of early Hood by Air advertising.