Looking Sheepish
A former Getty gas station is converted into a space for public art
---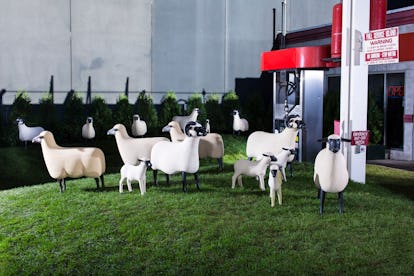 If you were among those trying to escape the torrential rain slashing Manhattan's Chelsea during last Thursday night's run of buzzy gallery openings, you can be forgiven for missing the curious sight on the corner of 24th Street and Tenth Avenue. At the former Getty gas station, previously known for its aesthetic blight on the neighborhood, a place where cabbies smoked, filled their tanks, and otherwise manufactured ways to ignore desperate pleas for a fare, a surrealist petting zoo has sprung up. On Friday morning, after the rain cleared, delighted schoolchildren were spotted among 25 stone and bronze sculptures of sheep—an inviting flock spread out across lolling green hills and hemmed in by a white picket fence. Against the stark warehouses and glass towers of Chelsea, the effect was a little like suddenly coming upon the quaintly charming house from Up.
In fact, "Sheep Station" is the largest-ever public installation of Francois-Xavier Lalanne's famed moutons, with which the late French artist first captivated fans and friends like Yves-Saint Laurent and Salvador Dali in the '60s. The exhibition is the handiwork of Paul Kasmin, the gallerist who handles the Lalanne estate, and Michael Shvo, a real-estate honcho and art collector who bought the property last month. Although Shvo will convert the site into luxury residences over the next two years, the former filling station will act as a temporary venue for public art in the meanwhile.
"For me, Francois-Xavier's art was about whimsy and fun," Shvo said on Friday while overseeing the finishing touches on site. He is an avid collector of Lalanne's work, and many of the pieces are borrowed from his personal collection. "It was an opportunity to bring the French countryside to Chelsea," he explained. "It's already become quite a neighborhood attraction."
"We had many other ideas," added Kasmin, who previously worked with Shvo on a show of David LaChappelle's photographs in Istanbul. "But, at the end of the day, we kept coming back to the sheep. None of the other ideas we had so totally transformed the space." He looked around at the pedestrians stopping to snap pictures with their phones. "It's for everybody! They're all laughing at it." He sounded pleased about the temporary urban fantasy he'd helped create. Then he added soberly, "We just have to make sure to cut the lawn regularly."
"Sheep Station," the inaugural exhibition of Getty Station, 239 Tenth Avenue, opens to the public on Tuesday, September 17. It will be on view through October 20, 2013.