Shia LaBeouf's Live-Streaming Anti-Trump Art Installation Has Been Shut Down
"The installation had become a flashpoint for violence and was disrupted from its original intent."
---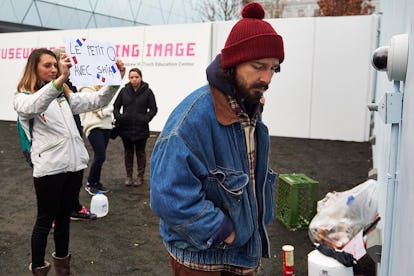 James Keivom James Keivom/NY Daily News/Getty Images
"HE WILL NOT DIVIDE US," Shia LaBeouf's political art installation erected on Inauguration Day in protest of President Donald Trump, seems to have, well, divided something: LaBeouf and New York's Museum of the Moving Image. The museum, which played host to the art piece for a whole three weeks, released a statement Friday announcing that the installation has been taken down due to safety concerns.
"The installation created a serious and ongoing public safety hazard for the Museum, its visitors, staff, local residents, and businesses," the statement reads. "The installation had become a flashpoint for violence and was disrupted from its original intent."
The art installation, which consisted of a webcam mounted to one of the museum's exterior walls, was initially planned to last the full four years of Trump's presidency. The public could participate in the project, which was open 24/7, by standing in front of the webcam and saying "he will not divide us" for as long as they'd like. It was also set to be (live-streamed)www.hewillnotdivide.us for its full duration. The live-stream currently features a black screen with the message, "THE MUSEUM HAS ABANDONED US."
The peaceful protest the installation was founded on, however, didn't last long. Days after it launched, LaBeouf was arrested in front of the project after an altercation with a man—of course, the whole thing was broadcast to the world via the live-stream. The Museum of the Moving Image cited the arrest as a reason why the installation was ultimately shut down.
"While the installation began constructively, it deteriorated markedly after one of the artists was arrested on the site of the installation and ultimately necessitated this action," their statement reads. "Over the course of the installation, there have been dozens of threats of violence and numerous arrests, such that police felt compelled to be stationed outside the installation 24 hours a day, seven days a week."
The museum also noted that they are proud to have launched the art piece and that it generated important conversations among people with diverse backgrounds worldwide.
This may not be the last of "HE WILL NOT DIVIDE US," though. The description of the project has been updated to include the statement, "On February 10, 2017, the Museum of the Moving Image abandoned the project. The artists, however, have not."
A Hitchhiker's Guide to Shia LaBeouf, Artist
I AM NOT FAMOUS ANYMORE February 2014
Having starred in Nymphomaniac, directed by Lars Von Trier, LaBeouf headed to Berlin for the film's promotion, starting with a press conference that he showed up to in a grimy white baseball hat and promptly left after taking a sloppy drink of water and quipping about sardines and seagulls. He'd lifted the line, it transpired, from the soccer player Eric Cantona, effectively adding to his ever-growing list of plagiarism accusations. (Before that, he looked to Charles Bukowski for his 2012 graphic novel "Let's F—king Party," and more recently, a journalist for one of his director's statements.) Still, that was hardly LaBeouf's oddest appearance for the film: He walked the premiere's red carpet with a paper lunch bag over his head, with cut-out eye holes and the phrase "I AM NOT FAMOUS ANYMORE."
Shia LaBeouf at the Nymphomaniac Volume I (long version) premiere during the 64th Berlinale International Film Festival at Berlinale Palast on February 9, 2014. Photo by Target Presse Agentur Gmbh/WireImage.
#IAMSORRY, February 2014
Fresh from Berlin, LaBeouf made a stateside appearance in his paper bag, this one lasting much longer: for a week straight, from 11 AM to 6 PM, he sat Marina Abramović-like before visitors to a Los Angeles art gallery, who he saw one at a time. Outside, his collaborator Rönkkö offered items like a leather whip, pliers, a pink ukelele, and a Transformers figure, though many of the notable interactions hardly relied on props: On multiple occasions, both visitors and the performers ended up in tears, and, tragically, LaBeouf even said one encounter resulted in his rape.
Photo courtesy of The Campaign Book.
#STARTCREATING, February 2014
Also in Los Angeles, around the time of his gallery appearance, LaBeouf worked with Rönkkö and Turner to spread their message across the city, which they did by enlisting an airplane to spell out "#STARTCREATING" across the skies at noon on February 17, 2014.
Still from #STARTCREATING on Vimeo.
MEDITATION FOR NARCISSISTS, May 2014
A few months later, LaBeouf donned his aqua-colored workout gear and headed poolside, jumping rope for an hour and live-streaming it to an audience at London's Auto Italia gallery via Skype. While jump ropes were made available for viewers, the hour was intended more as a mediation session than a workout, as evidenced by LaBeouf's initial invitation: "Join me on my quest to find my inner self."
Still from MEDITATION FOR NARCISSISTS on Vimeo.
#METAMARATHON, September 2014
In September, LaBeouf headed to Amsterdam and ran 26.87 miles in purple leggings and hot pink sneakers for a project with Rönkkö and Turner called #METAMARATHON. Instead of running through the city, LaBeouf made 144 loops around the Stedelijk museum, where a similarly marathon 12-hour conference was occurring at the time – quite fittingly, it was about the effect of celebrity on children born in the '80s.
Photo via @thecampaignbook.
#INTERVIEW, October 2014
The next month, LaBeouf published another hour-long video, this time with Rönkkö making an onscreen appearance. Both sat with GoPros strapped to their heads filming the other and did little other than stare and occasionally laugh. The group published the video online with an extensive email chain that touches on everything from metamodernism to Vito Acconci to LaBeouf's own artistic practice.
Still from #INTERVIEW on Vimeo.
#LOVELETTER, February 2015
"I feel like this may be strange to say this here," LaBeouf said on the stage of the 57th Grammy's, unfolding a pink piece of paper and proceeding to read a love poem to Sia from her husband Erik, rather than simply introducing her performance of "Chandelier."
Shia LaBeouf at the 57th Annual Grammy Awards on February 8, 2015 in Los Angeles, California. Photo via Getty Images.
#FOLLOWMYHEART, March 2015
In March 2015, LaBeouf wore a heart monitor nonstop for the six-day duration of South by Southwest, live-streaming his murmurs and BPM for a collaboration between his team and Dazed. Festival-goers were encouraged to introduce themselves to LaBeouf and share how their interaction affected his heart rate by live-tweeting his BPM from the project's website.
Photo via @thecampaignbook.
#INTRODUCTIONS, May 2015
Draping his rat tail over his shoulder, LaBeouf appeared before a literal green screen and delivered a series of monologues developed with the 2015 class of art students at London's Central Saint Martins for a collaboration with the university's fine arts program.
Still from #INTRODUCTIONS on Vimeo.
#ALLMYMOVIES, November 2015
In November, LaBeouf camped out at the Angelika Film Center in New York City and invited visitors to join him free of charge as he watched every movie he ever appeared in, a feat that was also live-streamed and took three full days to complete.
Still from #ALLMYMOVIES on Vimeo.
#TOUCHMYSOUL, December 2015
For four days in December, LaBeouf, Rönkkö, and Turner sat in a gallery and fielded 1,089 phone calls, which they began with "Hi, you've reached LaBeouf, Rönkkö, and Turner, can you touch my soul?" While visitors were admitted to the gallery as well, they could only hear one end of the conversation, though the group did later post over nine hours of video with the complete audio – along with a 105-page Google doc.
Photo via @thecampaignbook.
#TAKEMEANYWHERE, May 2016
So far this year has been a relatively quiet one for LaBeouf – he announced his engagement to Nymphomaniac costar Mia Goth, and just made a fresh appearance at Cannes in a white Prada tux – until this week, when he announced that he was hitting the road with Rönkkö and Turner and hitchhiking for a solid month. The group is relying on rides through Twitter, tweeting their GPS coordinates and getting in the car with whoever shows up. So far, fans in places like Colorado have been taking him out to lunch, though the month likely still has plenty in store – including LaBeouf's 30th birthday.
Photo via @thecampaignbook.
Watch W's Most Popular Videos: