Shia LaBeouf Is Live-Streaming a Four-Year-Long Art Project In Protest of Donald Trump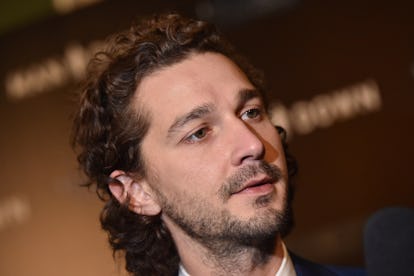 Axelle/Bauer-Griffin/FilmMagic/Getty Images
Shia LaBeouf is no stranger to unorthodox art projects. After all, this is the man who decided to hitchhike across the country last summer in an attempt to make some new friends. But now the celebrity is taking a more politically charged approach with his latest performance.
On Friday morning, just as the inauguration commenced in Washington D.C., LaBeouf launched a project in defiance of the 45th president entitled "HE WILL NOT DIVIDE US" at New York's Museum of the Moving Image, The Cut reports. Those wanting to participate are invited to stand in front of a webcam mounted on one of the museum's exterior walls and utter the phrase "he will not divide us" for as long as they'd like in hopes of fostering unity and harmony in the face of Donald Trump's divisive rhetoric. The art piece, which will run for the duration of Trump's presidency, will be open for participation 24 hours a day, seven days a week, and the camera's feed will be live-streamed on the website hewillnotdivide.us.
"Open to all, 24 hours a day, seven days a week, the participatory performance will be live-streamed continuously for four years, or the duration of the presidency," the website states. "In this way, the mantra 'HE WILL NOT DIVIDE US' acts as a show of resistance or insistence, opposition or optimism, guided by the spirit of each individual participant and the community."
One of the first participant's in LaBeouf's anti-Trump performance art piece was none other than Jaden Smith. Smith shared a photo of himself facing the museum's wall to Twitter on Friday morning. He remained there for several hours, chanting the phrase "he will not divide us" alongside others who stopped to participate, and could still be seen on the live feed at the time of publishing.
The project's launch certainly provided some clarity to the tweets of both Smith and LaBeouf who had been tweeting "He Will Not Divide Us," for the past week.
While Shia LaBeouf certainly isn't the first celebrity to speak out during the inauguration, his form of protest is certainly one of the most creative and thoughtful.
Watch the best actors of the year get really, really into "I Will Survive"