Oh, To Be the Lone Spectator at a Screening of Shia LaBeouf's Man Down
Shia LaBeouf, actor, sold approximately one ticket to a screening of his new movie Man Down at a single theater in the United Kingdom. Maybe he should stick to live-streaming.
---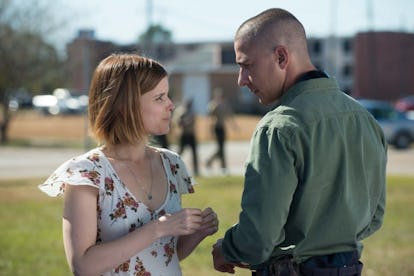 Lionsgate Premiere
If you haven't heard of the Shia LaBeouf wartime drama Man Down, you're not alone. The film, starring LaBeouf, Kate Mara, Jai Courtney, and Gary Oldman, premiered to subpar reviews at the 2015 Venice Film Festival and largely dropped off the map after that, only to reemerge this weekend in a solitary theater in the United Kingdom — Reel Cinema in Burnley, a theater that's now screening such modern classics as Boss Baby and Ghost in the Shell — and elsewhere on demand. And on opening weekend across the pond, it grossed £7 — just more than $8 — which, according to rough estimates for ticket prices in the U.K., amounts to a single ticket sold at a single theater in a small town just north of Manchester. (The film opened in the United States in the fall with a gross of roughly $500,000. Apparently, more Americans than Brits are pro-LaBeouf.)
Which leads us to wonder: Who are you, lone British Shia LaBeouf fan? We imagine you pausing to purchase snacks before taking your seat to enjoy all hour-and-a-half of LaBeouf portraying a harrowed Afghanistan veteran who returns home, only to find the America he knew reduced to a post-apocalyptic wasteland — perhaps a Coke and some Junior Mints, maybe buttered popcorn for good measure. Why did you choose to venture out to Reel Cinema, rather than enjoy the film from the comfort of your own home — and are you a regular at that particular neighborhood enterprise? Are you team Even Stevens or team Holes? Will you weigh in on Disturbia or any of the actor's myriad recent blockbusters? Did you also tune in to the newly minted performance artist's live stream?
For actor LaBeouf seems to have focused more on his extracurricular endeavors than his screen career of late, making Man Down but a blip in an already eventful year. ("Poor Shia," a ComScore analyst lamented in Variety.) LaBeouf's anti-Trump protest "He Will Not Divide Us" began in New York around the inauguration in January and relocated to Albuquerque as counter-protesters threatened the actor and artist, with the project's live-stream being interrupted in February after reports indicated shots were fired nearby; late last month, LaBeouf resurfaced again in Liverpool, just an hour west of Manchester. Perhaps the northern U.K., home to both performance art and single Man Down fan, is more hospitable terrain for LaBeouf after all.
Presumably, the live stream garnered a few more views than Man Down. But what Man Down lacked in audience, it makes up for in mystery.
See what's trending on W right now: