Shirting: The Street Style Trend That's Already In Your Closet
Oversized button-downs are no longer just for the boys, as evidenced by the many street style stars pairing the classic shirts with jeans or ladylike skirts during fashion month.
---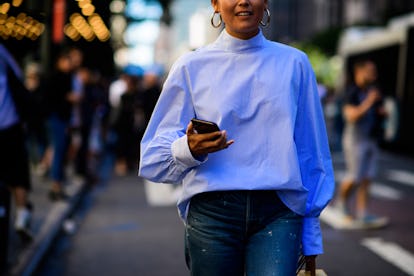 Photo by Adam Katz Sinding.
Whether it's a symptom of our gender-equalized political climate or a byproduct of the athleisure trend, androgynous, oversized clothing has secured a permanent place in our sartorial ethos, most recently evidenced by shirting, a trend which swept fashion month.
Beginning at New York Fashion Week, the oversized oxford-button down proved to be more than a mere "boyfriend shirt," as stylists and editors hit the streets wearing crisp, cotton versions draped over sequined Gucci skirts, tucked into washed out 501's, left unbuttoned or tied around the waist. And while the trend can be traced to Demna Gvasalia's debut Spring 2015 collection for Vetements, NYC-based label TOME carried the shirting torch this season.
TOME founders Ryan Lobo and Ramon Martin have built a reputation amongst the fashion set for their smart, sleek approach to the button down, and this season was no different. For their see-now-buy-now Spring 2017 show, models donned both classic and creative iterations of the cotton oxford. "Perhaps with all the novelty in fashion right now, women feel like a non-seasonal, versatile, classic shirt is the antidote to all of this," explains Lobo. "I think we all mistakenly assign items of clothing to a gender. Skirts and dresses are for women, and the classic white shirt belongs to a man."
Fashion bloggers such as Pernille Teisbaek would seem to agree; she recently paired a blue Balenciaga pin-striped shirt with a knee-length floral skirt to dress down an otherwise straitlaced look. Or take Leandra Medine, who often opts for an oversized shirt dress, or German street style star Veronika Heilbrunner, who heads to the mens section of Acne and Gap for thick cotton button downs she'll wear as a "jacket" over turtlenecks or tank tops. "It's very Michael Jackson inspired!" the 35-year-old says.
But TOME's Martin says it's best. "Perhaps the shirt is a metaphor for the coming election," he says. "It is the perfect time in history to expel restrictions and recognize that what has traditionally belonged to men belongs equally to women, especially when a woman carries it better."
The Oversized Button-Down Shirt Is a Fall Necessity