Balenciaga Model Shujing Is Ready To Be a Fashion Icon, like Tilda Swinton
The 21-year-old Chinese model, who's been keeping company Demna Gvasalia, would never wear a bra.
---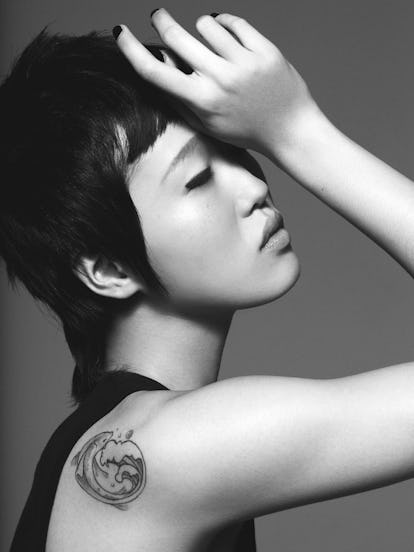 The 21-year-old model Shujing first took a stab at modeling four years ago as a runner-up in a Chinese agency's contest, landing her enough credibility to start walking student shows at Central Saint Martins. Last year, though, Shujing suddenly turned up on the runways of houses like Max Mara, Pringle of Scotland, Givenchy, and Balenciaga. As it turned out, that wouldn't be her only collaboration with Demna Gvasalia. The Balenciaga designer tapped the model to star in the house's Spring 2017 campaign, which soon found Shujing in Lotta Volkova's choice of an '80s ensemble including bright purple spandex leggings-turned-shoes. (They may have obscured the model's many tattoos, but definitely made her stand out from the satiny plum backdrop she'd been placed in front of by the photographer Harley Weir.) After turning up this season again at shows like Margiela and Miu Miu, it's clear Shujing's sticking around—get to know her with her style notes, here.
Age:
Forever 21.
Biggest highlight from this past fashion month:
Walking Miu Miu was really a surprise for me.
Biggest highlight from working with Demna Gvasalia:
The most memorable moment would be the time we recorded the video for the Balenciaga campaign. I remember it clearly: the hands of all the models touched my face gently. I felt weird at first but with a delicate sense of safety. It's difficult to describe.
How you would describe your style:
I won't say I do have a style, but I choose whatever I want from my closet. I just follow my heart.
Favorite stores:
I am a big, big fan of the little "French pharmacies."
Favorite places to thrift shop:
Any thrift shop in London is adorable for me.
Go-to nighttime look:
Lip colors really matter. I may do different lip colors and fashion style just follows.
Style icons and inspirations:
Favorite recent discovery:
Documentary photography, like Magnum.
Style pet peeve:
I love to try anything. That's an advantage of mine, but my pet peeve as well.
Favorite place to get tattoos:
Anywhere except my legs.
Last purchase:
A new pair of earrings with a lovely and trashy red fake diamond.
Lusting after:
Being a fashion icon.
Something you always travel with:
A bed sheet.
Something you would never wear:
A bra.
Most prized possession in your closet:
My mother's wedding dress.
Favorite pair of shoes:
White Feiyue sneakers.
Favorite accessory:
A vintage brooch I bought in London. It looks like a cloud and with some pearls on it.
Fashion week go-to's:
Museums and flea markets.
Street-style winners:
Eye-catching accessories.
Music you're listening to right now:
"Hey Jude" by The Beatles
Book you're reading right now:
Perfume: The Story of a Murderer [by Patrick Süskind].
Your favorite Instagram accounts to follow:
@BjarneMelgaard, @idea.Itd, @clo, @JumboTsui, and @zachking.
Related: Meet Aline Dentler, the Model Hidden Under All Those Rhinestones at Gucci Fall 2017
How Street Style Stars Do Paris Fashion Week: