Sia Models Mac Viva Glam Lipstick Collaboration in Faceless Ad
The pop artist just made one of Viva Glam's most iconic campaigns yet.
---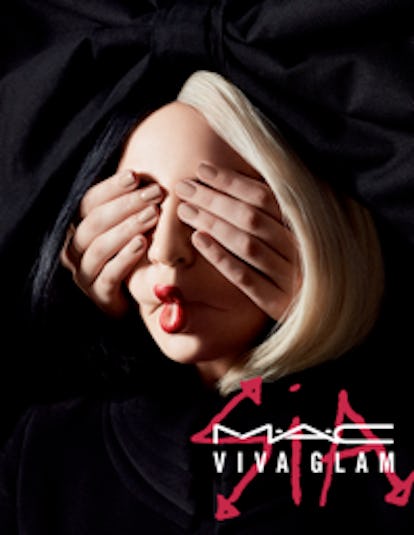 MAC Viva Glam
Perhaps more than any of her pop peers, Sia's level of commitment is truly something to behold. While most artists' aesthetic whims last merely for phases — see: Lady Gaga, Katy Perry, and Madonna — the Australian hitmaker has made anonymity her signature across her last three albums. She's done so with the help of an oversized black and white wig with oversized bangs that obscure her face or, more simply, by performing with her back to her audience and placing the spotlight instead on the performance dance routines that grace her stage. Her latest attention-averse look, however, might be her most impressive yet: Sia managed to star in an ad for makeup — specifically a fiery red shade emblazoned with her name on it due out January 25 — for MAC's Viva Glam without showing her face.
In the ad for the unmissable shade, the proceeds of which go towards fighting AIDS in honor of World AIDS Day (December 1), Sia puts her red pout front and center with hands from beneath her black and white wig obscuring her eyes. Are they her hands? Is it actually Sia, or could it be a stand-in with a Sia wig as she's used before in her videos and song art? Does it even matter? No, not really. The mystery might even make the likely Guy Bourdin-inspired campaign all the more iconic — which is no easy feat considering Viva Glam's long history of unforgettable collaborations with pop culture figureheads, from Rihanna to Missy Elliott, Miley Cyrus, and Nicki Minaj, to name a few.
What we do know is that this isn't the first time Sia has rebelled against her celebritydom in the wake of penning hit songs for Rihanna ("Diamonds") and Beyoncé ("Pretty Hurts") as well as herself. "I don't want to be famous," she told ABC News in 2014. "I don't want to be critiqued about the way that I look [on the Internet]. I've been writing pop songs for pop stars now for a couple years and have become, you know, friends with them and see what their life is like. And that's just not something I want." While all of life is one big balancing act, Sia has already figured it out.
Related: Rooney Mara and Sia Team For a Very Artsy Movie About a Pop Star