Forget the Amalfi Coast: Sicily Is the Italy Beach Destination of the Moment
An insider's guide to where to eat, stay, and play.
---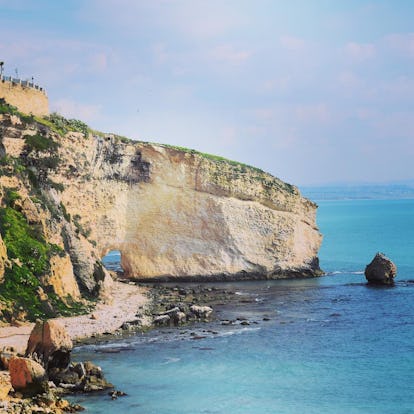 When you mention you are going to Sicily, people will most often respond with a comment about the Mafia, or maybe the famous Godfather tour. But the largest Mediterranean island off the southern coast of Italy has a rich history as a nexus of global trade (dating all the way back to the ancient Greeks). Sicilian culture, from the food to the fashion to the art, has been influenced by a unique fusion of forces—the ancient Greeks, the Romans, the Byzantines, you name it. Whether it's fine wine and good food, ancient ruins or majestic beaches you desire, Sicily has it all—plus it's not as overrun as ever-popular Italian summer destinations like Positano or Capri. That could be why fashion designers, editors, and chefs alike are flocking here instead this summer.
Here, what to do and where to eat, shop, and stay on your next visit.
Getting Around
Unless you plan to nest and stay close to home during your time in Sicily, rent a car or hire a care service. Another option: enlist a tour company like Nicheitaly to organize it all for you.
And in order to really get a sense of place here, you need to be move around a little bit. There's the big capital city of Palermo on the northern side and the breezy seaside town of Taormina to the northeast; on the southern side there's Sciacca and Agrigento. And, how could we forget majestic hideaways like Cefalu and Noto? The point being, it would be a shame to miss Sicily's many gems during your visit.
Dining
The island is full of good eats and local specialties at every turn. There's an abundance of great seafood, fried rice balls and, of course, decadent sweets. Here are some choice spots:
Piazzetta Mulino a Venta in Palermo
Head here for classic trattoria food and truly delicious pastas. The fish dishes are also exceptional.
Ristorante Don Camillo in Siracusa
This foodie favorite prides itself on its ultra-fresh ingredients, and a particularly unique and interesting wine list.
Situated right in the town of Noto, the 100-plus-year-old spot is a must. Stop and try the iced coffee with almond milk granita, one of the many delicious pastries, or the gelato (like the Fior di Spezie with ginger and nutmeg).
Nangalarruni
Funghi lovers should head to the arty town of Castelbuono for this charming little restaurant, where the menu highlights forest mushrooms (and an excellent wine selection).
This elegant, Michelin-starred restaurant near Mount Etna is a favorite among locals and tourists alike. The menu highlights local, Mediterranean dishes with a twist and wine list featuring grapes from the Etna region.
Activities
The food in Sicily, like most of Italy, is undoubtedly a highlight. However, when you need to take a breather from the pizza, pasta, fresh fish and the cannoli, take some time to poke among the island's ancient ruins. From the Ancient Greek ruins in Modica and Ragusca, to the miraculously well-preserved Greek temples in Agrigento, to the infamous Scala dei Turchi (white cliff steps on the edge of pristine beaches make for a dramatic, picturesque Instagram indeed), one could spend several days visiting Sicily's many historic landmarks. Don't miss the Valley of the Temples, the Ancient Greek Theatre in Taormina, or the Parco Archeologico di Selinunte (the largest archeological park in all of Europe).
Along the way, don't forget to stop and soak up the sun at one (or several) of Sicily's beaches. Head to Agua Beach Resort (situated in San Lorenzo Noto) for an idyllic afternoon lounging on the beach. Or, head to the beach town of Cefalu (where Cinema Paradiso was set) and explore the charming local market and the beautiful beaches.
Wine lovers should make their way to some of the island's many world-class wineries making mineral-driven whites, big full-bodied reds, and even some phenomenal rosés. Don't miss the award-winning Planeta, Donnafugata, and Cottanera in the Mount Etna region.
Shopping
It would be a mistake not to bring home some of the beautiful, traditional ceramics of Sicily. Stroll through almost any of the local towns and you'll find artisans busy making brightly colored bowls, pots, and plates. The region of Caltagirone is arguably the most famous spot in all of Sicily for ceramics; stop by the Regional Ceramics Museum, or one of the many ceramics workshops there, and pick up some of the stunning Terra Cotta and Maiolica pieces.
Accommodations
With its multiple restaurants (all of them quite good), multiple golf courses, and clay tennis courts (not to mention a stunning spa), one could go to Rocco Forte's Verdura Resort and be perfectly content not leaving the property for a week. The sprawling resort is a perfect spot for couples and families alike to retreat and spend a few blissful days soaking up the Italian sunshine. Don't leave without taking a cooking class (learn to make the Sicilian classic pasta alla norma), spending a few hours in the spa (the thalassotherapy pools are a must), playing a round or two of golf, and checking out what might be the best hidden gem at the whole hotel: Mariu boutique, which features handmade caftans, swimsuits, etc. by Sir Rocco Forte's wife, Aliai.
If you are looking for a low-key, romantic escape, head to Hotel Kalura in Cefalu on the northern coast for a romantic few days. The small, family-run hotel overlooking the water has direct access to a private beach, as well as a restaurant and a gorgeous pool on property.
Situated in the foothills of Mount Etna and , this boutique hotel in a rustic former monastery is a total charmer. Explore Etna, the largest active volcano in Europe, or spend time roaming through the Monaci vineyards and the estate's own 40-acre farm, where they grow everything from peaches to figs to apricots. Destination towns like Taormina, Catania, Siracusa and Noto are not too far away.
See what's trending on W video: