Sigrid, Fashion Darling and Lorde-Approved, Is the Scandi-Pop Star to Watch at Coachella
The Norwegian musician has had a whirlwind year.
---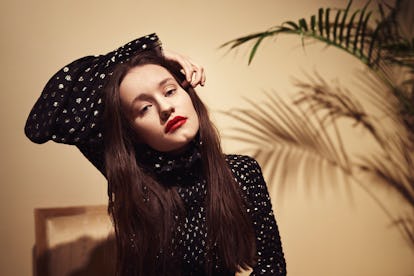 Photographer : Olav Stubberud. Producer: Yael Quint. Production Assistant: Sander Stenbakk. Stylist: Molly Dickson. Hair: Nikola Grozdic. Makeup: Linda Wickmann. Styling Credits: Blouse and shorts both Saint Laurent SPRING 18 look 5.
In the span of two days, the rising pop star Sigrid solved three crimes and decided she might become a doctor. Well, sort of. In fact, her Sim avatar was having a particularly productive time while the 21-year-old musician, who won BBC's Sound of 2018 award, was on a whirlwind world tour, one that took her from her native Norway to Brisbane and Sydney, Australia, and then to Dundedin, New Zealand, where we spoke by phone. A longtime fan of the video game The Sims, Sigrid had recently unlocked a rare achievement: She performed "Don't Kill My Vibe," the ubiquitous, infectious single that catapulted her out of obscurity last year, in the fictional language Simlish, for a trailer accompanying the release of The Sims 4 Parenthood expansion pack. (As she waxed in a recent Instagram post, she still recalls when her father arrived home one fateful day in 2001, armed with a new computer and the first installment of the series. "It's still the best game in the world," she wrote.)
"It was the greatest joy, listening to that and learning the words and the pronunciation," Sigrid said. "I got deep into it." Now, she's deep into the career-based expansion pack, in which players can toggle between good cops and bad cops. She added, sagely, "Whether you kill Sims or don't kill Sims says a lot about a person."
It's been a little more than a year since "Don't Kill My Vibe" was first unleashed on the world. Sigrid penned the single after a writing session with two older songwriters who "made me feel very small, like my opinion wasn't important," she told The Fader, which premiered the accompanying video last spring. Having declined to speak up at the time, Sigrid banged out "Don't Kill My Vibe" as the ultimate last word—and there's a certain irony that a song about being patronized by her peers is one that marked her as someone not to be underestimated.
"You shut me down, you like the control," she sings. "You speak to me like I'm a child." Certainly, now, few deign to talk down to Sigrid.
"Don't Kill My Vibe" was among the tracks Lorde included on her "Homemade Dynamite" playlist, catapulting it to the attention of her nearly eight million Twitter followers when she shared it last May. (In December, Lorde also added Sigrid's then-most-recent single, "Strangers," to the mix.) And, in the past year, "Don't Kill My Vibe" has racked up nearly 30 million plays on Spotify alone.
Sigrid, who records under her first name, was born Sigrid Solbakk Raabe and raised in Ålesund, Norway. (Scandinavia's domination of pop music is showing no signs of subsiding just yet.) The third of three children, she began writing when she was 16, at the behest of her brother, Tellef Raabe, who is also a professional musician. (Sigrid appears on his 2017 single "Sister"). Tellef planned to play a set in their hometown and asked his sister to join him, but he instructed her she couldn't perform a cover—she had to write an original song. So she wrote "Sun," her debut single, released some four years before "Don't Kill My Vibe" changed everything. It's a lilting, country-inflected tune, complete with a banjo—and it's about how Sigrid did not earn a spot at the United World Colleges in either of her desired locales, Canada and India. (Both her siblings had attended the elite international boarding school, so it particularly stung that Sigrid didn't get in.)
"I really like that song," she admitted. "It's a bit embarrassing to think about, but it's also like, 'Aw, kind of cute.'" Sigrid has cultivated a distinct voice writing about, as she described it, hyper-specific situations and awkward emotions—when you get angry, even if you'd prefer to hold it together; when you've got a crush or have had your heart broken; when you're missing a person or a place. Her most recent single, "I Don't Want to Know," which dropped last month, is three minutes of such exposed nerves. "When you had the choice, you chose someone else," she sings, her voice flitting in and out of falsetto. "I don't want to meet you, I don't want to talk—'cause I don't want to know that nothing's changed at all." (There's also a distinctly cerebral edge to her work; take, for example, the David Foster Wallace reference in "Fake Friends," or the ominous, gloaming cover of Leonard Cohen's "Everybody Knows" that she recorded for the Justice League soundtrack.)
While she didn't intend the release of "Don't Kill My Vibe" to coincide with the emergence of the #MeToo movement, she sees the relevance. "There's so much s–t that's finally coming to the surface," she said. "I didn't think about it in a very political way because speaking about these things as empowering and having respect for myself is something that's always been very, very important to me." And, she admits, the complex, nuanced discussions around gender, power, or immigration, can be difficult to distill into a pop hook. Yet, she has, increasingly, turned her eye to political issues. She recently wrote a song with her frequent creative partner Martin Sjølie entitled "Savage in Our Blood"—an effort to address "how horrible humans can be to each other," she said. (It has yet to be released.) She and her band often end up talking politics on the road; in December, Sigrid had the opportunity to witness some of those tensions first-hand when she performed at the Nobel Peace Prize concert in Oslo in December.
"I don't think I've been that starstruck in my life before," she said of the event, which drew fellow musicians like John Legend and Zara Larsson, as well as representatives from the International Campaign to Abolish Nuclear Weapons, the event's honoree, and a survivor of the bombing at Hiroshima. "That was wild—so much political tension."
The concert, where she performed "Dynamite" and "Strangers," was a brief pause on what has been a year of near-relentless touring. Somehow, amid it all, she's found time in the studio to continue working on her debut album—though she's coy about the new material. The cover for "Raw" and "I Don't Want to Know" is illustrated with a handwritten tracklist, like the mixtapes you might have exchanged in high school, but tracks three through five are blacked out, hinting at an EP to come.
After we spoke, Sigrid was headed to Auckland, New Zealand, and then to the United Kingdom and United States for short tours before embarking on the summer festival circuit—which includes a spot on the lineup at Coachella. (Lorde, who made her pre-Melodrama comeback debut at last year's festival, will not be playing—but Sigrid said she hopes they end up playing a festival together this summer, as they still haven't met.)
"I don't know if I'm most excited to see Beyoncé play," Sigrid said, "or to play myself."