Craft Works: Silvia Venturini Fendi
From expertly tooled leather to gold-dipped fur, artisan-produced fashion is how Fendi built its name. Now, as William Middleton reports, Silvia Venturini Fendi is bringing the house's devotion to the handmade into a new realm: contemporary design.
---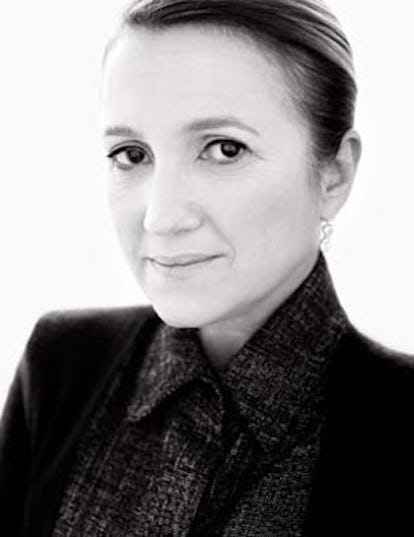 Last December, on the opening night of the increasingly influential Design Miami fair, fashion scion Silvia Venturini Fendi was holding court in a room that seemed to inhabit another dimension. Set off by charcoal walls and bare fluorescent fixtures, a grouping of matte crystalline crea­tions in black or white—an end table, a stool, a towering sculpture—appeared to sprout from the floor. With the help of iPads, visitors were designing their own multifaceted objects, which were constructed on the spot out of a few thousand geometric modules. As the odd-shaped blocks were called into action, five giant letters were re­vealed on the wall behind them: FENDI. Blending in with the international art and design crowd in a simple black cotton dress, black platform shoes, and a black cashmere sweater draped over her shoulders, Venturini Fendi surveyed the scene, smiling with pride. "Fantastico!" she exclaimed.
Despite having her family name splashed on the wall, Venturini Fendi was not the creator of Modern Primitives, as the installation was called: It was the work of New York architects Benjamin Aranda and Chris Lasch. But her role was instrumental nonetheless. It was the latest in a slew of design projects sponsored by the blonde 50-year-old Italian and the fashion house founded by her grandparents.
In the past three years, Venturini Fendi has collaborated with some two dozen designers, mounting an interactive op art installation from the Berlin-based studio Beta Tank at last year's Salone Internazionale del Mobile in Milan, and partnering with the Gallery Fumi during the 2010 London Design Festival to present "In Every Dream Home," a show of new work by six designers. In April, as part of Milan Design Week, that city's Fendi boutique hosted a performance called "Fatto a Mano for the Future," during which designer Rowan Mersh joined artist Nicola Guerraz and a Fendi artisan to construct pieces out of scraps left over from Fendi's manufacturing process.
The design community has been impressed with Fendi's choice of collaborators. "Their work is fundamentally important for architecture today," said Paola Antonelli, senior curator of architecture and design at New York's Museum of Modern Art, of Aranda and Lasch. "Many people talk about design that is generated by mathematical patterns and many universities are embracing it. ArandaLasch was among the first to formalize it."
The fashion industry and the art world have long circled each other. From Yves Saint Laurent's Mondrian dresses to Marc Jacobs's collaborations with Takashi Murakami to Bernard Arnault's and François Pinault's dueling personal museums, fashion looks to art for cultural credibility, while artists and dealers hope for a little reflected glamour. But Fendi's choice of furniture and objets over painting and sculpture makes the house an anomaly. Dealer Paul Johnson, whose New York gallery represents ArandaLasch, has a wry take on why Venturini Fendi is scouting his talent pool rather than, say, Larry Gagosian's. "Look at the size of Design Miami and then look at the size of Art Basel," Johnson said. "I think Fendi is smart to see that they can come over to the design side and be the big player. They can be with the hottest young designers in the world because no one else is after them." Venturini Fendi has a less cynical explanation. "I don't like big companies that sponsor things that are not related to them," she explained. "It's very fake. There are more real connections between design and fashion than there are between art and fashion."
That overlap is particularly pronounced when it comes to accessories. Venturini Fendi—who ignited the It bag phenomenon in the Nineties with her invention of the Baguette—is, at the end of the day, a product designer. "Making a chair or a sofa is very similar to making a bag," she said. "There is always the functional aspect of the object that you have to take into consideration, technical issues you have to resolve."
Fendi has always been known for its technical prowess and artisanal approach. The day after the opening of Design Miami, Venturini Fendi walked the audience through the company's history during a panel discussion with designer Ron Arad and hip-hop impresario Pharrell Williams. "We are responsible for a revolution," she said of the house's innovative treatment of pelts, which has included shearing them, weaving them, dyeing them with camouflage, and even dipping them in 24-karat gold. "Before, there was nothing more boring than a fur coat. I'm probably very peculiar in the world of fashion," she added. "I don't consider myself a stylist or a creator—I'm an artisan."
Taking a trip to Rome is the best way to grasp this commitment to craft. While the advent of ready-to-wear put an end to its days as a fashion capital, a number of talented local designers still quietly dress le signore eleganti. AltaRoma, the fashion trade group of which Venturini Fendi serves as president, recently published a magazine called A.I. Artisanal Intelligence, featuring dozens of young creators who make modern work in the old manner. Jeans are handcrafted from Japanese denim; vintage millinery techniques are employed to make big, bright hats. Another publication, A Tailor-Made Guidebook: Rome, lists 239 purveyors of custom-made men's wear and accessories. In an introduction to the book, Venturini Fendi recalled her childhood trips to a dressmaker—the experience of the fittings, how the fabric seemed to come alive. "I have always thought that a handmade suit has a soul," she wrote.
Fendi, like many of these creators, began as a modest leather and fur workshop in Rome. Established on the Via del Plebiscito by Edoardo and Adele Fendi in 1925, it quickly earned an elegant reputation. By the Forties their five daughters—Paola, Carla, Franca, Alda, and Silvia's mother, Anna—had joined the firm. In 1965 the sisters hired Karl Lagerfeld, who brought with him a cutting-edge sensibility and an encyclopedic knowledge of fashion. The house had expanded into ready-to-wear by the Seventies, giving Fendi an international presence. Today, though Lagerfeld continues to oversee fur and ready-to-wear, it is Venturini Fendi, the only family member still active in the now LVMH-owned business, who runs the most profitable wing of the house: Two thirds of sales come from accessories.
The Palazzo Fendi, the brand's headquarters since 2005, is a five-story neoclassic structure at the intersection of two storied streets: the Via Condotti, the chicest shopping address in Rome, and the Via del Corso, a main artery that cuts through the historic center. The first two floors are given over to the largest Fendi boutique in the world, a 7,500-square-foot affair in pale travertine and amber glass designed by Peter Marino. A rooftop terrace looks directly up the Via Condotti to the Spanish Steps and offers 360-degree views of Rome.
On a crisp, clear day this past January, Venturini Fendi was sitting in her top-floor loftlike office. Her white desk was covered with piles of paperwork and a pair of constantly ringing BlackBerrys. White shelves held handbag prototypes and inspirational books on Italian art and history. Her white-lacquered eyeglasses, she pointed out, were made by hand here in Rome; her stern black shoes by a cobbler who makes footwear for nuns. "It's not possible to live in a town like this and not be inspired every moment," Venturini Fendi said. "You are constantly aware of the past—you go jogging in the Imperial Forums, or you dig in your garden and you find an ancient artifact. There is this stratification of civilizations." Also in her office that day, on the arm of a colleague, was the Silvana, one of Fendi's spring bags. A tall, deep form with a black crocodile handle, black leather front, tan leather sides, and large front flap in deep-chocolate crocodile, it is as rich and textured as the city in which it was conceived, an elegant design object that just happens to be a bag.
Between the 30 designers buzzing about the large L-shaped studio outside Venturini Fendi's office and the white-uniformed artisans sewing away in the adjacent ateliers, the place felt more like a couture house than an industrial concern. Venturini Fendi made her way to the white table in the center of the studio with two black chairs. "This is my chair," she said, taking a seat, "and this is Karl's. When I was very young, I was fascinated by what was happening in the atelier," she continued, while studying sketches, feeling leather samples, comparing metal finishes, and consulting an image of a cubist collage supplied by Lagerfeld. "It was much more interesting than being at home with my sisters or playing with friends. I used to do my homework in the fur atelier, which I would do very, very quickly, and then ask to wrap packages. I always went around asking, 'Can I help you? Can I do something for you?' So they would give me a broom to sweep. At night I went around with a magnet to pull up all of the pins from the floor." It was this excitement about process, not a desire to be the latest runway star, that drove her into the family business. "I had this interest from the very beginning," she said. "Especially today, because we no longer own the company, my involvement shows it's kind of a sickness for me!"
Contemporary design, with its synthesis of wild creativity and serious technique, holds a similar appeal. Venturini Fendi's home, part of a family compound in the chic Rome neighborhood of Camilluccia, boasts such pedigreed pieces as a pair of Panton chairs in orange plastic, an oversize Fifties Venini chandelier in ivory Murano glass, and a gilded harp chair by Jorgen Hovelskov. But it wasn't until 2008, when she met Design Miami founder Ambra Medda, that she considered getting involved in the field. That year she sponsored the fair's Design Talks, a series of panel discussions, and attended the exhibition for the first time. Some designers were skeptical about such attention from a fashion brand. As Medda remembered, "At first they were like, 'Oh, Fendi is into design?'"
Venturini Fendi, however, was hooked from the start. A few months later, for Milan Design Week, she and Medda teamed up on an exhibition they called "Craft Punk." With input from Venturini Fendi, Medda selected 12 leading designers from all over the world and sent them boxes of Fendi materials with which to create. The designers were then installed in makeshift studios in Spazio Fendi, the former garage where the house has its fashion shows, and more than 1,500 visitors a day came to watch them work. "We wanted to make craft feel contemporary and necessary and respected," Medda explained. "You would find Nacho Carbonell using chicken wire to create installations he covered with leather. Then you'd see this Israeli couple, who go by the name of Raw Edges, creating seating with foam and a new kind of paper. People walked in and just went, 'Wow.' We take for granted that things are made, so to see someone welding or carving or embossing is really quite magical."
In Miami the following December, Venturini Fendi and Medda extended this focus on handmade design to music with "Stereo Craft." Each evening at 6 p.m., the Design Miami tent came alive with a performance by the band OK Go. "We hired Moritz Waldemeyer, a German tech genius who translates whatever crazy idea you might have into reality," Medda said. "Silvia accessorized the instruments with different furs, applying the element of craft. Moritz outfitted them with this ingenious technical equipment—the guitars had lasers shooting out."
It was during her initial visit to Design Miami that Venturini Fendi first met Aranda and Lasch. She was immediately struck by their work.
"I like talent," Venturini Fendi said of ArandaLasch. "And they are very talented." The duo had spent five years developing a form—an eight-sided quasi-crystalline shape—that, with the help of a computer-based algorithm, could be used as a building block to create new structures, from furniture to buildings. Last summer Fendi funded their participation in the Venice Architecture Biennale, for which they constructed their irregularly shaped bricks out of foam covered with Line-X, a material used in truck-bed linings, and scattered them across the garden and into the foyer of the Italian pavilion. In December, when they brought the show to Miami, the pair added a performance element, using the crystals to assemble 30 new design pieces in front of an audience. "We like to be open about the design process, demystify it in a way," Aranda said. "It's about letting people in—letting them see under the hood."
Some of the objects created in Miami will become part of the Fendi Foundation for Design, which will mount temporary exhibitions, both in Rome and internationally, of pieces created for Fendi design projects. But to Venturini Fendi, inspiration is the most important by-product of her immersion in this new realm. "Dealing with one-of-a-kind design gives you a great sense of freedom," she said. "It's all about experimentation."
Silvia Venturini Fendi brings Fendi into contemporary design
One of designer Nacho Carbonell's Beasts, constructed from scraps of Fendi leather

Photographer: Guido Mocafico
A spiral-sheared wild mink cape from Fendi's fall-winter 1971–72 collection.

Photographer: Guido Mocafico
A fabric and leather Fendi Pequin trunk, 1986

Photographer: Guido Mocafico
Simon Hasan's Beauty & the Boiled Beast vase from "Craft Punk."

Photographer: Guido Mocafico
Peter Marigold's Qow table, constructed from Fendi leather

Photographer: Guido Mocafico
A selection of Fendi's famous Baguettes from 1999 to 2001.

Photographer: Guido Mocafico
Venturini Fendi with Chris Lasch (left) and Benjamin Aranda of ArandaLasch, at Design Miami 2010.
A patchwork piece from ArandaLasch's "Modern Primitives" series
A "Modern Primitives" object draped in a Fendi cover for Design Miami 2010
A Pleated Pleat chair, constructed by Raw Edges during Fendi's "Craft Punk" show, 2009
Venturini Fendi with Kwangho Lee and Ambra Medda at "Craft Punk."
Bianca Brandolini d'Adda with Venturini Fendi's daughter Delfina Delettrez Fendi at the Fendi-sponsored "Design Vertigo" exhibit in Milan, 2010
OK Go performing at the Fendi-sponsored "Stereo Craft" event in Miami, 2009
A Gibson guitar tricked out by Fendi for "Stereo Craft."