A Conversation with Silvia Venturini Fendi at Design Miami
Silvia Venturini Fendi, granddaughter of the luxury label's founders, has increasingly played a key role in raising the profile of young designers and pairing them with established ateliers. In the past three years alone, her...
---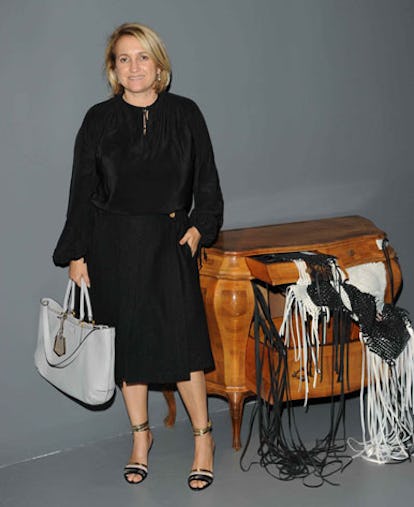 Though the Berlin-based Strozyk and Neeb had handpicked materials for their installation from the Fendi factories in Florence, they didn't visit the Palazzo Fendi in Rome, their inspiration for the Lounge, which Fendi was hosting for the first time. Instead, they viewed the Palazzo on their iPads as Fendi associates described its layout and pointed out details. Hearing a reference to "the Piano Nobile," they assumed it was an area that showcased a grand piano—so their design riffs on the idea of a piano: there are numerous legless pianos, the tops of them padded with herringbone patterned cushions inspired by the Palazzo's parquet floors. But in fact, there is no piano on the Palazzo's piano nobile: it refers to the grand floor of a Renaissance palazzo.
Raised in such surroundings, "you are obliged to face the fact that a chair is not just a chair," Venturini Fendi, the only family member still active in the now LVMH-owned business, told me in Miami Beach. "There is a history and you cannot jump on a chair or you will ruin it." As a young girl, she longed to paper her bedroom walls with posters and photos, "but it was not possible," she said, "because the walls were frescoed."
Not surprisingly, Venturini Fendi's interest in Design Miami began with a Fendi handbag she'd designed—the 2U bag—which she spied Design Miami co-founder and then-director Ambra Medda sporting in a magazine several years ago. "It was a complicated bag," Fendi explained, "inspired by the Memphis Movement, and I was curious about the young woman who was carrying it. I was proud that a young Italian woman was doing something so successful." The two met when Medda visited her mother in Rome, where Venturini Fendi lives; she soon signed on as a sponsor of the fair's Design Talks. "There were all these designers talking about their creative process and very open about their secrets—what lines they're launching, what materials they're using. In the fashion world we're much more secretive and competitive."
In its stores, Fendi now showcases its artisans "to make people understand our tradition and why a Fendi bag is different and also, why it's so expensive," Fendi told me over coffee at the Standard Hotel. "People want to know more about what they are buying and the process of making it." Making a bag or a shoe is not that different from making a chair or a sofa, she pointed out. "There is always the functional aspect of the object that you have to consider and technical issues you have to resolve."
As she spoke, I couldn't help glancing at—and coveting—her laser-cut leather pumps, which she'd paired chicly with cuffed jeans and a cashmere sweater despite the Miami heat. They were from her last winter collection. "When we were making these, I told my people, if we can succeed in making a sexy shoe that's comfortable to walk in, we can sell them like crazy because that's what we all want. We have reorders, continuously. So now they're going in the next collection too."