After Winning 5 Olympic Medals, Simone Biles Is Ready To Be "Normal"
The Team USA super star talks about meeting Usain Bolt and Michael Phelps, the music she and the rest of the final five listened to at the Olympics, and more.
---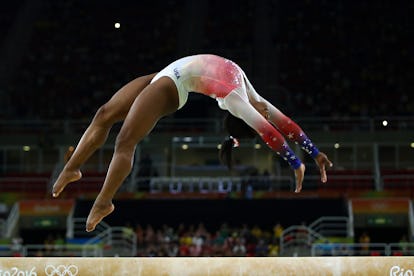 Clive Brunskill/Getty Images
A to Z with Simone Biles, Four-Time Olympic Gold Medalist
At the 2016 Olympics in Rio, the 19-year-old tumbling powerhouse Simone Biles led the American gymnasts to victory in the team all-around competition. Then, she went on to claim the gold in the individual all-around competition, besting teammate — and team captain — Aly Raisman, the silver medalist, by two full points.
And those were just the first two of five medals Biles has won at the Olympics: She won gold in the vault and floor exercise events, and bronze on the beam. With four golds, Biles also holds the title for most gold medals won by an American female gymnast in a single Olympics and even has a signature move named after her. Even accounting for the evolution of the sport over the past century, from a more lithe, balletic style to one that rewards power and difficulty (a transformation that is charted in Biles's Tide Pods campaign, just one of the myriad endorsements that began to come knocking even before Rio), she's still unprecedented.
Yet for all her success, Biles hardly had a moment to acknowledge her wins, she said speaking over the phone from Rio on Friday. She had just completed her Olympic run, but she and her teammates were sticking around for the closing ceremonies. (Biles was the American flag bearer for Sunday night's closing ceremonies, the first female gymnast to fill the role.)
"We didn't have time to celebrate," she said. "Of course, we're screaming, wanting to cry, but then you have to get back to sleep because we have practice early the next day."
And following the Olympics, they'll be out on the road again, touring the United States with Kellogg, a team sponsor.
As she discussed her stay in Rio, she spoke in the plural, describing herself as a unit with her teammates Raisman, Gabby Douglas, Madison Kocian, and Laurie Hernandez. The "Final Five," as they've dubbed themselves (they're the last set of Olympians to be ushered through the summer games by legendary gymnastics coach and coordinator Martha Karolyi), prepared for competition together, listening to Drake, Ariana Grande, and Justin Bieber while they got dressed and finished their hair and makeup. Biles's favorite pump-up jams include Jake Miller's "Good Thing" and MØ's "Final Song."
Much has been made of the decadent, Swarovski crystal-embellished leotards the gymnasts wear during competition, but they seem to pay equal attention to beauty. They've each cultivated a signature look: Douglas, for example, favors a dark lip, while Biles goes for a glittery eye.
"It's kind of spur of the moment," Biles confessed. "There's no specific routine."
Still, it wasn't all business inside the Olympic village. Despite being stars themselves, Biles and her teammates weren't totally immune to the celebrity of athletes like Michael Phelps and Usain Bolt.
"Usain Bolt walked up to the cafeteria and Aly and Gabby practically flipped the whole entire dinner table and started screaming," Biles recalled. "We were like, 'Guys, you have to calm down, you know what it's like to be in their shoes.'" She paused. "But they're both really chill," she added.
Biles herself has been on the receiving end of such doting fandom — none other than Zac Efron flew to Rio to meet her and the rest of the gymnasts. Biles has been unofficially crowned the Michael Phelps of gymnastics, and the swimming titan and tiny gymnast have developed a rapport. "Michael Phelps taught me how to stack my medals," Biles tweeted Sunday — the ultimate humble-brag, if we've ever heard one.
(Despite comparisons alternately to both Bolt and Phelps, Biles has made clear that she takes her success on her own terms: "I'm not the next Usain Bolt or Michael Phelps," she told reporters after winning gold in the all-around event. "I'm the first Simone Biles.")
Following the marathon of the Olympics and its ensuing media tours — Biles and her teammates will have spent five weeks on the road by the end of it all — she said she's planning to lock herself in her house, watch Netflix, and lounge by her pool.
"We get back to normal life and being a normal teen," she said. She's committed to attending UCLA, but she dances around her plans for the next Olympics, in Tokyo in 2020.
"I'm sure it'll be a while till I compete again," she said. "We all deserve a break."