Fabulous Dead People: Sir Oswald Birley
Sir Oswald Birley was a distinguished painter of society, royalty, captains of industry, maharajahs, heads of state and poor little rich girls—but also a distinguished father.
---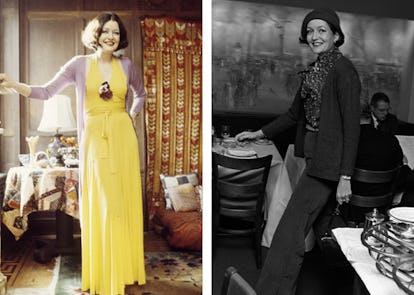 Sir Oswald Birley was a distinguished painter of society, royalty, captains of industry, maharajahs, heads of state and poor little rich girls—but also a distinguished father. If he had never lifted a brush he would still be fabulous, thanks to his remarkable children and grandchildren.
With Annabel's and, later, Mark's Club and Harry's Bar, Birley's late son Mark reinvented the members-only club in London in 1963, rendering it luxurious, sexy and delicious, with a handsomeness that bordered on gorgeousness. If you were at Annabel's on the right night you could even thrill to the Supremes—the original Supremes—purring "From This Moment On" in a private concert. It doesn't get any better than that.
Mark's sister, Maxime de la Falaise, a W regular back in the day, was a wildly charismatic beauty, social powerhouse and coquette. As she herself confessed to the most capricious, errant behavior, there was nothing critical you could say about her that she didn't say herself. Her daughter Loulou was still in nappies when in 1950 Maxime abandoned her to foster families because, she explained to Alicia Drake in The Beautiful Fall, "I was streaking off with a boyfriend." Loulou died last year, having made the fashion world a much more amusing and decorative place as Yves Saint Laurent's main droit. Taking up the slack are Loulou's cousins, Mark's children, India Jane and Robin Birley. A noted figurative painter whose aesthetic sympathies are not all that dissimilar to her grandfather's, India Jane was Prince Charles's official artist on his 1996 trip to Bangladesh. She has recalled visiting mothy civic palaces in India and seeing Birleys of local grandees that were "improved" upon over the years by local painters who thought that the eyes would be better darker, the lips better if redder. Robin, of course, is the owner of, and visionary behind, Loulou's, his new $48-million private club in Mayfair, named for his effulgent relation.
Not that Sir Oswald, who died in 1952 at age 72, doesn't still claim a portion of the family spotlight as a British portraitist in the courtly tradition of Sir John Lavery and Sir William Orpen. The auction record for a Birley was set in November with his picture of Woolworth heiress Barbara Hutton, painted when she was thirteen wearing velvet, lace, pearls and a slightly troubled expression suggesting inklings of the freakish life ahead of her. It brought $36,250, including buyer's premium, at Bonhams New York. The seller was Vogue's Hamish Bowles, no surprise there. The only thing known about the buyer is that it was not Robin Birley. Many in the saleroom thought it had to be, as Loulou's is hung with numerous works by Sir Oswald, including a self-portrait, a portrait of Maxime as a child and one of her godfather, the legendary caricaturist Sem.
The previous records for Birleys were held by A Thai Dancer, executed in Bangkok and sold by Christie's in 1997 for $34,500; Portrait of Lady Cunard, which went for $30,630 this fall at Gorringes, an East Sussex auction house not far from where Sir Oswald lived in the country at Charleston Manor; and a full-length likeness of Countess Annesley that earned $26,482 three years ago, also at Christie's. One of the two leading hostesses of literary and political London between the wars, the American-born Emerald Cunard sided with Wallis Simpson during the abdication crises in the hope of winning a court appointment. The provenance of the Annesley painting was Glin Castle, County Limerick, Ireland. How good are you at connecting the dots? Loulou de la Falaise cultists, whose number has rocketed since her death, are quick to point out that her first, hasty marriage in 1968, when she was all of twenty, was to the dashing Desmond FitzGerald, Victoria and Albert Museum curator, Irish-furniture expert and 29th Knight of Glin.
"Birley is good quality, very confident and competent," said Alistair Laird, Specialist of 19th-Century Paintings at Bonhams London. "He did what was required of him, which was to get a reasonable likeness of the sitter."
Though Sir Oswald did not have Sargent's technique or psychological insight, Laird said, it was Sargent who made Birley's career possible.