Dear Abbey
Rocco Forte's new luxury hotel in Prague doubles as a monastery. Please do not disturb the monks.
---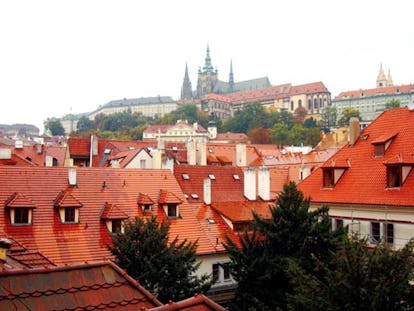 For Sir Rocco Forte, there are few hotelier habits more irksome than penny-pinching when it comes to the minibar bill. The founder and chairman of a namesake hotel chain winces at the thought and covers his deeply tanned face. "It's the little things that bother me," he says. "Like being offered bread by three different people, or when guests are paying a bill worth thousands of pounds and the hotel asks what they've had from the minibar."
Hotelier Rocco Forte.
That attention to detail goes a long way toward explaining Forte's success in the hotel business. But Forte, being something of an understated Prince Charles type—right down to his posh accent and his 12-year-old bespoke suit—is not really one to analyze his achievements. "I've lived with this business all my life. I like doing it, but I'm not over-reflective about it," he says over tea at Brown's, the hotel in London's Mayfair neighborhood that he reopened in 2005 after a $43 million refurbishment. Today his 11 properties include the Hotel de Russie in Rome; the Balmoral in Edinburgh, Scotland; Villa Kennedy in Frankfurt; and the Charles Hotel in Munich. Most of them have been decorated by Forte's sister Olga Polizzi to resemble cozy private homes.
A guest room at the Augustine.
Part of the company's ethos has always been to absorb the flavor of the host city, and nowhere is that more true than at its newest place, in Prague. The Augustine, which will open this winter, is housed inside a 14th-century monastery overlooking Prague Castle. In addition to the property's cloistered terraces and wine vaults, there are the abbey's Augustinian monks, who will continue to live in the building. Forte vows to offer his guests sensual comforts, and he says, with a placid smile, the monks will offer "sustenance of another kind—spiritual." (Guests won't mingle with the monks but will see them on their rounds.)
Forte's upcoming projects in Marrakech and Sicily, meanwhile, are both mold breakers. Until now, he's focused exclusively on city-center hotels that serve a mix of corporate and private clients. The hotel in Marrakech, however, will be a resort on the outskirts of the city, with its own golf course. The Sicilian resort near Agrigento will offer three golf courses and a spa.
The spa at the Charles Hotel.
Beneath Forte's understated veneer is a shrewd businessman who built a new family company after the previous one—founded in 1934 by his late father, Lord Charles Forte—fell prey to a hostile takeover. The elder Forte amassed an empire of 800 hotels, from Grosvenor House in London to the low-budget Travelodge chain. Rocco began running the company in 1992, four years before British media conglomerate Granada took it over and left him unemployed. At the time, he could have taken his share of the $450 million his family netted from the sale and gone off to shoot game (one of his favorite country pursuits) or train full-time for triathlon competitions (another passion). Instead, he and Polizzi founded their company. "I was 51 years old—hardly a time to stop working!" says Forte.
Despite his patrician bearing, it's clear Forte's entrepreneurial spirit is still strong. He is currently looking for property in Manhattan and envisions future projects in Paris, Milan and Moscow. But he knows that growth will come at a certain cost. In last year's Triathlon World Championships, Forte placed 13th out of 79 competitors in his age group. A respectable finish, certainly, but Forte believes he could have done better. "And now I know why most of my peers are retired and train full-time," he says. "But I don't really see a time when I'll ever stop working." And with that, he's off to check on the action at Brown's front desk.
Photos: Courtesy of The Rocco Forte Collection