Sita Abellan, Goth Model in Fenty X Puma Show, is Just like Rihanna: "I Do What I Want"
The 23-year-old's rise from small-town DJ to "BBHMM" music video sensation culminated when she walked in one of the most high-profile shows of Paris Fashion Week. "I'm really proud of her," Abellan said of Rihanna.
---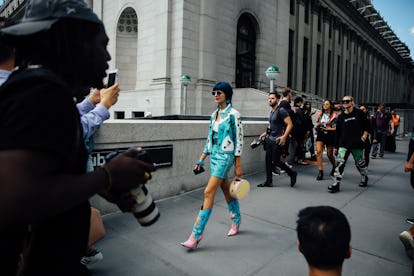 © Emily Malan Photography
Sita Abellan's manager can attest to the fact that she's one of those people who gets dressed up just to go to the supermarché. And for Abellan, the 23-year-old DJ, model, and street style star from a small town in the south of Spain, "dressing up," means pairing pink Jeremy Scott cowboy boots with a black hoodie, a backwards baseball hat, and a choker that says "sex" in diamonds.
"It's for myself. It's like eating," Abellan said of her innate desire to fashion an eye-catching outfit each morning.
Last year, Abellan caught the attention of Rihanna, who asked her to be in her "Bitch Better Have My Money" music video, catapulting her into the spotlight. Today, Abellan has over 225,000 followers on Instagram and can be found front row at almost all of Jeremy Scott's fashion shows. The two first met at Rihanna's private party during fashion week last September, and have been friendly ever since. Then, in Paris on Wednesday night, Abellan had perhaps her biggest fashion moment of all as she walked in Rihanna's Spring 2017 Fenty x Puma fashion show.
The theme of Rihanna's latest show — "Marie Antoinette goes to the gym" — could not have been more fitting for Abellan. "I think this collection is cute but at the same time strong, and that makes it really interesting for me," she said following the show. "Rihanna put all her love and effort into this and the results were just awesome. The show was just beautiful! I'm really proud of her."
At New York Fashion Week this season, Abellan debuted her own line of merch to announce her worldwide DJing tour and also dropped a collaboration with the Polish label Misbhv (pronounced "misbehave), which includes a silk Japanese kimono stenciled with the word "pain" that was inspired by a tumultuous trip to Tokyo last year. In fact, her own pieces aren't too far off from Rihanna's Fall 2016 Fenty x Puma collection.
Despite her fashion influencer-status now, Abellan's unique look was frowned upon growing up in Murcia, a Mediterranean city in southeastern Spain.
"When I was a teenager, my mom was like, 'You're not going out like that!' I wore a lot of black. My hair was long and I looked really goth," Abellan recalled. "But my family was actually more concerned about my Tumblr profile. Being from a little town in Spain, Tumblr allowed me to be connected to the world and to express myself freely without being judged. It really helped me."
So, how does someone go from being a Tumblr goth to Jeremy Scott's No. 1 fan? To have your own line of merch (with your own face on it, no less) also seems like a direct contradiction to the anti-establishment punk and goth image. But for Abellan, she sees this melding of the mainstream with underground as the most authentic expression of herself, and the fashion world is only now just catching on to this idea.
"I think fashion right now is in a really weird period," she said. "I don't know what path it's taking. Where is it going? Brands change every season. But I think Jeremy Scott always does his thing. He's fun and brings color and femininity together. You have to be true to yourself."
Abellan cited Marilyn Manson as her main inspiration — someone who's also recently been adopted by the fashion world. And she hopes that her authentic approach to fashion encourages her followers as well.
"I want to inspire young people," she said. "Especially young women in countries where they can't express themselves. I have fans in Turkey and Saudi Arabia. For me, that's great."
And her answer as to why she inspires people is perfectly aligned with Rihanna's entire ethos: "I mean, I do what I want," she said.