Sita Abellan Has the Approval of Rihanna, Jeremy Scott
Hailing from Murcia, Spain, the DJ, model, and Instagram star demonstrates how to have a goth summer look.
---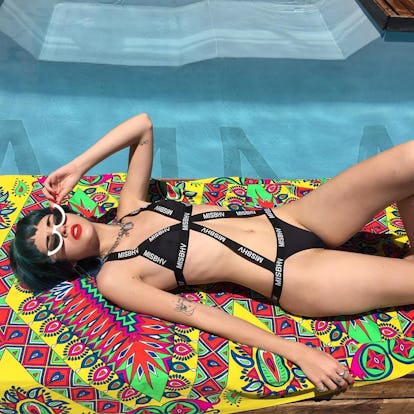 Spanish model and DJ Sita Abellan has the approval of personalities like Rihanna and Jeremy Scott, so of course her style is unlike any other. The 23-year-old has amassed a following of over 200,000 on Instagram thanks in part to her appearance in Rihanna's "Bitch Better Have My Money" music video (and subsequent selfie with the star), but also for her colorful aesthetic, love of knee-high boots, chokers, and sunglasses. Her style inspiration is Marilyn Manson, if that helps to paint a picture. Plus, she's obsessed with everything Moschino and Jeremy Scott. Now based in Milan and New York, Abellan can be found DJ'ing fashion parties, taking mirror selfies, and rocking black all summer long. You can also find her performing at the Hard Summer music festival in California on July 30th.
Occupation: DJ and model
Hometown: Murcia, Spain
When did you join Instagram? What was your first post? I joined like 4 years ago and my first picture was a picture with my cat Coco.
Your look in three words: Spontaneus, personal, brave.
Style inspirations: Marilyn Manson.
When did you first meet Jeremy Scott? I met Jeremy at Rihanna's private party during New York Fashion Week in September of last year.
Who are some other designers that you love? I love Alexander Mcqueen he had a unique vision, he was a true genious.
Big break: Rihanna's BBHMM video.
Favorite songs: "Kiss Them For Me" by Siuoxsie and the Banshees, "Strange Days" by The Doors, "Bulbform," by Trust, and "Wasting" by The Soft Moon.
Social media pet peeve: @marutaro and keyboard cat emoticons on Facebook.
Most Insta-friendly pieces in your closet: All my accessories are what gives the last touch to my outfits and what makes them more unique.
Go-to shopping destinations: I prefer to shop in person and to touch the pics and to see everything by my eye in person, and If I buy online is only because I have seen it in real life before. I love Search and Destroy in New York, FreakCity in Los Angeles, and Dog in Tokyo.
Favorite accounts to follow: @starsxu, @andreasaresti, @missqueensateen, @dilarafindikoglu
How do you unplug? Everytime I come back from a long work trip or a stressfull period of work, I try to go to my hometown in the South of Spain where I can relax and meet my family and friends and eat the best food in the world.
What you wear off-camera: I wear the same what you see on my Instagram is my everyday life.
Watch W's most popular videos here:
Photos: Sita Abellan Has the Approval of Rihanna, Jeremy Scott
On the set of Rihanna's "BBHMM" music video.