Skip Marley, Bob Marley's 21-Year-Old Grandson, Is Ready to Start a Peaceful Movement Of His Own
The 21-year-old is gearing up to release his first solo album, after collaborating with Katy Perry.
---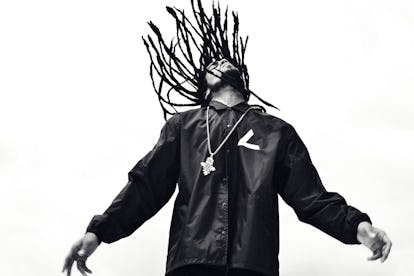 Marley wears an AGOLDE + Associated jacket, price upon request, agolde.com; his own necklace. Photo by Alex Hodor-Lee, styled by Allan Kennedy. Hair and grooming by Nedjetti Harvey; Make up by Marygene Rose at See Management. Stylist's assistant: Melissa Infante.
Skip Marley does not get stressed out. In fact, just saying the word 'stress' in his cool Jamaican accent seems to leave a bad taste in his mouth.
"The one time I got a little bit stressed," he said one day this summer while conversing on a sweltering-hot roof in New York City, "was when I was on the Grammy stage with Katy Perry." It was then that I noticed he wasn't sweating.
Skip not only inherited his grandfather Bob Marley's "don't worry; be happy" attitude, but also his love of music. He grew up surrounded by it, touring with his mom, aunts, and uncles, who comprise Ziggy Marley and the Melody Makers. And today, at the age of 21, has two singles of his own as well as a credit on Katy Perry's hit single, "Chained to the Rhythm," which she dropped in February and characterizes as "purposeful pop."
"It was surreal," said Marley of working with Perry and the famed producer, Max Martin. "You always see these people, and being in the same room with them—and we're just cool—that's huge for me. Katy gave me free range to do whatever I wanted. And we really meshed well."
Marley is also currently working on a debut solo album of his own, which sounds like an obvious relative of his grandfather's defining reggae, with hints of "purposeful pop." But as with everything Marley does, it is genre-less and boundary-less, and it will come when it comes.
As a teenager, Marley was shy about his singing voice. But one night, his uncle, Stephen Marley, pushed him on stage during a concert and prompted him to sing his grandfather's "One Love" to a crowd of hundreds. "He gave me the mic, and from that moment on, I felt music," Marley recalls. "I remember coming off the stage and seeing everyone crying. They said they never knew that I sang songs; finally, they had the next one."
So, is he claiming Bob Marley's throne? Maybe. "He's living through us, in all the choices we make every day," Skip said of his grandfather. But rather than trying to fill his shoes, he's focused on being the voice of the next generation.
On "Chained to the Rhythm," for example, Marley sings openly and explicitly about walls, truth, and greed, saying, "We're about to riot / they woke up the lions." And on his own single, "Lions," he continues with this message, saying that "his generation," specifically will not have their rights taken away or "told how to pray," and will instead start a movement.
"It's different times, but it's the same fight," says Marley of continuing to spread his grandfather's message. "But it's not a physical fight; it's a mental battle. When I say, 'my generation' or 'this generation,' it's to reassure people that when we come together and stand strong, we're people, and we'll outnumber those who wrong."
Marley's second single, "Calm Down," is also meant to be a balm for his stressed-out, phone-obsessed generation. "I want to work on bringing back the connection of how it used to be back in the day," he says. "Between people." And naturally, when it comes to his own habits he said, "My phone? No worries, man."
It seems there is no stage, studio session, photo shoot, social media comment, or reporter that can skip Marley up, which is convenient for a young person about to launch his mainstream career. "I'm on the path," he said with a shrug. "I just keep cool and humble and things just happen."
I looked at Skip Marley, skeptically, trying to find a crack. Then, right on cue, church bells started ringing in the distance. He smiled.
Get the Look: Selah Marley's Glittery, Shimmery Spring Style
Josephine Schiele, Styled By John Olson At Halley Resources
Josephine Schiele, Styled By John Olson At Halley Resources
Atelier Swarovski Earrings.

Josephine Schiele, Styled By John Olson At Halley Resources
Josephine Schiele, Styled By John Olson At Halley Resources
Salvatore Ferragamo Sandals.

Josephine Schiele, Styled By John Olson At Halley Resources
Cire Trudon Cyrnos Room Spray.

Courtesy Of The Brand
Lion Babe's Jillian Hervey Has Made Her Mom Vanessa Williams' Silver Sequined Leotard Her Own