Mall Madness
Skye Parrott has transformed a New York tourist destination into summer's hottest shopping block—with a little help from her friends.
---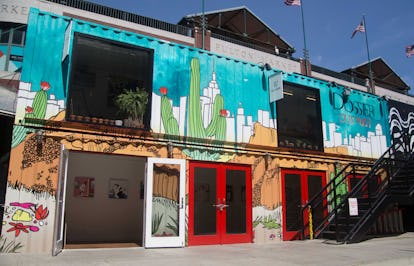 While the South Street Seaport is a must-visit on every New York tourist's list, it doesn't always draw in the locals. That might change this summer thanks to the Dossier Outpost—a shoppable incarnation of Dossier Journal magazine.
Situated in a two-story structure made of repurposed shipping containers at Fulton and Front streets, and running from Memorial Day weekend through the end of September, the summer-long program is turning the square into a public hub with a rotating roster of pop-up shops featuring local and international designers, plus food trucks and a series special events. For Skye Parrott, the co-founder and creative director of the magazine, it was a chance to give a platform to her wide network of creatives: "We're really interested in cultural conversation," she said, "bringing in different mediums and different artists and different creative people who work in many disparate fields and seeing what happens when you put them together."
Anchoring the project is the Dossier Outpost Gallery, which features exhibitions curated by Parrott. The first, Birds of Paradise, ** a show of new work by painter Caris Reid, runs through June 9. The first round of pop-ups includes the fashion designer Samantha Pleet and cruelty-free accessories brand Freedom of Animals, eyewear specialists Selima Optique, and juice bar The Squeeze.
"It's great to have this oasis in the heart of New York with people who are really doing interesting things," says Pleet, who envisions her space as a prismatic midcentury lounge where shoppers can browse her spring/summer collection, as well as a curated selection of vintage clothing. For Pleet, like many of the other designers involved, the Outpost is a chance to have her first solo brick-and-motar space. It's also a way to help revitalize an area that severely hit by Hurricane Sandy, by bringing New Yorkers back while introducing tourists to some of the city's independent voices.
"It's beautiful here. It's the oldest neighborhood in New York—it feels like a time capsule," says Parrott. "It's nice to give New Yorkers a reason to come here." **
Dossier Outpost is open at the South Street Seaport in Lower Manhattan through the end of September.
Dossier Outpost, designed by Jess Rotter, wrapped by Elle Esse Group. Photo by Katerina Slootsky.
Interior of the Ed Varie shop. Photo by Katerina Slootsky.
Interior of Samantha Pleet shop. Photo by Katerina Slootsky.
Dossier Outpost. Photo by Katerina Slootsky.