With a Smash Revival, Will Steven Spielberg Finally Conquer Broadway?
One of Hollywood's biggest power players comes to Broadway.
---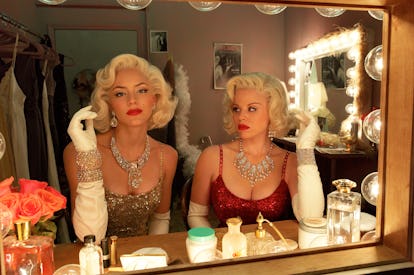 NBC
Name an American television series that only lasted two season whose fans remain as devoted as those of Smash? The NBC series debuted in 2012 with a classic pilot episode that captivated critics and wider audiences alike, but its popularity (and, many would say, quality) dropped over its 32 episode run before its ultimate cancelation. However, the Smash faithful have helped turn the show into something of a cult classic for the theater kid crowd, especially as it has found a new audiences in the streaming age.
That was never more apparent than last night as much of the original cast reunited for a Zoom viewing party of a 2015 concert of the show's original songs (proceeds went to the The Actors Fund's COVID-19 relief efforts). The event took over many a Twitter timeline, and culminated in a tease that something involving the future of Smash would be announced the following morning.
Many theorized that a third season could actually be on the way, but instead the announcement concerned something even more exciting to theater kids: an actual Broadway musical. In something of a twist, however, the Broadway play will not be a staging of Bombshell, the fictional Marilyn Monroe musical at the heart of Smash's plot, but rather a new envisioning of Smash itself.
Of course, no timeline or dates were announced, but the original songwriting team of Marc Shaiman and Scott Wittman will return to round out the score (don't worry, "Let Me Be Your Star" has already been guaranteed to make the cut).
Sure, only a fanbase as devoted as Smash's could pave the way for something like this, but the move also represents the long simmering Broadway ambitions of one of entertainment's biggest power players: Steven Spielberg.
As a film director, Spielberg is the undisputed champ of the global box office. On television, he's produced everything from Pinky and The Brain to United States of Tara (and, of course, Smash itself). Recently, he's gotten involved in video production too, but Broadway success has eluded Spielberg. He was a limited partner in the production of an Aaron Sorkin play on Broadway in 2012, and his film Catch Me If You Can was turned into musical, but Spielberg wasn't involved in the production.
Smash arrived in a television landscape where other networks scrambled to capitalize on the breakout success of Fox's Glee. But Spielberg had been workshopping the idea of Smash for years before that.
His original idea for the show was as an anthology series. Each season, viewers would be taken behind the scenes of a fictional Broadway show. If the season proved a success, Spielberg would then turn around and stage the show as an actual Broadway musical. The idea was scrapped to focus on just one musical (at first, anyway), and it was long speculated that Bombshell itself would eventually come to the Great White Way with Spielberg's backing. Now it turns out that Smash itself will mark Spielberg's grand musical debut.
"I am personally thrilled to be a part of this musical and its road to Broadway," Spielberg told Variety. "Smash is near and dear to my heart, and it seems fitting that a new musical inspired by what we did on the show would eventually come to the stage. I'm beyond thrilled to be working with this incredible creative team and my producing partners, who began the Smash journey with me over ten years ago."
Though, in a time when Broadway is glutted with musical remakes of movies, one might wonder why Spielberg might not just set up his own conveyer belt turning his own stable of films into song and dance productions? The man could give Disney a run for its money in that department. Then again, Jaws: The Musical doesn't seem all that enticing, nor do we really want to see tap dancing velociraptors in Jurassic Park: The Dinosaurs Sing Now! Smash it is, then.
Related: There Are Too Many Musical TV Series in Development