Sneak Peek: Limelight Marketplace
In the 1800s, when it was the Church of the Holy Communion, people visited what is now known as the Limelight building on the corner of Manhattan's 6th Avenue and 20th Street to worship at...
---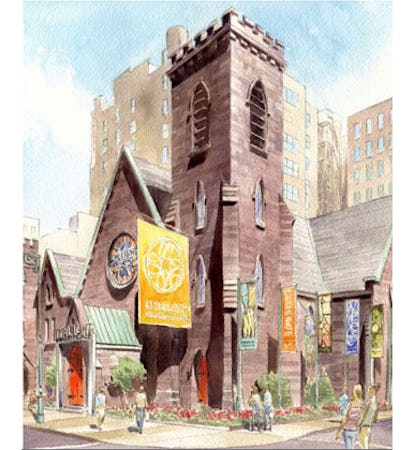 But even if you are inclined to see this as a tragedy of CBGBs-turns-John Varvatos store proportions (though recall that Varvatos actually saved that space from becoming a bank!), take heart: we visited the Marketplace today and found the place to be a visually delightful and idiosyncratic take on a 19th century Parisian arcade with more than a few compelling reasons visit:
—Several retailers are opening their first brick-and-mortar outposts in the space, including Hunter boots, Jezalins fine foods (which will have its own mini Harrod's-esque food hall), Cupcake Stop (so you can stop following their truck as it zigzags across the city) and Havianas (which will do custom-design flip-flops!)
—Just yesterday, a coveted two-story space was awarded to the proprietors of what will be called Cana Wine Bar, which will also serve Italian eats. (Cana will likely open sometime after Friday due to the last-minute lease signing.)
—Another late addition to the lineup: Debrosses Street-based Alexander West's custom shirt operation.
—An outdoor greenmarket with courtyard seating featuring 8-10 stalls of local(ish) produce, seven days a week
—It's Sugar, a whimsical bulk candy shop whose owners come from Dylan's Candy Shop
—Brocade, a mod-baroque design store from Lisa Versacio, creator of West Elm
—The 24-hour slice window at Grimaldi's
—The first US location of London's Avery Perfumes, which stocks rare and exotic scents
As vendors were racing this morning to finish their facades and stock their shelves, Limelight Marketplace owner Jack Menashe calmly puffed on a cigar. He assured us that, unlike the nightclub that came before it, the marketplace would have no door policy, though he admitted that the narrow, maze-like hallways could benefit from crowd control. Still, he said, as was the case for the nightclub proprietors before him, a jam-packed floor would be the least of his worries.