See Bill Hader as the Mooch on SNL Weekend Update's Prime Time Premiere
Plus the Trump kids and LaVar Ball.
---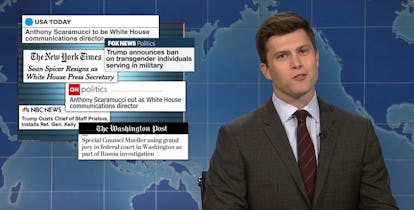 NBC
There's just too much going on to wait for Saturday Night Live's season premiere in the fall, so Weekend Update anchors Colin Jost and Michael Che are coming back early for four weeks of Weekend Update: Summer Edition, which premiered tonight. It's not an unprecedented move; Seth Meyers and Amy Poehler hosted Weekend Update Thursdays when the show was also super popular during the run-up to the 2008 presidential election (ah, how we long for the days when Sarah Palin seemed like the worst candidate in the country).
"It's been a crazy year this past few weeks" – Colin Jost
The show, which aired live, was the expected and welcome mix of random small-town crimes and major national news that is Weekend Update's bread and butter. Both hosts called out Trump for his heightened language about North Korea, which he famously delivered while hunched at a table and on vacation. "Even FDR stood up when he was talking tough," quipped Jost.
And yes, certain key members of the Trump administration made cameos, starting with Don Jr. (Mikey Day) and Eric Trump (Alex Moffat). Don Jr. extolled the successes of his father's administration, while Eric was utterly enchanted by a fidget spinner.
Later, the hosts got a FaceTime from Anthony Scaramucci (Bill Hader! Hi Bill!) who explained that, "When I hear my name three times, I appear like a Goombah Beetlejuice." He clarified that when he spoke to New Yorker reporter Ryan Lizza about Steve Bannon trying to "suck his own cock," he was misquoted. He actually witnessed the act; Bannon went "tongue to tip."
"All I did was sell my company, miss the birth of my child, and ruin
my reputation to be King of Idiot Mountain for eleven days." –
Scaramucci (Hader)
The rest of the appearances were non-political; Kenan played NBA newcomer Lonzo Ball's overbearing father LaVar, who tried to sell Colin on some big shoes and some even bigger lies, earning him the nickname "Black Trump."
But the highlight of the evening, as she is every evening, was Leslie Jones as herself. She came on to talk about her experience getting fit this summer (there's abundant proof of her gym adventures on Jones' Twitter, which I highly recommend following), though the anecdotes were more about etiquette than fitness. At least she has a clear goal: leave behind a hot corpse. Leslie said, "I want the dude at the mortuary to be like [pantomimes someone considering but ultimately deciding not to have sex with her dead body.]"
Hopefully Weekend Update: Summer Edition will continue the charming impersonations next week, though in a meta moment (talking ostensibly about the Will And Grace reboot), Colin did warn us, "Every time NBC has even a mildly succcessgul show, they overdo it and dilute the brand…"
Bill Hader doesn't buy into romantic comedies: