It Came From Norway
How a little-known Oslo architecture firm landed three of the biggest commissions America had to give.
---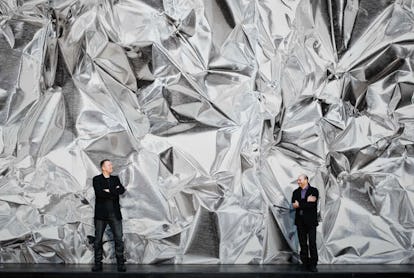 When you visit the headquarters of the Norwegian architecture firm Snøhetta, on the Oslo Fjord, you see, upon entering, an open kitchen and pass a long table where architects discuss projects over homemade meals. The only enclosed spaces, either here or in the company's lower Manhattan satellite, are a modelmaking shop and a sound-insulated conference room, both of which are outfitted with windows. Employees sit in a large bull pen, with senior staffers and project teams dispersed randomly. In short, it is all so nonhierarchical, so collaborative, and so transparent that it could only be Scandinavian.
This open approach goes a long way toward explaining how a stealth firm largely unknown outside the architecture community has scored such a remarkable string of recent successes in the United States. Last July Snøhetta beat out a murderers row of hard-hitting architects—including Lord Norman Foster, Renzo Piano, and Diller Scofidio + Renfro—to secure the commission for a $250 million annex to the San Francisco Museum of Modern Art. That same month the firm was awarded the daunting task of reconfiguring Times Square in an attempt to allow New Yorkers and tourists to coexist more happily. And already under construction in proximity to Snøhetta's New York office is the only building that will rise on the footprint of the destroyed World Trade Center: the National September 11 Memorial and Museum, the aboveground portion of which was designed by Snøhetta and is scheduled for completion this September.
The memorable buildings of the late 20th century were defined by a master architect's poetic inspiration, cantankerous struggle, and ultimate triumph: Frank Gehry's protracted and combative back-and-forth with then director Thomas Krens for the Guggenheim Bilbao, say, or Renzo Piano's renovation of Manhattan's Morgan Library, sketched out with a felt-tip pen over dinner with the institution's director after a quick walk-through of the site. Craig Dykers, 49, a cofounder of Snøhetta, characterizes works like these as "old-world modernism," a genre defined by architects he describes as "hierarchical and master driven"—and who, in his view, are yesterday's news. "They tend to avoid engagements with wider groups of people," he explains. "New-world modernists look to engage with people who have different opinions." Instead of forcefully overcoming opposition to push through a project, the new-world architect adopts an alternate posture: incorporating antagonistic viewpoints in a process to enhance the original scheme. "We're consensus driven and group oriented—and we don't think that waters down design," says Dykers. "We think that strengthens design." The proof is in the buildings: Notwithstanding Snøhetta's conciliatory stance, its best architecture doesn't look as if it was designed by corporate committee. It is confident, even bold.
Today the same cultural institutions that once lusted after the "iconic" and the "groundbreaking" seek instead to appear both continued on page 92 welcoming to visitors and realistic to donors, and for that reason Snøhetta has risen to the top of the go-to list for museums that want to build. SFMOMA director Neal Benezra, for one, is banking on the firm's expansion project to make the museum "more transparent, more open, and more engaging to the community." The unstated hope is that Snøhetta will do what the zeitgeist demands: create something original but not financially perilous—a building that looks daring but comes in under budget.
Although Snøhetta has been in business for more than 20 years, the firm's prospective American clients tend to be familiar with just one of its buildings—the Norwegian National Opera and Ballet in Oslo, completed in 2008. The opera house, a sharp-edged structure bristling with contained contradictions, juts like a white prow into the Oslo Fjord; its roof is a public park that slopes down to an open plaza at the water's edge. "You can literally walk on the opera," Dykers says. "We always say, 'When you can walk on something, you feel you own it.'" The project cost $420 million but, in deference to the Norwegian aversion to ostentation, it is resolutely low-key. "It can cost what it wants to cost, but don't make it look expensive," says Kjetil Thorsen, 53, the firm's other founding partner. Like their architecture, Dykers and Thorsen are unassuming and approachable. Not for them the dark Prada suits preferred by Rem Koolhaas and Jacques Herzog; unlike those bony, angular architects, the partners appear soft-edged and slightly rumpled, usually clad in jeans and pullovers.
Last fall Simon Ewings, a Snøhetta project architect for the opera house, gave me a tour of the building and its site, which is conveniently reached by crossing a pedestrian bridge near the central train station. Though the main auditorium seats 1,400, it feels both intimate (the maximum distance from stage to audience is about a hundred feet) and warm, with undulating wooden boxes and balconies handmade by a boatbuilding factory in western Norway. "It is just dark wood and red chairs and a glowing chandelier above," Ewings said. "We didn't want opulent, gilded decoration. It's about craftsmanship and showing off your generosity"—generosity being the one area in which Norwegians don't mind showing off.
Back outside we ambled down to the fjord, which laps gently at the edge of the surrounding plaza—"Getting down to the water; you can't do that elsewhere in Oslo," he said—and walked up the rough marble slope that becomes the roof. Occasionally we came across a polished strip or a slight rise, the understated work of three artists paid for with part of the one percent of the capital budget that Norwegian law earmarks to embellish public edifices. "We wanted to integrate it into the building," Ewings explained, "not use it to buy art to hang on the walls" (although Olafur Eliasson did design a spectacular partition of diamond-shaped lattice for the interior). Arriving at the top of the incline, we saw the contoured aluminum facade, with a relief of bumps derived from a machine card, the sort used in industrial weaving. The aluminum skin encloses what Snøhetta refers to as "the factory"—the plant for wigmaking, costume stitching, and other artisanal activities typically hidden in the bowels of an opera house. Here, the workers can see out the windows, and passersby can look in. For Ewings, the windows serve continued on page 94 the purpose of "demystifying opera," in line with the firm's goal to make the art form "more accessible and popular."
While the building functions well as a performance space, in a more symbolic way it operates as a repository for the country's self-image. Oil has made Norway rich, with a very wealthy elite, but the nation still likes to see itself as classless, open, and unpretentious, a place where art and craft are incorporated into everyday life and where nature is experienced directly and often. In this reading, the opera house is a kind of self-contained island, complete with a mountain, a sweeping plain, a moat, and a causeway.
Snøhetta owes its very origin to an experiment in ego suppression. In 1989 a competition was announced for the design of a library in Alexandria, Egypt, to replace the ancient one destroyed when Julius Caesar invaded the country. Dykers, then running a small private practice in Los Angeles, decided to enter. A friend put him in touch with Thorsen, who, working in Oslo, was also preparing a scheme for the Bibliotheca Alexandrina, as it would be known. Eventually a group of architects from Norway and the U.S.—none of them over the age of 30—agreed to collaborate. Of the original eight, only Dykers and Thorsen remain with the firm.
"Many architects would think they could do it by themselves," says Dykers. "That is old-world-modernist thinking. The building was too socially driven and culturally powerful to work that way." When they received a phone call announcing that their entry had placed first among 500 contestants worldwide, it was like a lightning strike in a primordial soup, and Snøhetta was jolted into existence. Dykers, a U.S. Army brat who was born in Germany, promptly moved to Oslo, where he would remain for 17 years, until the September 11 project brought him to New York.
The vast Alexandria library, which took 13 years to complete, tested the architects' stamina. "Many people thought we would be a one-hit wonder," Dykers recalls. The firm had little interest in commercial or private residential work, its founders preferring to focus on cultural institutions. "If you have the ideal as a young architect that you want to change a portion of society through architecture, that's where you would start," Thorsen says. "That's where perceptions change."
Their Bibliotheca Alexandrina, instead of recalling the Hellenistic library erected after Alexander the Great conquered Egypt, glamorizes the glorious past of the pharaohs. "We didn't want an icon," Dykers says, not entirely convincingly, of the hieroglyph-inscribed granite facade and tilted-disc roof, "but a blank canvas that people could project on." The city's young people, in particular, care for the building enough to physically defend it: When Egypt erupted in sometimes violent demonstrations in late January, dozens of students gathered to form a human cordon to protect the Bibliotheca, which remained untouched amid the surrounding chaos.
"I think of their work as motivated by the big gesture—it's one idea, it's not complicated, and it's usually a good one," observes Liz Diller, who says that losing the SFMOMA job to them was "less torturous" because she respects their designs. (In December, Diller's firm was bested by Snøhetta in another competition, this one for a Museum of Environmental Science, at the University of Guadalajara in Mexico.) And while the architects with whom they compete all teach and publish—running into one another at conferences and serving together on competition juries—Dykers and Thorsen largely eschew the circuit. "They're very quiet," says Diller. "They're not absent, but they're not central. Everyone is very curious about who they are."
I thought I might learn something about Snøhetta the firm if I visited Snøhetta the mountain, the tallest peak in the Dovre chain, in a remote part of central Norway. (In Norse mythology, Dovre is where Valhalla, the home of the gods, is situated.)
In a former military firing range and mining reserve at the foot of the snowy, mist-covered peak is another Snøhetta design: a viewing pavilion for Norway's Wild Reindeer Center, set to open this spring in what will soon be a national park. From the time they set up the firm, the partners resolved to pursue landscape architecture as vigorously as architecture, and the new pavilion can be regarded as a kind of Norwegian gazebo. It consists of a rectangular shed made of rusting steel, with a sinuous, self- contained interior of wood milled by the same boatbuilders who fabricated the balconies of the opera house. The long side of the pavilion, which faces the mountain, is all glass. "It's a small building in a big landscape," says Knut Bjørgum, the architect in charge of the project.
Dykers and Thorsen chose the sacred mountain as their namesake partly because their first offices were located above a scuzzy bar named Dovrehallen. The moniker is a joke, both self-aggrandizing and self-deprecating—but it was also a self-conscious attempt to avoid the personal branding of older firms. "Where is Mr. Snøhetta?" an Egyptian official asked when the first delegation of architects arrived in Alexandria following their competition victory.
The ability to create work that functions as a mirror, reflecting back what the onlooker likes to see, has undoubtedly helped the firm withstand the controversy surrounding the September 11 Memorial. From the beginning, the project has been buffeted by the desires of competing groups. "That it would be difficult, we knew," Thorsen says. "That it would be as difficult and challenging as it was, we didn't. But there is a stub­bornness—we don't want to give up. It's not really about designing a building. It's about negotiating a project."
When the project began, it was 320,000 square feet and comprised both the International Freedom Center, to house displays on the history of the struggle for freedom throughout the world, and the Drawing Center, an exhibition space for historical and contemporary drawings. It is now 48,000 square feet, with about 30 percent devoted to mechanical systems, mostly for adjacent buildings. Along with its air vents, the pavilion provides ticketing and security for a belowground museum, which is devoted to the catastrophe and was designed by another firm. (The freedom center and the Drawing Center were both deemed too controversial.) "It's an extremely elegantly upholstered snorkel," says Anne Lewison, the project architect.
Viewing the site from the 20th-floor offices of a nearby skyscraper, I was struck by the smallness of the memorial compared with the towering commercial structures rising around it. "What it will do well is slow down the pace of the city," says Thorsen. "It's calm; it's not extraordinarily expressive or spectacular. If the public is slowed down mentally and physically, we've done our part."
Snøhetta's plan for Times Square, meanwhile, is about speeding things up—or at least smoothing things out. "We will be looking at reducing the amount of obstacles for the public," Thorsen says, emphasizing the need to facilitate the flow of people. "That means a curbstone is a bad thing."
A good thing—at least in Scandinavia—is when listening and collaborating are at least as important as the design itself. Thorsen speaks of architects enabling, rather than dictating to, their clients. "Design is the last tool of architecture," he says. "Once you sit down and draw the line, you take possession of the design. It is better to wait until much later in the process. You might get a better design from somebody else, but the issue is always how you got there."
Oslo architecture firm, Snohetta
The lobby of the Oslo opera house

Photographer: Ake E:son Lindman
Dykers and Thorsen in the main auditorium of the Oslo opera house

Photographer: Ake E:son Lindman
The Oslo opera house interior

Photographer: Ake E:son Lindman
The Oslo opera house exterior

Photographer: Ake E:son Lindman
Snøhetta's Petter Dass Museum in Alstahaug, Norway

Photographer: Ake E:son Lindman
Snøhetta's Petter Dass Museum in Alstahaug, Norway

Photographer: Ake E:son Lindman
Snøhetta's Petter Dass Museum in Alstahaug, Norway

Photographer: Ake E:son Lindman
Bibliotheca Alexandrina in Alexandria, Egypt.

Photographer: Ake E:son Lindman
Bibliotheca Alexandrina in Alexandria, Egypt.

Photographer: Ake E:son Lindman