Feud of the Week: Snoop Dogg Takes on Donald Trump in a New Video—and (Who Else?) Marco Rubio Jumps In to Respond
This week's national beef falls along party lines: the Republican establishment vs. old-school rappers.
---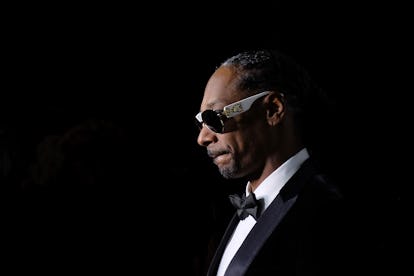 J. Countess/Getty Images
When you come for Meryl—when you come for Beyoncé—you come for the culture. These days, it's not exactly taking a stand when artists come out in opposition to president Donald J. Trump, in public statements or through their work. Designers ranging from Sophie Theallet to Zac Posen have declared their refusal to dress the first family; when Melania Trump showed up at a recent address by the president in a black Michael Kors Collection ensemble, the designer hinted that she had bought it off the rack, rather than loaning it.
The same goes for pop music, too. Like Madonna, who garnered criticism for her performance at the Women's March on Washington, where she told the crowd that she was thinking "an awful lot about blowing up the White House," Martha Stewart's BFF Snoop Dogg, also took his anti-Trumpism to its farthest conclusion earlier this week in a new video. In "Lavender," a retooling of Badbadnotgood and Kaytranada's collaboration, the rapper wanders through a technicolor, clown-filled world that pointedly comments on the social tensions in the United States right now.
Lyrically, it's vehemently anti-police brutality; visually, it satirizes the Trump administration, envisioning a world in which president Ronald Klump, residing in the Clown House, wishes for a deportation order for all "doggs," in which police carry pink polka-dotted weapons, in which Supreme is rebranded as "Clown." It climaxes with Snoop himself pulling a gun on the clown-in-chief. And then he's just hanging out, smoking a joint, flanked by a clown who might actually be Margot Robbie from Suicide Squad.
"It's a lot of clown sh-t going on that we could just sit and talk on the phone all day about, but it's a few issues that we really wanted to lock into [for the video] like police, the president and just life in general," the rapper told Billboard, explaining the concept.
And while it might not come as much of a surprise that the forefather of gangsta rap is staunchly anti-Trump, the alliances that have slid into place around its provocations are a bit more intriguing. Florida senator Marco Rubio was a firm critic of the president's Secretary of State pick, Rex Tillerson, grilling him thoroughly during his confirmation hearings. Yet in a new video on TMZ, the senator declared Snoop's form of protest a few words too far.
"We've had presidents assassinated before in this country," Rubio said, pausing outside the Reagan International Airport in Washington, D.C. "I'm not sure what Snoop was thinking." (Still, he's strikingly good-natured about the whole thing, bantering with the TMZ reporter towards the end of the short clip.)
Ice-T also chimed in on the subject, in a separate video for TMZ: "He pushed the line. He had the edge going right there," the rapper said, riding in a car with fellow rapper and actor Treach. "It was artistic," both rappers agreed. "I think Trump brings a lot of these jokes onto himself," Ice-T added.
The semi-feud is shaping up along party lines, it seems: The Republican establishment versus old-school rappers — and it just keeps coming.
The Trump camp, never one to stay above the fray, has jumped in on — where else? — Twitter, the president himself issuing the same statement from both @realDonaldTrump and @POTUS. (This feud, it seems, is both personal and professional.) Ted Cruz — a former Trump critic turned essential ally in the senate — also told TMZ he believed the video went too far, echoing Rubio.
Though Snoop himself didn't immediately respond to this, he's not short on allies. After Ice-T and Treach voiced their opinions, rapper T.I. took to Instagram, issuing a statement to his 6.6 million followers in defense of "f-cking legend" Snoop Dogg (and describing himself as a legend, too). "Leave our legends names out ya f-ckin old ass puppy piss smelling ass mouth & continue to focus on dividing minorities,building barriers, alienating immigrants, &f-ckin this country up like u been doin…." he wrote.
We're just waiting for the Tupac hologram to chime in next.
Update: This post has been updated to reflect comments from Donald. J. Trump.