Social Media Scandals: Blackface and #Photoshop
We're all just an autocorrect away from high-profile disaster.
---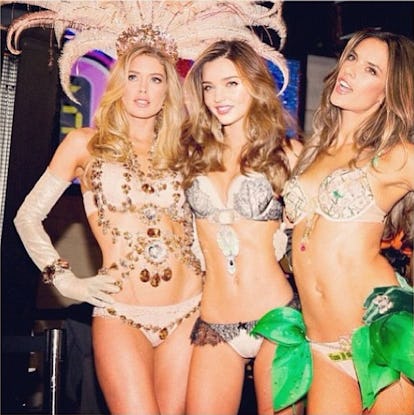 Live by social media, die by social media. Trust me, I should know. As an early adopter who drove the Twitter account at a former place of employment, I had an enviably large following, with more than 1.6MM people interacting with my daily dispatches from the fashion trenches. But I am also no stranger to scandal and have the ignominious distinction of having been embroiled in two doozies: Cancergate at the Golden Globes and the time I killed Morrissey on Twitter. Until Gilbert Gottfried came along, I was pretty much the exemplar of the macro snafus that can occur on microblogging platforms.
I've learned my lesson and these days I am (perhaps overly) solicitous when I post on social media. Not that my style brethren has learned from my mistakes. Rarely a week goes by without someone in the fashion and beauty industries committing a digital faux pas worthy of, well, me. Below is a roundup of some of the biggest social media fashion scandals.
Ere, I Saw Elba Being blind to race and gender is a good thing, right? Not when you confuse an Oscar-nominated actress with a fellow thespian who is literally a foot taller and is—oh, yeah—a man! But that's exactly what happened when some member of the Giorgio Armani social media department posted a photo on Instagram of actress Alfre Woodard at a gala event with a caption that read: "Idris Elba posing in a gorgeous Giorgio @armani dress at the 5th Annual Governors Awards." So close.
Sole of Indiscretion Kenneth Cole is the social media gift that keeps on giving. The shoe designer famously put his foot in his mouth in 2011 when he tweeted during the Arab Spring: "Millions are in uproar in #Cairo. Rumor is they heard that our new spring collection is available online." Cole took to Facebook to issue an apology, but was back at it last September when he used the debate over Syria to hawk his shoes in another insensitive tweet. No word on what Cole thinks about the situation in the Ukraine.
Fallen Angel Miranda Kerr felt the wrath of the troll patrol when she took a page from serial retoucher Kim Kardashian and posted a Photoshopped image of herself on Instagram. Unable to walk in the Victoria's Secret show last November due to prior commitments in Asia, Kerr uploaded a pic of herself and fellow Angels Doutzen Kroes and Alessandra Ambrosio from the previous year's show, but commenters were quick to note that her 24-inch waist appeared to have been put through a super-skinny filter. Kerr's explanation (that she had unwittingly downloaded the doctored photo from the Internet) was about as plausible as, err, a model using Photoshop.
Nit Twit Fashion observers the World Wide Web over sang paeans to Cathy Horyn after she announced her departure from The New York Times in late January. But it wasn't always the case. In response to a tough review of his debut women's collection for Saint Laurent Paris in 2012, Hedi Slimane took to Twitter to share a derisive open letter that called Horyn "provincial" and "an average writer" and declared her personal style "seriously challenged." She quite rightly shrugged it off as "silly nonsense." Perhaps Slimane's barbs would have stung a bit more if his handle weren't @hedislimanetwit.
Mammy Mia! What is it with Europeans and blackface? On the kitten heels of blackfaced-model scandals at Vogue Paris and Vogue Netherlands, last October a group of Italian fashionistas, including Rochas designer Alessandro Dell'Acqua, attended a "Disco Africa"-themed party in Milan wearing minstrel makeup. (Being a fashion party, accessories were key, with some other guests adorning their darkened skin with slave chains.) The scandal, which went viral when Vogue Japan Editor at Large Anna Dello Russo blasted pics from the party on her Instagram account, didn't prove to be much of a deterrent: a month later Elle France beauty editor Jeanne Deroo was no-parts redfaced after posting a photo of herself in blackface on her Instagram account.
Overshare Accommodation It seemed like a good idea at the time. Sort of. A group of publicity and marketing tyros (for Swarovski Lifestyle, Gant, Nike and Calvin Klein) and two junior staff members for GQ and Vanity Fair decided to zhoosh up their summer in Fire Island by hitting up brands for freebies (mostly booze) in return for mentions in social media with the hashtag #mistermansion. (Their shamelessness also spawned a column, "Fire Island Share House Tales," in The Daily Front Row, about "sponsor swag, fashion trends, the scene at infamous local hot spot Tea…and, of course, twerking.") Problem is that the little swag hags had not cleared it with their employers, most of whom have strict policies about accepting graft; WWD blew the whistle; and the column was taken down faster than a pair of Speedos in the Meat Rack at the Pines.
#sorryfeminists Barely a week into her new role as editor in chief of T: The New York Times Style Magazine, Deborah Needleman caused a storm in a D-cup when she angered feminists with a tweet plugging an upcoming reading by her friend, the writer Katie Roiphe: "sexy (sorry, feminists), smart, sassy." As Erik Maza, the media reporter at WWD, wrote at the time, "The response on social media was swift, and apoplectic." The New Yorker's TV critic Emily Nussbaum added to the fray: "Did you write that tweet from 1963?" The offending tweet also led to its own hashtag meme and a Tumblr page. Undeterred, Needleman later tweeted, "Hello twitterers in knicker twist: JOKE!!" Huge laughter.
Brand Exposure He may have an IPO in sight, but the public offerings of Marc Jacobs on Twitter have not always been successful. In 2010, company president Robert Duffy deactivated the 3-week-old account after catching heat for sharing an image of a naked man pole dancing at the label's Fashion Week party. After a short hiatus, they judiciously canvassed eager tweeters in search of someone to take the reins. Pity they didn't look in their own backyard: a disgruntled intern soon embarked on a late-night rant that branded Duffy a "tyrant." The next morning, the account offered this sage advice: "Twitter is a crazy place."