Socially Conscious Beauty Brands to Add to Your Medicine Cabinet
You're going to buy shampoo anyway—why not benefit a cause you care about while you're at it?
---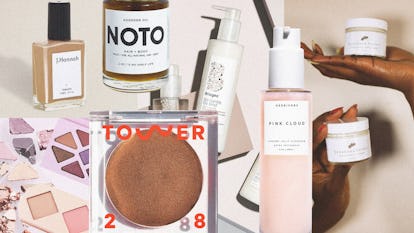 Collage by Tilden Bissell.
Many beauty brands are putting their money where their mouths are these days, whether by donating products and proceeds to healthcare workers or sharing support for Black Lives Matter. But as we transition from short term activism to long term choices, it makes sense that we'd reassess our habits, including where we shop to stock our vanities and medicine cabinets. And while opening your purse to donate directly to your favorite organizations is always the best option, if you're going to buy shampoo or face wash, it might as well benefit a cause you care about. From big initiatives by Tower 28 to lesser-known products that support social justice with each purchase, there are plenty of ways to make giving back a part of your everyday routine. Here, a few options to start:
If you've been on social media lately, it's quite possible you've seen Clean Beauty Summer School's cheery orange and blue graphics. Led by Tower 28 founder and CEO Amy Liu with cosigns from beauty industry heavy hitters like Sephora, Ulta and Credo, the program is "is a collective effort by female founders and leaders in the beauty industry to support the growth of majority Black-owned small beauty businesses." Applications have now closed, but the program will offer courses and mentorship to 10 Black-owned businesses, plus one finalist will receive a $10,000 grant from the New Voices Foundation.
Another member of the Clean Beauty Summer School, a portion of each purchase from this wildly popular New York-based hair care brand goes toward providing 100,000 meals (initially they set a goal of 50,000) through the Food Bank for NYC.
In perpetuity, 100 percent of profits of J.Hannah's nail polish shade Dune will be donated to various human rights organizations. The first round of donations benefited the Minnesota Freedom Fund, Los Angeles Community Action Network and the NAACP.
Slated for an August restock, Base Butter is now donating 10 percent of all profits each month to organizations doing work to dismantle systemic racism, such as The Loveland Foundation. Additionally, they've partnered with JOYDAY to launch Finding Yellow, "a therapist-led workshop series structured to create a place for Black people to heal and find joy."
Aether Beauty has been known for their recyclable packaging and commitment for making shadows and shimmers that compliment every skin tone. Their newest launch, Supernova Crushed Diamond Highlighter, was created specifically for deeper skin tones. Better yet, 10% of product sales go to United Roots Oakland which provides low-income youth of color with mentorship, peer and meditation groups, and job training.
This Instagram-friendly brand has a range of products that give back with every purchase. Sales of their Prism Glow Serum and Prism Exfoliating Glow Facial funnel money to LGBTQIA+ organizations year-round, with $1 for every sale being donated to The Trevor Project, though the end of 2020. Additionally, they've pledged to donate $1 of each purchase of the newly launched Pink Cloud Jelly Cleanser to Black Lives Matter through the end of 2020.
Another popular all-natural skincare brand that's out of stock for the moment, Hanahana is committed to paying two times the fair trade price for their shea butter from the Katariga Women's Shea Cooperative in Ghana, as well as providing healthcare checkups. Can't wait for the restock? Donate directly to their fund, here.
Founded by Gloria Noto, the brand's Agender Oil is always a giveback product. One hundred percent of the direct to consumer profits go to a rotating cast of charities like Planned Parenthood, The Okra Project and more.
For the launch of their first hand cream, the brand donated 10,000 products to medical workers across the country, and early on in the Black Lives Matter movement, Glossier took steps that paved the way for many big name brands to follow: on top of donating $500,000 to organizations combating racial injustice, they've also pledged an additional $500,000 in grants to Black-owned beauty brands.