Southern Comfort
A gallery-cum-boutique opens up shop below the Mason-Dixon Line.
---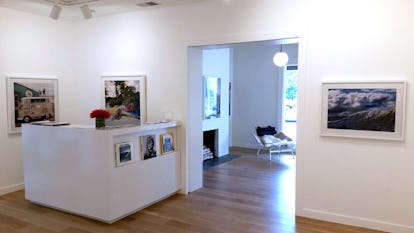 Porch conversations are a Southern tradition, and there are sure to be some interesting ones at Chandra Johnson new arts-space-meets-bookshop, SOCO gallery, in Charlotte, North Carolina. "We chose a bungalow for our space because it is a perfect extension of our gallery's philosophy," says Johnson of her choice to renovate a local 1920s home rather than build from scratch. "Having a freestanding gallery with a front porch was the perfect fit." The recently whitewashed space, which opens it's inaugural show tonight, certainly does smack of Southern charm with its welcoming gardens and its endless supply of coffee and locally-sourced treats. Johnson hopes that these amenities will make visitors feel more at home amongst the less familiar wares, like far-flung publications and independent art zines. Wading into the local scene slowly, Johnson's the first show will focus on photography—an entry point that the young gallerist believes the city will connect with. Entitled "A Fluid Journey," a direct nod to the cultish 1960s surf movie, it focuses on representations of water by photographers like LeRoy Grannis and Liz Nielsen. A fresh breath of sea air, just in time for summer, might just be what the doctor ordered for the landlocked city.
SOCO Gallery, 421 Province Road, Charlotte, North Carolina, soco-gallery.com.